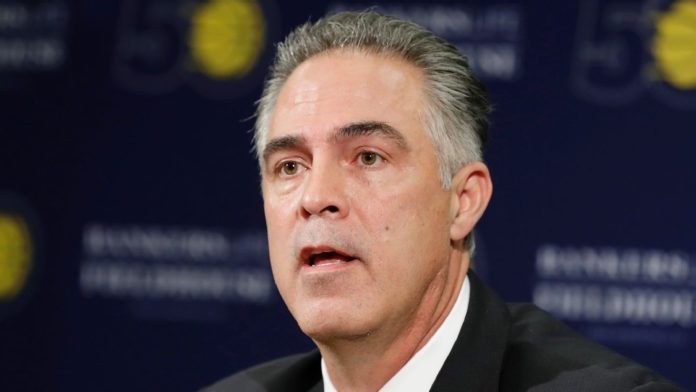 It's getting closer to the NBA restart in Orlando, but one member of the Indiana Pacers hasn't fully committed to joining the squad, according to Pacers president of basketball operations Kevin Pritchard.
Out of respect for the player, Pritchard wouldn't disclose his name, but he did say it's "complete no-judgment if he doesn't want to do it."
All-Star guard Victor Oladipo also recently told ESPN's Adrian Wojnarowski that he wouldn't commit to the restart until after ramping up his activity to evaluate his repaired torn quad tendon.
"We're giving him all the information, we're updating him and then it's gotta be his decision because once you make the decision, you have to jump in both feet," Pritchard said. "You can't be straddling. You either have to be in or you have to be out. Again, no judgments on either way."
Indiana will resume mandatory individual workouts at the St. Vincent Center in Indianapolis Wednesday, July 1, and plans to submit its final travel party list on the same date. Oladipo has been in the practice facility every morning since its reopening, showing great signs.
"I don't think I've seen him in better shape than I've seen him today in a long time," Pritchard said. "I think he's taking this time to staircase himself up physically, mentally … I've been really impressed from what I've seen out of him. Now, it's just workouts, they can't go 5-on-5, but in comparison, he's in great shape."
Pacers guard Malcolm Brogdon also currently remains under quarantine and away from the team after testing positive for the coronavirus, but the franchise was able to deliver equipment to his home so he can remain in shape before rejoining the team in Florida once he's cleared.
Pritchard confirmed members of the organization are currently being tested every other day. After hearing the league's safety plan ahead of the NBA restart, he's gone from "apprehension to exciting" with his concerns because he believes the bubble setting "could be the safest place in the world."
Indiana (39-26) is set to face the Philadelphia 76ers on Saturday, Aug. 1, to kick off the action.
"We have to know tomorrow about every player. I think we have one that is still on the fence. The one thing with him is we've given him a lot of space," Pritchard said. "This is a very personal decision and there won't be no judging or any way that he goes, we want to support. Obviously we want him to play, but it's a very individual decision and I don't want to be the kind of leader who says, 'you have to do it.'"


Source : ESPN