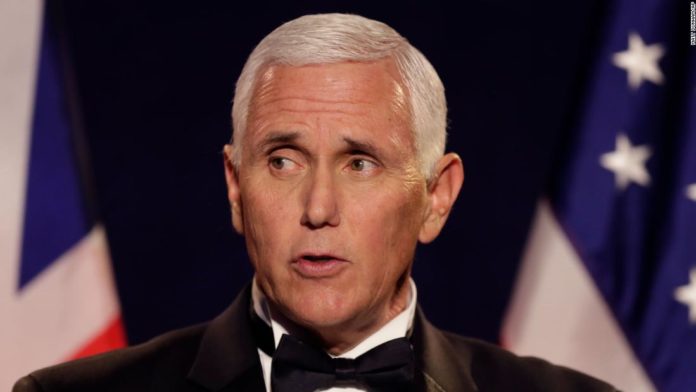 If you study Ireland's politics, read its great writers or visit the Emerald Isle, you soon learn that these folks use language in a way that puts the rest of the English speaking world to shame, and there's nothing they detest more than a phony. So it was that an Irish Times columnist
assessed the visit
of America's vice president with an article titled, "How Mike Pence shat on the new carpet in Ireland's spare room."
The grandson of an immigrants from County Clare and County Sligo, Pence loves St. Patrick's Day and shamrocks but doesn't seem to identify with the immigrant yearnings that align the Irish with the Latin Americans struggling to become Americans today. Pence's own grandfather fled poverty and violence to find sanctuary here, but Pence
supports
the viciously
anti-immigrant policies
of the administration he serves.
In Ireland this week, Pence insulted his hosts by fleeing Dublin for a village 180 miles to the west where he and his big entourage spent untold federal dollars on luxury rooms
at one of President Trump's golf resorts
. (House Democrats
have already requested
the paperwork on Pence's stay.) Although this stiff-arm treatment of the Irish hospitality industry was appalling, it was Pence's comments about Brexit t
hat moved Miriam Lord
to regard him as Trump's untrained lapdog: "As Pence read from the autocue and Irish eyes definitely stopped smiling, it was clear he was channeling His Master's Voice. Trump is a fan of Brexit and of Boris."
"Boris" is the British Prime Minister Boris Johnson,
who is having a disastrous run of things
in his effort to force the United Kingdom's quick exit from the European Union even if no formal agreement for the separation is reached with the EU. This so-called "hard Brexit" would reinstate the controlled border that separated the Republic of Ireland from Northern Ireland during the decades long period known as The Troubles, when thousands were killed in fighting over the north's status as part of the UK. Putting up new customs and passport control stations could restore the conditions that caused The Troubles to fester in the first place.
Clancy's open protest, like Miriam Lord's writing, proved the New Ireland's openness and respect for free speech. For centuries their ancestors had to express their political views in less obvious and symbolic ways in order to avoid the wrath of British authorities. This old art still comes in handy on occasions when there's a point to be made but circumstances call for courtesy and reserve.
It seems the president wanted to make sure that everywhere Pence went overseas, locals would understand just how divisive America's top leaders have become.


Source : Nbcnewyork