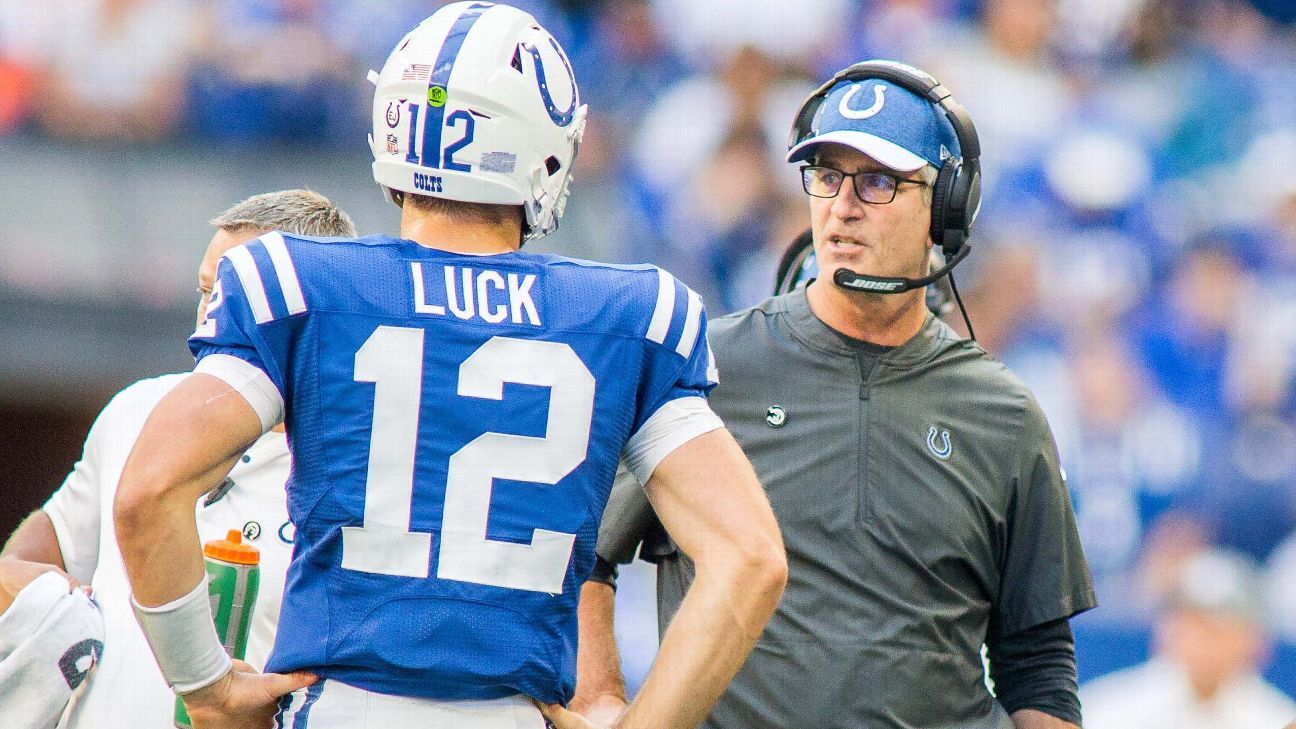 INDIANAPOLIS — It doesn't take a high-five between Andrew Luck and Frank Reich on the sideline after a well-executed scoring drive for Indianapolis Colts offensive coordinator Nick Sirianni to crack one of his sly grins knowing they're in a good position with their quarterback and head coach.
Sirianni is often reminded of it throughout the week during meetings.
"It's crazy when they're in the meeting room and they're yelling out the same thing."

Eric Ebron on the connection between Andrew Luck and Frank Reich
"It's things like when we rank our third downs and I'll see Frank's, and Andrew will say, 'I want this one first. This is my second one' and it's always pretty similar," Sirianni said. "It may seem like a little thing to some, but that's usually a good sign. … If we're all seeing it the same way, particularly Andrew and Frank the playcaller … then we're usually in a good position. There's no pride or egos involved in it. Frank really understands and gets that, because he's been in that spot."
Reich, mostly a backup quarterback during his 13-year playing career, was also the backup option as coach of the Colts after the Josh McDaniels fiasco last winter. But Reich is what Luck needed in his head coach and playcaller.
Reich gets Luck because he played the position. He speaks the same language as his quarterback and sees the game in the same tight window as Luck. Reich is also a football junkie who can talk the game 24 hours a day — just like Luck. Late in his playing career, Reich even dealt with the same torn labrum that idled Luck for nearly three full seasons.
It's that type of relationship and communication that has played a part in Luck being on pace for career highs in completion percentage (67.9) and touchdowns (43). The next stop during his revival season comes Sunday in Houston (1 p.m. ET, CBS), when Luck and the Colts (6-6) will try to keep their playoff hopes alive against the streaking Texans (9-3).
"It's a damn good scary in how they see the game the same when we talk," backup quarterback Jacoby Brissett said. "We'll be going over something and they'll say the same thing at the exact same time, or we're talking about plays and without even talking to each other they'll come up with the same scenario. They're so much alike."
Having a former quarterback as his head coach is not something new for Luck. He had it at Stanford with Jim Harbaugh, and when Bruce Arians was the Colts' interim coach while Chuck Pagano battled cancer in 2012.
"There is a certain element when it's a quarterback as the head coach," Luck said. "I think there's certainly things you don't know unless you play the position. Certain things I don't know about being a defensive back. I do think there are some pluses when the head coach is calling the play if that personality can handle it, because you communicate a lot. I think he understands the situation."
What has impressed many in the organization is that even though Luck is the franchise's most important player, that hasn't stopped Reich from challenging the quarterback. There's no coddling on the practice field, in the meeting room or during games. Reich's words carry a lot of weight because he has been in the position of facing a pass rush, having to make a back-shoulder throw and running the two-minute offense.
• Cooper vs. Tate: Which trade was better?
• Darnold, Allen trending in opposite directions
• Ravens' deception key in battle of NFL's best
• Lattimore eager to win rematch with Evans
• Who Rams turn to when Gurley needs break
"I really think it's been an incredible job both ways of understanding each other," center Ryan Kelly said. "Frank has all the trust in the world in Andrew in what he sees and what he relays as a coach during the game and practice. I think you see it on Andrew's face. He's having a lot of fun again and playing with a lot of confidence. There's definitely a mutual respect there."
One of the first things Reich had to do with Luck was alter his game some mentally and physically. Mentally, Luck could no longer envision himself as invincible when it came to taking hits. And physically, there have been fewer deep drops in the pocket, holding the ball waiting for a play to develop down the field. Reich's offense is predicated on quick, rhythm throws.
Reich was prepared to handle a quarterback of Luck's caliber because he coached Philip Rivers as offensive coordinator of the Chargers and was in the same role with Carson Wentz in Philadelphia.
"I don't think it was that tough at all," Reich said. "[Luck] is obviously an excellent player. [He's] committed to what we are doing. Most of the concepts we are running he has run at some level. It is just maybe we emphasize different things than have been emphasized in the past for him. So he has just done a phenomenal job and really most of that — well, it has really been on the field and in his preparation during the week. Just really getting a handle on every nuance of every play. Sometimes the phrase, 'Knowing where every bone is buried in a play,' and he does a great job of that."
Luck picked up Reich's offense fairly quickly despite not being fully cleared to play until the start of training camp in late July. But then again, Luck is used to change, with this being the fourth offensive system in which he has played during his seven-year NFL career.
"Andrew's recall ability is some of the best I've ever been around," Arians said. "When I went out and worked him out at Stanford, his recall on the board was almost photographic. He's extremely intelligent, and he gets it real fast. Sometimes you have to watch. Sometimes when you're coaching guys like that, you don't put in too much because other guys on the team can't learn as fast.
"The thing about Frank is, he not only has experience but he has winning experience. He's been in some really good programs as a player and as an assistant coach and been with some damn good quarterbacks. All that is invaluable to a quarterback."
Luck's recall was on display in the Colts' Week 12 game against Miami when the Dolphins lined up in a certain defensive formation for only the second time all season, leaving the quarterback to say "Oh s—" when he surveyed the field.
Panic? No.
Luck eluded two pass-rushers, stumbled twice, switched the ball from his left hand to his right and completed a 34-yard pass to Chester Rogers on the Colts' winning drive.
Having essentially another coach in Luck has helped Reich along in his first season as a head coach.
"It really does," Reich said. "He sees the whole picture, and he knows what has to happen for us to execute. He's really good at this. I have to worry about my job, so he's going to worry about his fundamentals, techniques and reads, progressions. He's the quarterback, so he does a good job of not only taking care of his responsibility but understanding the bigger picture and giving guys the right kind of coaching on the field that they need."
Remember how Reich doesn't hesitate to challenge Luck? The same goes with Luck when it comes to speaking out when he doesn't like a certain play, a certain situation or how a play is worded. The coach might have thoughts about a play, but the odds of having success decrease if the quarterback doesn't agree with it.
"I really believe this is a player's game and, although we're trying to design and scheme good plays, at the end of the day the quarterback has to feel comfortable and confident," Reich said. "That's why it's so important that he's as vocal as he is about things."
It's that type of open dialogue that makes the offensive meetings educational, intense and better, as the Colts have a top-10 offense.
"Honestly, Frank is a genius," tight end Eric Ebron said. "Nick is smart within the offense, and Andrew Luck is a phenomenon. It doesn't happen often. Andrew corrects 95 percent of everything. I'm pretty sure Frank will say it, too. Andrew is the smartest person in the room. But not only that, Frank has played the game, but Andrew is playing the game. Andrew can see the things, but Frank knows the things.
"If Andrew doesn't like it, he'll let everyone know. And everyone is on the same page. It's crazy when they're in the meeting room and they're yelling out the same thing. It's wild how much they're in tune and know their s—. That's what you want. You want a player's coach. You want a guy that's going to buy into the players, because they're playing. They understand and they know rather than using your force and saying, 'I've done this and this works.' I think everything [general manager] Chris Ballard did to put [people] around Andrew was genius."


Source : ESPN