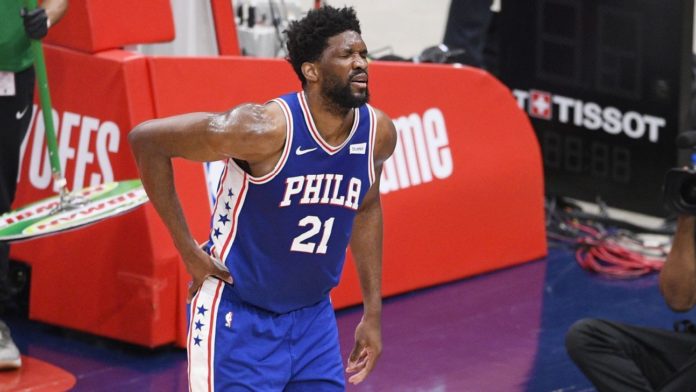 The Philadelphia 76ers announced Wednesday that superstar center Joel Embiid has a lateral meniscus tear in his right knee after taking an awkward fall during Game 4 of the first-round playoff series against the Washington Wizards on Monday night.
The Sixers said the injury will be treated not with surgery but with a physical therapy and treatment program. Embiid will not play in Game 5 on Wednesday night and is day-to-day going forward. The Sixers lead 3-1 in the best-of-seven series.
ESPN's Adrian Wojnarowski reported that managing potential swelling and pain in the knee will play a significant part in how soon Embiid will be able to return to the floor.
Embiid suffered the injury midway through the first quarter of Game 4 when he drove into the paint and fell awkwardly after being challenged by Wizards center Robin Lopez at the rim. After losing his balance on his way down, Embiid landed with all of his weight on his right leg, then fell hard on his back.
He grimaced in pain, and he grabbed at his back when he got up. After staying in for a few more minutes, Embiid checked out of the game and walked back to the locker room.
Embiid had a similarly awkward fall on the same court in March — only that time it was his left leg that took the brunt of the landing. That fall caused Embiid to suffer a bone bruise in his left leg, an injury that sidelined him for 10 games.
This season was the best of Embiid's NBA career, as the 27-year-old averaged 28.5 points and 10.6 rebounds while shooting career bests from the field (51.3%), from 3-point range (37.7%) and from the free throw line (85.9%) in 52 games, leading the Sixers to the best record in the Eastern Conference and being named a finalist for the league's MVP award.


Source : ESPN