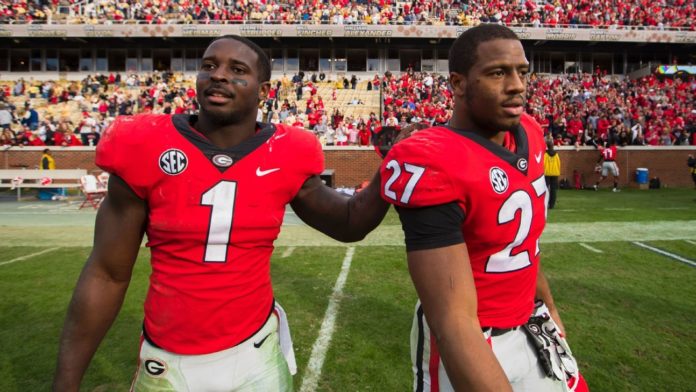 Predicting what a team will do at No. 32 overall in the NFL draft is much like throwing darts, but there is an argument to be made for why the Super Bowl champion Philadelphia Eagles might trade out of the first round then use their top remaining selection on a running back.
Here are the facts to help build the case:
The Eagles need more picks. They have only six at the moment, which is tied for a league low, and do not currently own a second- or third-rounder. Executive vice president of football operations Howie Roseman has stressed the importance of building up their draft stockpile so they can infuse the roster with more players on rookie-level deals to offset all the big-money veterans on the team, especially with quarterback Carson Wentz eligible for a long-term contract after this season.
One way to do that is by trading back. They should be able to get a high second-rounder plus a late Day 2/early Day 3 pick if they're willing to sit the first night out. It's not hard to see why it could be appealing assuming there's no player on the board with a strikingly better grade than the rest of the field.
The top of the second round looks like running back territory. In his latest mock draft, Mel Kiper has LSU's Derrius Guice and USC's Ronald Jones going 34th and 38th, respectively, with Rashaad Penny of San Diego State and Georgia's Sony Michel getting plucked a short time later. While it's possible one or two of these backs goes off the board before the Eagles get back on the clock, there's a good chance they'll have multiple quality options.
The Eagles are in the market for a back. While they have two good options on the roster in Jay Ajayi and Corey Clement, and are interested in re-signing the 34-year-old Darren Sproles for another season, there's no doubt they'd like to add to the running back room, especially with last year's leading rusher LeGarrette Blount exiting via free agency. They're doing their homework on Guice, Michel, Penny, Georgia's Nick Chubb and others.
They tried to snag a back in the second round last year. The Eagles had their sights set on Florida State's Dalvin Cook at No. 43 overall, but the Minnesota Vikings engineered a trade with the Cincinnati Bengals to leapfrog Philly and secure their hopeful successor to Adrian Peterson. The Eagles ended up using their second-round pick on Washington cornerback Sidney Jones and tried to address the running back position in the fourth round by taking San Diego State's Donnel Pumphrey, who squeaked onto the 53-man roster before being moved to injured reserve (hamstring).
If nothing else, their interest in Cook showed they are not philosophically opposed to taking a back that high. They could try to reel their running back target in this time if the stars properly align.
The team's draft wish-list appears to include running back, tight end, linebacker and secondary. As it so happens, the top end of the second round looks like a good place to address several of those areas. That could be all the more incentive to trade back. If that's the direction they go in, coach Doug Pederson might walk away with a new weapon for his already potent offense.


Source : ESPN