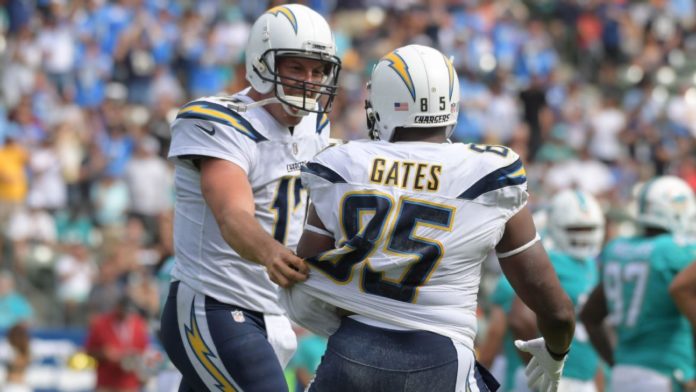 COSTA MESA, Calif. — A week after losing tight end Hunter Henry for the season due to a right ACL injury, Los Angeles Chargers quarterback Philip Rivers said he is all for a return of veteran tight end Antonio Gates to the roster.
"I would always be excited if he walked back in the door, obviously," Rivers said about Gates. "But that's something that [GM] Tom [Telesco], [president of football operations] John [Spanos] and Coach [Anthony Lynn] — all of those guys I'm sure would discuss and see about bringing anybody in for that matter. But certainly he would get my vote."
The Chargers lost Henry for the year when he suffered a season-ending knee injury running an out route during the first organized team activity practice on Tuesday last week. Rivers said he talked with Gates about a possible return.
"I have talked to him, and I'll kind of leave that between us," Rivers said. "He first, like I said, he hated it for Hunter. If something were to happen down the road, he wouldn't have wanted it to come that way, with Hunter's absence. So that was really more of our conversation.
"But he's doing good. I think this time of year for him, even in these last few years of his career, I don't know if he's doing a ton different than he was. He stayed ready. He wasn't here this time of year a ton. He was always getting himself ready and with his family and children. So I'm sure he's in shape and will be ready if called on, if that's something he's interested in."
During the draft in April, Telesco told reporters that the Chargers chose not to bring back Gates in free agency because his role would be limited. However, at the end of last season Gates said he still wants to continue playing. Gates turns 38 years old on June 18.
Gates already has a good rapport with Rivers, intimately knows the offense, and showed during the last two games of the 2017 season — with 10 catches for 127 yards and a touchdown — that he can still make plays.
Gates is the all-time leader in receiving touchdowns by an NFL tight end with 114.
Gates and Rivers have connected on 87 touchdown passes during their time with the Chargers, the most in league history for a quarterback-tight end tandem.
An eight-time Pro Bowler who signed as an undrafted free agent out of Kent State in 2003, Gates is the all-time franchise leader for the Chargers in receptions (927), receiving yards (11,508) and touchdowns (114).
Like Rivers, Lynn said he's also spoken with Gates over the past week since Henry's injury.
"It was never about his performance," Lynn said. "These things happen to great players. I've played with some — Shannon Sharpe, Steve Atwater, Jerry Rice — it happens. I spoke to him last week just to check in on him. He's doing fine. We'll see what happens."
The Chargers signed Virgil Green to a three-year, $8.6 million deal this offseason to serve as the team's blocking tight end. Sean Culkin, Braedon Bowman, Ben Johnson and Cole Hunt are the other tight ends on the team's 90-man roster, so depth at that position is an issue.
"We've got four-plus months before we open up, so we'll look at all the options that we have out there, and see where the roads head after that," said Telesco when asked about the possible return of Gates.


Source : ESPN