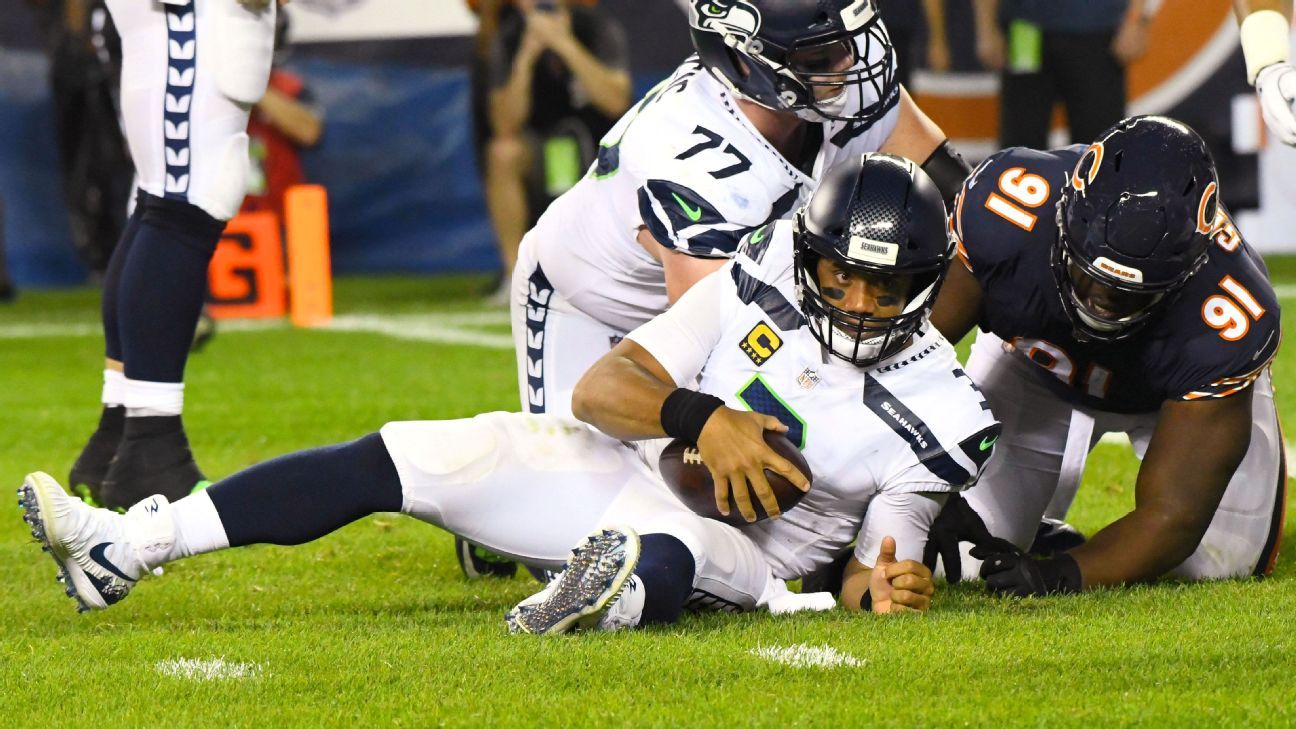 CHICAGO — When the Seattle Seahawks retooled their star-studded defense this offseason, saying goodbye to a handful of franchise greats, the strength of their team shifted to the other side of the ball.
For the first time in years, the offense — led by a Super Bowl-winning, MVP-candidate quarterback in Russell Wilson and a rebuilt running game — was the unit that was going to keep the team in games the way the Legion of Boom did so well for so many years.
Or so they thought.
Hope is not lost for Russell Wilson & Co. Not after two games. Not in a league where so much can change so quickly. But it isn't as easy to picture this as a group that can carry the Seahawks after its clunker of a performance in a 24-17 loss to the Chicago Bears on Monday night.
Wilson was playing without his top target, receiver Doug Baldwin, who was out with an MCL injury. But Baldwin's absence alone hardly explains the ugly totals: 276 yards of total offense, 5-of-13 on third down and another six sacks allowed.
The loss would have been far more lopsided if not for the Seahawks' defense, especially Shaquill Griffin. The second-year cornerback picked off Mitchell Trubisky on consecutive possessions in the first half. That group resembled one you'd see in August thanks to so many unfamiliar names in starting roles due to injuries. It did about as well as anyone could have expected it to without linebackers Bobby Wagner and K.J. Wright — two of Seattle's best remaining defensive players — as well as a third starter in cornerback Tre Flowers.
But Seattle's offense went three-and-out after both of Griffin's interceptions and finished with all of 79 yards and three points at halftime. It was that kind of night, and it was pretty much over when Wilson threw a pick-six and then lost a fumble on back-to-back possessions in the fourth quarter.
Wilson was sacked six times, bringing his two-week total to 11. According to ESPN Stats & Information research, he became the first quarterback to be sacked at least 11 times in his first two games since Chad Henne (13) in 2014.
• Carroll 'sculpting,' not getting stale
• Despite additions, it's about Trubisky
• Fitz's story shouldn't end after Week 3
• Packers struggle with roughing calls
Yes, Seattle's offensive line predictably had its hands full with Khalil Mack and a very good Bears defensive front, but Wilson again held onto the ball too long, something he admitted to doing last week when he took the blame for three of Seattle's five sacks.
You don't need to be a football expert to credibly question Seattle's playcalling, specifically the way the Seahawks seem averse to running the ball even though their stated intention was to revive that part of their offense. Brian Schottenheimer talked this week about needing to do a better job of sticking with the run after he called only 14 plays last week that had Wilson handing off to a tailback. That never materialized. Running backs Chris Carson, Rashaad Penny and Mike Davis combined for 19 carries in all and only eight through three quarters.
It leaves questions about protecting Wilson, finding playmakers beyond Baldwin and playcalling, but few answers and an 0-2 start for the Seahawks.


Source : ESPN