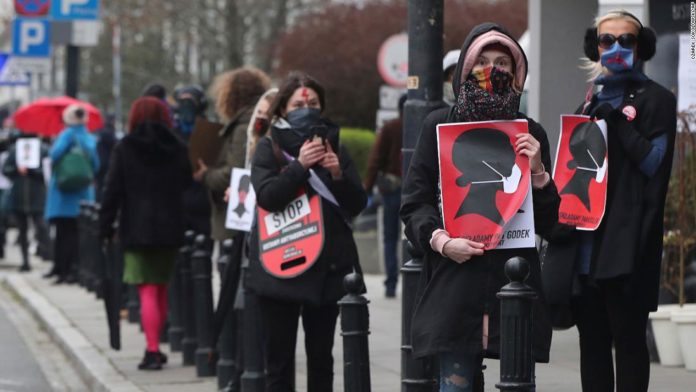 The bill calls to strike fetal impairment from the slim list of legal reasons for abortion in the country. Polish law currently only allows abortion in cases of rape, danger to the mother's health or life, or severe damage to the fetus.
As the abortion bill was being introduced, Kaja Godek, a prominent anti-abortion figure in Poland and head of the Life and Family Foundation described it as a form of protection for disabled children. She had spearheaded a similar bill in 2018, but was met with nationwide protests.
Rights activists accused lawmakers of trying to take advantage of the coronavirus lockdown to try to the pass highly controversial legislation.
"They thought we wouldn't protest at all. I think they thought we would be afraid of the economic persecution," said Marta Lempart, founder and coordinator of the grassroots movement promoting women's rights, "Women's Strike," told CNN, referring to fines designed to enforce social distancing.
Her group nevertheless helped organize demonstrations across Poland on Tuesday and Wednesday, which saw many protest in cars, in queues for shops, as well as riding bikes and putting posters and banners on balconies.
Amnesty International Poland Director Draginja Nadazdin has called on lawmakers to reject the bills. "These laws would fuel fear and ignorance, and further restrict access to abortion for women in a country whose abortion law is already one of the most restrictive in Europe," she said.
Nadazdin also warned that that bills "would not only endanger the health and lives of women and girls but also obstruct young people's access to the information that they need for healthy sexual relationships. In a country where sexual and reproductive rights are already extremely limited, education about sexuality is crucial to help young people make decisions on things such as consent, contraception and prevention of sexually transmitted infections."
But President Andrzej Duda had already signaled his support for the restrictive abortion bill in March, when he told a Polish Catholic news outlet, Niedziela, "I am a strong opponent of eugenic abortion and I believe that killing children with disabilities is frankly murder. If the plan finds itself on my desk, I will in all certainty sign it."
It remains unclear whether the ruling Law and Justice party (PiS), affiliated with Duda, will back the bill.


Source : Nbcnewyork