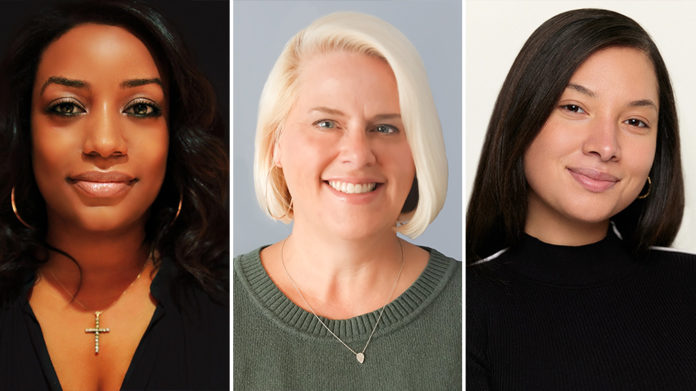 The New York music scene is a bustling playground for the industry's most eager power players. Ready to face the evolving landscape head-on, the executives featured in Variety's larger New York Women's Impact Report (see the full report here) are navigating everything from accelerating advances in technology to global takeovers.
Here we highlight the achievements of powerful women who have broken barriers in their respective fields to innovate and elevate the ever-expanding business of music in 2023. From launching one-of-a-kind talent partnerships and experiential activations to championing long-deserving artists, the women in this list have risen to unimaginable heights to create a long-lasting impact.
Among them are executives from Sony Music Entertainment, Alamo Records, the Orchard, Live Nation and Wasserman Music. Read more about them below.
LaTrice Burnette
Exec VP, Def Jam Recordings; president, 4th & Broadway
Burnette helped shape DJ Khaled's career at Epic Records and last month reunited with the hitmaker at Def Jam, the label where he launched his career as an A&R executive. "We have so much history and such big plans for the future," she says. "It just felt right to bring him home to Def Jam." This type of long-term trust has led to the prolific success of many of Burnette's artists, from Muni Long's 2022 Grammy noms to rapper Armani White's viral hits. On her radar for 2023? "Afrobeats and the proliferation of pan-African genres," Burnette says. "Popular music is truly global now."
Gina Duncan
President, Brooklyn Academy of Music
Early last year, Duncan returned to BAM after a two-year term at the Sundance Institute, becoming its president and the first Black person to hold the position. "Since my appointment, I've received a tremendous amount of support and kindness from all corners of the BAM community," Duncan says. "I am a nontraditional hire in every sense of the word, and I think that enables me to see opportunities where others might see obstacles." Duncan aims for BAM to become a place "where artists and audiences come together for the benefit of all."
Juliette Jones
COO, Alamo Records
Jones joined Alamo Records just over a year ago after a decade at Atlantic Records, and in January her purview expanded when Alamo founder-CEO Todd Moscowitz teamed up with parent Sony Music Entertainment on Santa Anna, a company that seeks to support artists in building their businesses and maximizing creative potential. Jones cites development as her favorite part of the job — Alamo's roster includes Lil Durk, Rod Wave and DD Osama. "It's very fulfilling," Jones says. "We also have a very young staff, so helping them to learn and grow as executives is equally fulfilling."
The Women of Live Nation: Stacie George, Maria Lanao
George: Senior VP, Booking, Live Nation Northeast
Lanao: Latin talent buyer, Live Nation Northeast
From Bad Bunny's back-to-back sold-out nights at Yankee Stadium in 2022 to securing the booking partnership for SummerStage in Central Park and producing hip-hop 50th-anniversary celebration concerts hitting New York later this year, George and Lanao's portfolio is as fruitful as can be. "As a New Yorker for over 10 years now, I have always wanted to curate a diverse lineup at the most notable parks venue in the city," says George about SummerStage. Lanao is also looking to super-serve the rapidly growing Latin markets spreading across the U.S. "In the past there was this idea that certain genres did not cross over with East and West coasts, but that is not the case now. We will absolutely continue to see more growth and opportunities in other parts of the country and in states Latin music tours have traditionally skipped over."
Lyn Koppe
Exec VP, Global Catalog, Legacy Recordings, Sony Music Entertainment
Leading Sony's catalog division doesn't always involve ancient golden oldies. "Someone's career doesn't have to be over in order to engage with a catalog," Koppe says, citing a fifth-anniversary campaign promoting SZA's "Ctrl." But Legacy's foremost 2022 accomplishment was truly vintage: promoting Elvis Presley in conjunction with a smash biopic. "Sixty-something percent of all new listeners that engaged with Elvis were 18 to 34; six months later, most of them were still engaging" — something Koppe knows because "I geek out on data." After working for Sony for 25 years, Koppe still feels "like a kid in a candy store, and the candy is 125-plus years of recorded music."
Cat Kreidich
President, Alternative Distribution Alliance 
Since joining ADA Worldwide, Warner Music Group's independent artist and label services arm, two years ago, Kreidich has put a focus on tech-enabled solutions, including the company's first proprietary distribution tool developed specifically for the indie community, in the process empowering artists and labels to run their businesses more efficiently. Among ADA's other successes: Central Cee's "23" mixtape debuted at No. 1 in the U.K., Macklemore and Ryan Lewis celebrated their second RIAA-certified diamond single, and Quevedo was No. 1 on the Spotify Global Singles chart for 50 days.
Jessie Maldonado
Senior VP, Promotion and Operations, RCA Records
Behind some of 2022's most-played music, from Steve Lacy's Grammy-nominated "Bad Habit" to SZA's record-breaking album "SOS," Maldonado works alongside co-head of promotion Keith Rothschild, and is instrumental in forming the strategy and execution of national radio promotion. She has helped artists such as Latto and Doja Cat become airwave mainstays. "There's an obvious cultural shift happening in the world, and we need to be able to move at a faster pace to embrace what's happening around us musically," she says. "From reggaeton to K-pop to Afro­beats and beyond — what's next?"
Susan Mazo
Exec VP, Global Corporate Social Responsibility, Events and Special Projects, Universal Music Group
Mazo oversees UMG's worldwide philanthropic efforts and special projects, including the company's fully carbon-neutral Grammy Week events, and she has strengthened the company's partnership with Reverb to produce eco-friendly activities. She continues to work with UMG's All Together Now Foundation, which partners with employees, artists and fans to support orgs around the globe, and was an advocate for the Use Your Voice campaign for voter education and access in the U.S. "We want to demonstrate to the industry that a more sustainable approach is not only achievable, but that it can be executed at the highest level and in a manner that's accessible," she says.
Brooke Morrow
Exec VP, Creative Development, Electric Feel
When she joined music management firm Electric Feel just nine months ago, Morrow was ready for a new adventure. She brought her 35 years of experience in growing young writers to CEO and founder Austin Rosen's flourishing independent company, home to clients Post Malone, Iann Dior and 24kGoldn. Her day-to-day duties include developing collaborations, setting up songwriting camps and finding additional revenue sources so that songwriters can enhance their value. "Although there have been significant advancements over the past few years with the rise in digital platforms, there is always more work to be done to advocate for songwriters," Morrow says.
Natalia Nastaskin
Chief content officer, Primary Wave Music
Primary Wave has fast become a major player in the music catalog acquisition and development field, and Nastaskin has put more than 30 music-driven projects into development and production since joining the company from UTA in 2021. These include biographical films about James Brown, Olivia Newton-John, Luther Vandross and Sun Records, as well as feature film projects with soundtracks inspired by the music of Air Supply and Bing Crosby. She also has struck theater partnerships with Lively McCabe for a slate of music-powered jukebox musicals, and with TEG+ for catalog-inspired Broadway shows. "We're fortunate to work with some of the most in-demand, coveted music in the world," she says.
Faith Newman
Exec VP, A&R and Catalog Development, Reservoir Media
Getting the De La Soul catalog on streaming services was "a historic moment, 34 years in the making," that involved "18 months of intense work to clear all the samples and prepare the audio," Newman says. "It was especially meaningful to do this for Dave [Jolicoeur; the rapper died in February] and have his memory live on through the music." Newman has leaned hard into personal relationships to get deals done amid the intense competition for catalog music. Meanwhile, being an inaugural board member of the Universal Hip Hop Museum — coming to the Bronx in 2024 — "means everything" to Newman, a rap fanatic since age 13. 
Liz Norris
Partner and head of Media and Brand Strategy, Activist Artists Management
Two Activist clients enjoyed tours that were among the biggest of 2022: Dead & Company and the Lumineers. The former will disband after this year, although Bob Weir's post-Dead plans involve staying busier than ever. The Lumineers still haven't plateaued, and they graduated to the stadium level in some markets in 2022. As a company name, Activist is literal; advocating for sustainability is a priority, Norris points out. The firm is championing a women-run nonprofit, Sound Future, to "accelerate climate innovation for the live-event industry." Her sector's biggest challenge? "Wellness on the road," physically and mentally: "We talk a lot to thought leaders in this space."
Edenized Perez
Agent, Brand Partnerships, Wasserman Music
Perez works to help artists find brand partners that fit with their creative vision. One such project this year brought together rapper Kendrick Lamar and Cash App for a video that played before every show on his "Big Steppers" tour; the video promoted financial literacy with the message, "Invest in yourself #thatsmoney." As for what she would change about the music industry, Perez strives to see an increase in intersectional voices. She says: "Bringing more individuals of different backgrounds creates a diverse range of perspectives which lead to intentional approach and purposeful actions."
Debra Rathwell
Exec VP, Global Touring, AEG Presents
In a blockbuster year, Rathwell promoted the final North American dates of Elton John's multiyear "Farewell Yellow Brick Road Tour" — the highest-grossing tour of all time — along with major treks for Lorde, Carrie Underwood and JoJo Siwa. Also on the list: her 10th year promoting Billy Joel's long series of Madison Square Garden shows. Rathwell calls the experience of working with the Rocket Entertainment team on the John tour the honor of a lifetime. "Since January 2022, when the touring business resumed at AEG, it has been the busiest and most exciting year and a half for me."
Shizuka "Shiz" Suzuki
VP, Global Brand Sponsorships and Experiential Marketing, American Express
Perfection is the last thing on Suzuki's mind. "I think people are craving unfiltered, in-the-moment experiences that allow them to be their authentic selves," she says of her team's approach to talent partnerships and experiential activations. Take Harry Styles' Pleasing pop-up shops or "Louisville by Jack Harlow," a concert event that put a spotlight on small businesses. "We're focused on tailoring our benefits and experiences to meet Gen Z where they're at, and it's working," Suzuki says. "Last year, Gen Z and millennials accounted for 60% of new card-member sign-ups, with many citing things like entertainment and sports experiences as a reason for them to join Amex."
Julie Swidler
Exec VP, Global Business Affairs, Sony Music Entertainment 
In addition to developing Sony Music Entertainment's Artists Forward initiative, which provides resources, support and remuneration pipelines for talent, Swidler helped facilitate the company's $430 million acquisition of British distribution company AWAL, which she views as another pathway for artist engagement. But she is proudest of the $500 million purchase of Bruce Springsteen's catalog: "This is an artist who has been with Sony-owned Columbia Records  for his entire career and wants his legacy and future to stay with Columbia." Anticipating growth of artificial intelligence startups, Swidler seeks "connection, creativity, strength and to lead with gratitude" as she works to protect the creative community.
Colleen Theis
President and COO, the Orchard
Under the Orchard's direction, Bad Bunny's "Un Verano Sin Ti" ended 2022 with 13 non-consecutive weeks at No. 1, a culture-shifting first for a non-English-language album. "That doesn't happen with just one department, just one region. That was a massive team effort," Theis says. "Being able to provide a global platform, and the freedom to communicate, is something that is game changing for the industry, because these artists are connecting." At the core of it all is "the company by design," and Theis' conscious effort to recruit "more women — and beyond gender, people of different ethnicities and ages at global levels in all areas."
Maria Weaver
President, Warner Music Experience
With the launch of Warner Music Experience's FAST channels focusing on hip-hop, pop and rock, Weaver worked to facilitate fan connection with artists while providing new avenues for their advertising partners. Despite her additional oversight of merchandising operations and VIP experiences for more than 300 tours worldwide last year, Weaver insists each artist "requires a bespoke campaign" that merges content and commerce via growing communities both in person and online. "Roadblocks and obstacles are a given," she says, "and the pandemic was devastating to our tour business, but against all odds we jumped back into action and delivered our highest volume year to date."




Source : Variety