They're among the most dominant players in NFL history and they form perhaps the most colorful group of personalities to go into the Pro Football Hall of Fame at one time.
We celebrate the uniqueness of the HOF Class of 2018, which will be inducted into Canton on Saturday (7 p.m. ET, ESPN). From Ray Lewis' iconic "Squirrel" dance to Terrell Owens' star moment to Randy Moss' spectacular touchdowns, we let the players take you inside key plays and moments. There's also a quiz with quirky facts about each inductee.
Get to know the Class of 2018.
From the scrum at the star to situps in his driveway, we look at some of the most unforgettable dates in Terrell Owens' Hall of Fame career.
---
The safety's vicious hit on tight end Alge Crumpler set the tone for the Eagles' 2004 NFC title game win over the Falcons.
---
Brian Urlacher's strip of Edgerrin James helped the Bears overcome a 23-3 third-quarter deficit in Arizona, prompting Dennis Green's infamous tirade.
---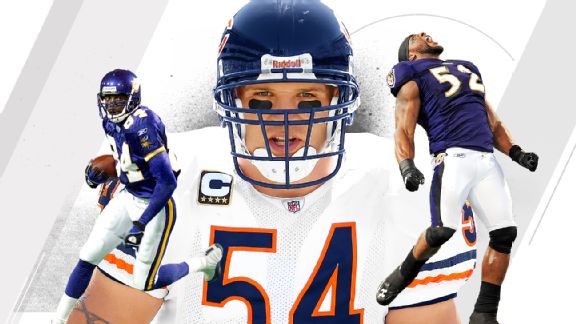 Who donated an unopened bottle of Orange Crush to the HOF museum? Who now has hair? Find out how well you know this year's Hall of Fame class.
---
News, video and analysis: HOF Class of '18
Terrell Owens always caught the attention of fans whether it was incredible catches or antics after a touchdown.
Brian Dawkins connects with a massive hit on Alge Crumpler in the second quarter of the 2004 NFC Championship game.
Brian Urlacher strips Edgerrin James and Peanut Tillman returns it for a touchdown in a miraculous comeback win for Chicago.
Damien Woody breaks down why Terrell Owens deserves to make his Pro Football Hall of Fame induction speech wherever he chooses.


Source : ESPN