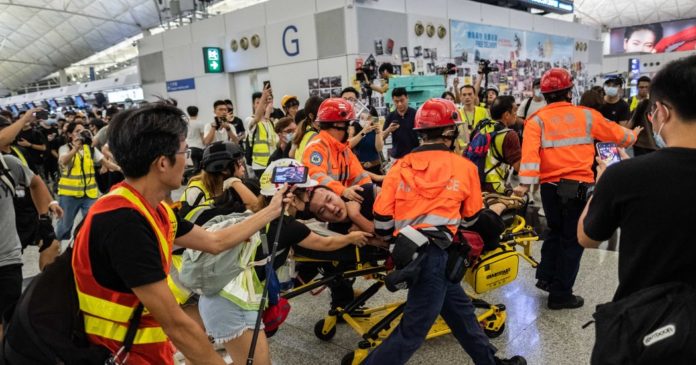 HONG KONG — A Hong Kong court on Friday sentenced two men and one woman to several years in prison for assaulting a Chinese state media reporter during a protest that paralyzed the territory's international airport in 2019.
The sentences ranged from four years and three months to five and a half years — the heaviest penalties handed down yet in connection with the protest movement that engulfed Hong Kong that year, according to a lawyer for one of the defendants.
The assault took place during a drawn-out occupation of the airport by antigovernment protesters in August 2019 that resulted in the cancellation of hundreds of flights and crippled one of the world's busiest transit hubs for two days.
As tensions rose between protesters, police officers and supporters of Hong Kong's government, at least a dozen people surrounded Fu Guohao, a reporter for Global Times, a nationalistic tabloid owned by China's ruling Communist Party, according to prosecutors.
Mr. Fu, 29, claimed to be a tourist, but protesters were suspicious of his identity. They began punching and kicking him, and also bound him with zip ties and shined lights into his eyes, prosecutors said.
The judge, Lee Hing-nin, said that CCTV and media footage of the incident proved the guilt of the three defendants: Lai Yun-long, 20; Amy Pat Wai-fan, 25; and Ho Ka-lok, 30. A fourth defendant was acquitted after Judge Lee said his role in the episode was not clear from videos.
Judge Lee wrote in his ruling that the defendants had tried to "stimulate and provoke feelings of hatred" in the crowd toward Mr. Fu, and that they had prompted fears that they would inspire others to "destroy the peace of society."
The protests, which began in June 2019, were set off by a proposal to allow extraditions from Hong Kong, a former British colony that returned to Chinese control in 1997, to mainland China and other places. They soon evolved into broader demonstrations against the Chinese government, marked at times by fierce resentment and outright aggression toward anyone seen as affiliated with the mainland.
Some demonstrators later apologized for their behavior during the airport protest. They said that the Hong Kong police's use of undercover officers to infiltrate their ranks had made them fearful and suspicious.
A defiant remark that Mr. Fu made to the protesters — "I support the Hong Kong police. You can all attack me now" — became a nationalist meme on China's heavily censored internet, driven in part by Global Times and other state-run media outlets, which falsely depicted the protest movement as exclusively violent.
The protests have since been quashed by both the pandemic and a sweeping national security law that Beijing imposed on Hong Kong last June, under which broad categories of dissent have been made illegal and numerous protesters, politicians and others have been arrested.
Mr. Ho was sentenced on Friday to five years and six months in prison, Mr. Lai to five years and three months, and Ms. Pat to four years and three months. They were convicted of a mix of charges that included rioting, assault and unlawful imprisonment.
Wong Sze Hai, a lawyer for Ms. Pat, said that to his knowledge, the sentences were the longest yet given in connection with the protests. Previously, a protester had been sentenced to four years.
The Hong Kong police hailed the sentences. "The riots that occurred in such an important place not only hurt the victims, but also humiliated Hong Kong's people," Cheung Man Hon, a senior inspector, said at a news conference on Friday. "This sentence reflects the severity of the riot and will certainly have a deterrent effect."
Elsie Chen contributed research.


Source : Nytimes