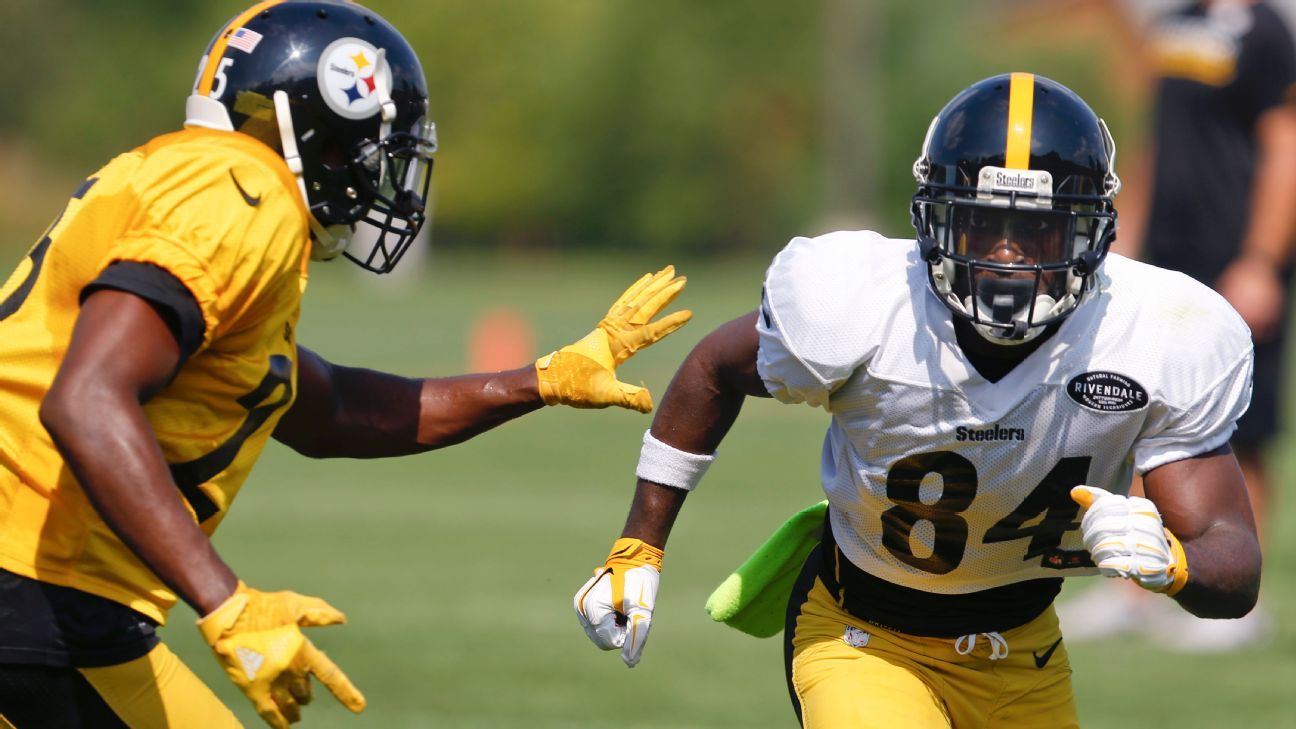 LATROBE, Pa. — Antonio Brown plants a neon Nike cleat into the rain-soaked grass, head fakes inside and bolts to the sideline, where Ben Roethlisberger's pass awaits. This is an unguardable play that Roethlisberger and Brown have refined with thousands of reps, but Brown just missed a week of practices, so he must set a tone for cornerback Artie Burns.
• It's Super Bowl or bust for Vikings and Rams
• How the Rams won the offseason
• Keep hands on Antonio Brown (in practice)
• How new players try to learn new playbook
• Which rookie RB will emerge first as a No. 1?
"You ain't stick me since we've been here," Brown said in Burns' direction after flipping his touchdown pass to the ball boy and heading to the back of the line for another one-on-one session, where he'd later hit Joe Haden with an unfair triple move.
"Man, whatever. We've still got time," Burns said.
This is how the best moments of camp are formed. Brown makes his greatness known, the cornerbacks chirp back and the physical downfield plays ensue.
There's no diva treatment with the game's best receiver. Brown is cool with pulling, pushing and jersey-yanking, as long as teammates know he's giving it right back.
"We know we can take it to that extra limit. I know he's going to bring his best, so you better bring yours," said Burns, who matches up with Brown most often and has had modest success over the past two training camps. "He doesn't really care what techniques I use, he's just going to line up and try to beat me. He's going to get real physical back."
Brown loves facing Burns because of their connection as Miami natives, but that won't stop him from charging at Burns with both hands during a run play, forcing the corner to reset himself.
For the player known for 10 p.m. leg-lift sessions in the Saint Vincent College gym during camp, the expectation is clear: Use physicality to get better each day, and others will follow.
"It's a competitive league so I embrace anyone who is a Steeler," Brown said of his practice approach. "I love everyone who is a Steeler, and hopefully these guys know what being a Steeler means when they get here — hard-nosed, physical, a championship environment, big-time first class players, blue-collar."
'Makes me so much better'
After seven losing seasons with the Cleveland Browns, Haden was thrilled to join a winner when the Steelers signed him before the 2017 season. High on the new-job priorities list was guarding Brown each day.
"I just love it," Haden said. "Me and AB were going at it for years playing against each other, but having him in camp, he talks to me and says, 'Man, Joe, I just love going against you.' It's the same way. It makes me so much better."
Brown isn't expressing that love mid-route, though. In one-on-ones Saturday, Haden had Brown covered well for about three seconds until Brown used Haden's momentum against him, spinning off the pylon and fading into the corner for the score. Haden doesn't sweat it, knowing Brown likely can't buy that much time in game action. "You be running those triple moves in the end zone," Haden said.
Haden wasn't pushing Brown on that play but will be physical when necessary. If Haden is in press man coverage, for example, he has told Brown he will be "getting into him" as if he's preparing for a game. That often means checking Brown with one hand at the line. If bodies bump on the turn of the route, so be it.
"That's what I've got to do to get my stuff right, and he respects it," Haden said.
Haden is finishing up his first training camp in Saint Vincent College, and his hope is the sessions with Brown will prepare him like never before. One thing stands out after dozens of reps with Brown: He never runs a route the same way. His leverage position is always changing.
"If you can cover AB, you can cover anyone," he said.
Careful what you ask for
Brown is an equal-opportunity punisher. He'll give that work to any corner who wants it. During last year's camp, Ross Cockrell said publicly he wanted more reps against Brown, who quickly declared that matchup "too easy" after beating Cockrell on a deep ball and calling on Burns to resume guarding him.
Cockrell was traded before the season, largely because the Steelers were acquiring Haden. But his last practice memories in Pittsburgh were not pretty.
Second-year corner Cam Sutton isn't about to publicly challenge Brown, but he would embrace the change. He has lined up with him a few times in team drills, though he doesn't remember the outcomes. From jamming to playing off, Sutton is willing to try new things on Brown because that's the point of practice.
To take the cheese, as Sutton calls it.
"What's the risk? Doesn't matter. You're competing," Sutton said. "You're trying to make a play and so is he. If you just line up against a top receiver and play him with the same technique, it's not going to end well for you. So I talk to [Brown] all the time, picking his brain, what he sees, what he's thinking. Can I hold this disguise? Can I play this technique better?"
And cornerbacks get help on Brown quite often. Brown joked with defensive coordinator Keith Butler that he was "trying to rehab" after the safety came with a hard double in the red zone. Brown had just returned from a minor leg injury.
Burns prefers the head-to-head matchups. Good corners must have amnesia when it comes to getting beat, and Burns is always eyeing the next chance at a pick. Burns has noticed he and Brown are more physical with each other when officials aren't at practice, which is about half the time.
"That helps him, too, because since he's already seen me in training camp, that prepares him for the season," Burns said.
The way Brown sees it, his feet and hands are always prepared.
"It is all about leading with example," Brown said.


Source : ESPN