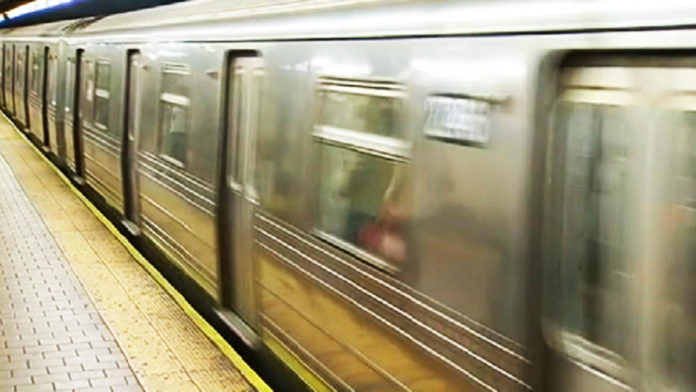 Trains across New York City are set to start running faster, with some already going faster than they have in years. 
NYC Transit is making amendments to the city's train speed limits after reviewing the rules and finding that, for decades, trains have been traveling slower than they needed to.
The reasons are two-fold.
In 1995, a crash on the Williamsburg Bridge led to an increase safety restrictions, with certain rules put into place that are now obsolete due to modern trains having automatic brakes.
Couple that with the fact some of the signals in the tunnels don't work and tell trains to slow down for no reason, and you'll see how the trains got to running slower than they should be.
With the new changes, some trains should be running at twice the speed, NYC Transit vice president of subways Sally Librera said.  "In some cases they're going from 15 [mph] to 30 [mph]. Others from 15 [mph]  to 20 [mph]."
Transit president Andy Byford said the plan was a way to improve service on the MTA now before Albany decides whether to fun a $40 billion modernization. 
"The operators can go much more quickly. It's about safely saving seconds," he said.
The MTA says the first trains with faster signals are in Sunset Park and Bay Ridge, Brooklyn. The rest of the city will get faster trains in the coming weeks.
Here is the list of 34 places where the MTA says trains will now run faster: 
Subject:Speed limit locations
| | | | | | |
| --- | --- | --- | --- | --- | --- |
| Lines Served | Track (Local/Express) | Direction | Station |  New Limit vs Old Limit | ESTIMATED Number of seconds saved for each single train movement (BARRING ANY OTHER CIRCUMSTANCE) |
| R | Local | SB | North End of 36th St Platform (Brooklyn) | 30 MPH vs. 15 MPH | 14 Seconds |
| R | Local | SB | North End of 59th St Platform (Brooklyn) | 30 MPH vs. 15 MPH | 14 Seconds |
| R | Local | NB | Between 53rd St and 59th St (just north of 59th St platform) (Brooklyn) | 20 MPH vs. 15 MPH | 07 Seconds |
| JMZ | Local | SB on JZ, NB on M | Between Essex St and Bowery (just past Essex platform) (Manhattan) | 20 MPH vs. 15 MPH | 25 Seconds |
| JMZ | Local to Middle Track | NB on JZ, SB on M | Between Hewes and March (just before Marcy)  (Brooklyn) | 30 MPH vs. 15 MPH | 31 Seconds |
| Q | Local to Express | NB/SB | South of Prospect Park (Brooklyn) | D-25 vs. D-15 | 18 Seconds |
| R | Local | SB | Between 36th St and 45th St (Brooklyn) | 20 MPH vs. 15 MPH | 20 Seconds (two consecutive signs total) |
| 1 | Local | NB/SB | Between 215 and 207 (Manhattan) | MAS vs. 20 MPH | 14 Seconds (x2 – bidirectional) |
| 1 | Local | SB | North of Penn Station (Manhattan) | MAS vs. 18 MPH | 10 Seconds |
| 23 | Express | SB | South end of Penn Station Platform (Manhattan) | 30 MPH vs. 20 MPH | 07 Seconds |
| RW | Local | SB | North end of Herald Sq Platform (Manhattan) | 25 MPH vs. 15 MPH | 11 Seconds |
| RW | Local | NB | south of Times Sq (Manhattan) | 30 MPH vs. 15 MPH | 15 Seconds |
| NQ | Express | NB | South of Herald Sq (Manhattan) | 25 MPH vs. 20 MPH | 06 Seconds |
| NQRW | Local/Express | SB | Switches South of Prince St (Manhattan) | D-15 vs. D-10 | 18 Seconds |
| F | Local | NB | South of 18th Av Platform (Brooklyn) | 25 MPH vs. 15 MPH | 23 Seconds |
| BD | Only track | SB | Between 7th Av and 47-50th St (Manhattan) | 25 MPH vs. 18 MPH | 17 Seconds |
| 23 | Local | SB | Between Bergen St and Grand Army Plaza (Brooklyn) | MAS vs. 20 MPH | 07 Seconds |
| 2345 | Local+Express | SB | South end of Atlantic Ave Platform (Brooklyn) | MAS vs. 23 & 26 MPH | 08 Seconds (x2 – local and express) |
| 23 | Local | SB | South end of Nevins Platform (Brooklyn) | 25 MPH vs. 10 MPH | 26 Seconds |
| 23 | Local | NB/SB | North End of Nevins Platform (Brooklyn) | 15 MPH vs. 10 MPH | 15 Seconds (x2 – bidirectional) |
| 45 | Express | NB | South of Franklin Av (Brooklyn) | MAS vs. 20 MPH | 15 Seconds |
| RW | Local | NB | South of City Hall (Manhattan) | 15 MPH vs. 6 MPH | 24 Seconds |
| A | Express | SB | Just North of W. 4th Street (Manhattan) | 30 MPH vs. 25 MPH | 06 Seconds |
| 45 | Express | NB | North of Canal St (Manhattan) | 30 MPH vs. 23 MPH | 13 Seconds |
| F | Only track | SB | South end of 18th Av Platform (Brooklyn) | 20 MPH vs. 15 MPH | 12 Seconds |
| MR | Local | SB | Between 36th St and Steinway St Queens | 30 MPH vs. 20 MPH | 13 Seconds |
| 6 | Local | NB | South of 116th St (Manhattan) | 25 MPH vs. 15 MPH | 10 Seconds |
| 25 | Only track | NB | Between President St and Franklin Ave (Brooklyn) | MAS/25  vs. 20 & 15 MPH | 25 Seconds (two consecutive signs total) |
| RW | Local | SB | South end of 57th St-7th Av Platform (Manhattan) | 35 MPH vs. 16 MPH | 13 Seconds |
| BD | Express | SB | South of Broadway-Lafayette(Manhattan) | 30 MPH vs. 20 MPH | 13 Seconds |




Source : Nbcnewyork