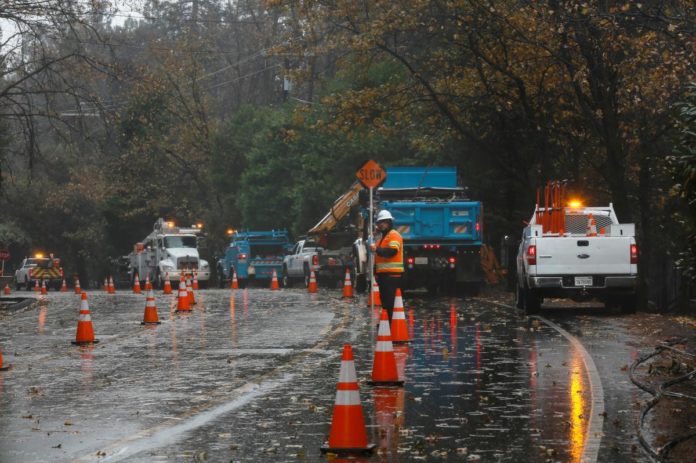 FILE PHOTO: PG&E crew work to repair damage caused by the Camp Fire in Paradise, California, U.S. November 21, 2018. REUTERS/Elijah Nouvelage
(Reuters) – The rains that have drenched northern California for days were forecast to diminish on Saturday, giving way to clear skies as teams continue their search for the remains of victims of the deadliest wildfire in the state's history.
The so-called Camp Fire all but obliterated the town of Paradise, 175 miles (280 km) northeast of San Francisco, on Nov. 8, killing at least 84 people and destroying nearly 14,000 homes.
Some 475 people from Paradise and surrounding communities remain unaccounted for, according to a list from the Butte County Sheriff's Office. Drone footage buttecountyrecovers.org/Maps provided by Paradise to help residents see if their homes survived showed how the fire leapt from house to house in the mountain community of 27,000.
Paradise was a popular destination for retirees, and two-thirds of the victims named so far were aged over 65.
The 2 to 3 inches (5 to 8 cm) of rain that fell in the area during the last few days turned ash from the thousands of homes that were destroyed into slurry, complicating the work of finding bodies reduced to bone fragments.
Butte County Sheriff Kory Honea has warned that remains of victims may be "very small bone fragments," and some may never be found.
Firefighting teams had contained 95 percent of the blaze, which torched 154,000 acres – an area five times the size of San Francisco, said Andrew Freeborn, a spokesman for the California Department of Forestry and Fire Protection.
Investigators have yet to determine the cause of the fire.
Thousands of people forced to flee Paradise spent Thanksgiving in warehouses in the nearby city of Chico, or with friends or relatives in nearby towns.
Reporting by Andrew Hay in New Mexico; Editing by Leslie Adler and Hugh Lawson


Source : Denver Post