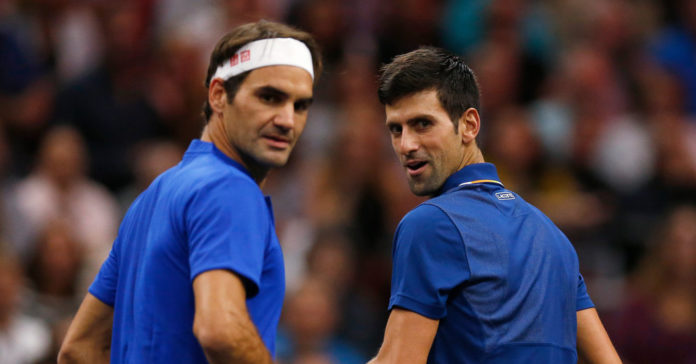 An outsider would have been troubled to discern their tepid relational history had they parachuted into Chicago last week. The stars teased each other on social media, with Federer asking Djokovic if he would recreate the iconic lift scene between Jennifer Grey and Patrick Swayze in the film "Dirty Dancing."
They joked with each other in interviews. They shared team dinners, offered counsel and cheered on teammates while discussing everything from match strategy to child rearing to tour politics. There was Federer hovering behind Djokovic's bench and doling out advice during Djokovic's loss on Saturday night to Anderson, who is from South Africa. (Djokovic, despite his hot form, went 0-2 in his maiden appearance at the Laver Cup, though Europe won for a second consecutive year.)
The competition's chummy, bromance-heavy atmosphere did little to detract from the competitive juice during play. Matches were tight, hard-fought and enthralling. Eight of 11 were settled by the 10-point match tiebreaker. Both teams squandered multiple match points, including five by Team World in three matches they lost.
Chicago had not hosted a top-level men's tennis event since 1991. It drew 93,584 fans, easily surpassing last year's figure of 83,273. The reception at the United Center, home of the N.B.A.'s Bulls and N.H.L.'s Blackhawks, was loud and appreciative.
Whether the Laver Cup can secure a permanent place in a crowded tennis calendar that faces a glut of new, revamped and resuscitated team events in the coming years remains to be seen. But enthusiasm from fans, sponsors and, most of all, players positions it well. Seven of the top 11 players in the world rankings suited up, though Nadal, No. 1, and Juan Martín del Potro, No. 4, sat out with injuries after expecting to play.
"If somehow tennis was like this every week of the year, it would be so much more enjoyable," said Nick Kyrgios, the animated and unpredictable 23-year-old from Australia.
Tennis in the pre-professional period bred a certain camaraderie exemplified by the close-knit group of Australians — Rod Laver among them — that traveled the world with rackets in one hand and postmatch libations in the other.


Source : NYtimes