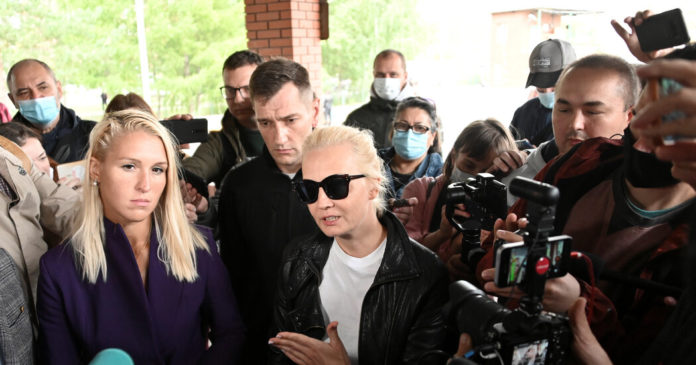 A Russian hospital is refusing to allow the prominent Kremlin critic Aleksei A. Navalny to be transferred abroad for treatment after a suspected poisoning, the opposition leader's spokeswoman said on Friday, setting up a potential standoff as a plane from Germany flew to Russia to take him out of the country.
Mr. Navalny's spokeswoman, Kira Yarmysh, said on Twitter that the head doctor at the hospital in Siberia was barring any transfer because his condition was not stable enough. But Ms. Yarmysh wrote that the refusal to allow Mr. Navalny's transfer was, in effect, "an attempt on his life being carried out right now by doctors and the deceitful authorities that have authorized it."
Mr. Navalny, President Vladimir V. Putin's most persistent critic, was rushed to the hospital in the Siberian city of Omsk on Thursday after he appeared to suffer agonizing pain on a domestic flight after drinking a cup of tea at the airport in the Siberian city of Tomsk.
Footage shared on social media recorded him groaning before losing consciousness, and the plane made an emergency landing in Omsk. He was transported on a gurney to an ambulance waiting on the tarmac.
Doctors at the No. 1 Clinical Hospital in Omsk initially said that Mr. Navalny was on a ventilator in serious condition but later reported that his condition, though still grave, had stabilized.
On Thursday, at the request of Mr. Navalny's family, the Berlin-based movie producer Jaka Bizilj said his foundation was flying an air ambulance to Omsk and hoped to bring Mr. Navalny back to a Berlin hospital, Charité.
In 2018, Mr. Bizilj, whose Cinema for Peace Foundation helped to produce a documentary about the Russian musical group Pussy Riot, organized a transfer to Berlin for one of the band members, Pyotr Verzilov, after he said he was poisoned.
Mr. Bizilj said in an interview that Mr. Verzilov had asked him on Thursday if he could help arrange the same for Mr. Navalny. Mr. Bizilj said that the biggest concern was whether Navalny would be stable enough to make the five-hour flight.
The hospital could not be immediately reached for comment.
Ms. Yarmysh, who was traveling with Mr. Navalny in Siberia when he fell ill, has said that he was poisoned, probably by something put in his tea at the airport in Tomsk, and had lapsed into unconsciousness.
As his supporters said Mr. Navalny was fighting for his life, speculation of foul play escalated, particularly after his personal physician and a fellow opposition activist, Anastasia Vasilyeva, was denied access to his medical records and the intensive care ward where he was being treated.
Ms. Yarmysh said on Thursday that Mr. Navalny's wife, Yulia, had been allowed into his ward after being delayed but that documents needed to fly him out of Omsk to a hospital elsewhere had still not been provided.
Chancellor Angela Merkel of Germany and President Emmanuel Macron of France, meeting in France, offered their assistance, including medical help and possible asylum.
The Kremlin eventually said that it would help facilitate Mr. Navalny's transfer on request, but that did not calm suspicions that the authorities wanted to delay his departure to prevent treatment by foreign doctors who would be more likely to publicly identify any poison remaining in his system.
The Kremlin, which had wished Mr. Navalny a speedy recovery, insisted on Thursday that it was too early to say what caused his illness.
Tass, the state-owned news agency, quoted an unidentified law enforcement source as saying that Mr. Navalny could have "taken something himself" before boarding the plane. But he joined a long list of opponents of Mr. Putin who have been suddenly afflicted by bizarre and sometimes fatal medical emergencies, often after drinking tea.
Melissa Eddy contributed reporting.


Source : Nytimes