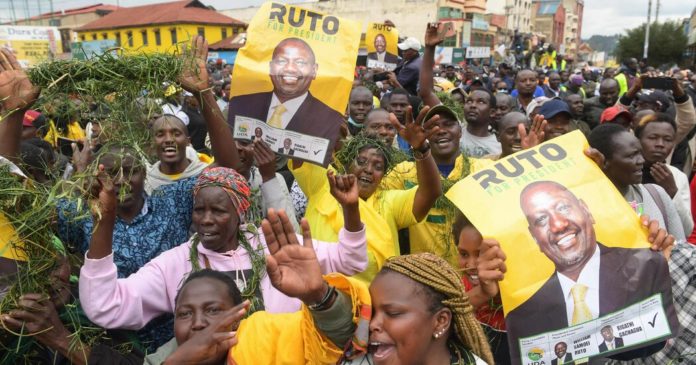 A murder set the stage for Kenya's last election.
Eight days before the vote in 2017, Chris Msando, a senior electoral official, was found dead, bearing torture marks, in a forest outside Nairobi. His girlfriend, Carol Ngumbu, lay beside him. Both had been strangled, a post-mortem examination found.
The death of Mr. Msando, the official in charge of the election results transmission system, immediately aroused suspicions of a link to vote rigging. Weeks later, the opposition challenger, Raila Odinga — one of the candidates in the current race — contested the results in court. He claimed that the electoral commission's server had been hacked by people using Mr. Msando's credentials to give his opponent, Uhuru Kenyatta, an unfair lead.
The election was eventually rerun, with Mr. Kenyatta winning again. But the killings of Mr. Msando and his partner were never solved.
It was a grisly reminder that Kenya's elections, although among the most expensive and elaborate in Africa, are also bitterly contested affairs that have frequently been marred by street violence, lengthy courtroom dramas and loud accusations of foul play.
A dispute over results in the 2007 election plunged the country into a maelstrom of ethnic violence that went on for months, leaving at least 1,200 people dead and compelling 600,000 more to flee their homes. In one episode, a mob set fire to a church outside the town of Eldoret, burning to death the women, children and older people hiding inside.
The scale of the turmoil shocked Kenyans, many fearing that the country was tipping into a civil war, and later attracted investigators from the International Criminal Court.
In 2011, the court charged several leaders with crimes against humanity, including Uhuru Kenyatta, who later became president, and William Ruto, who won the presidency in the current race, according to the head of the country's election commission. But the prosecution collapsed in 2016 after the government stopped cooperating with the court.
In January 2018, Mr. Odinga, the opposition leader who had boycotted the presidential rerun three months earlier, swore himself in as Kenya's "People's President" in a park filled with supporters — a gesture that ultimately led to nothing.


Source : Nytimes