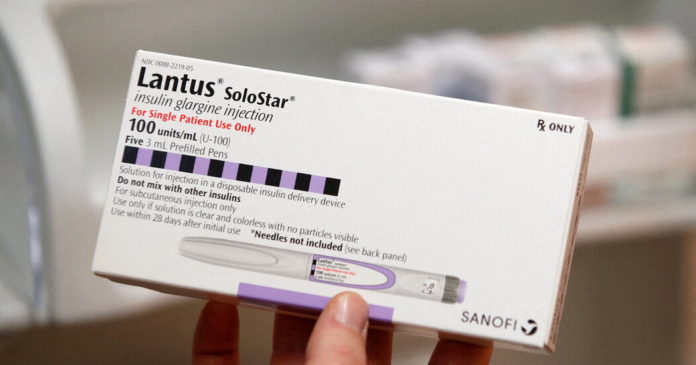 Facing pressure to follow a wave of industry price cuts, the drug maker Sanofi said on Thursday that it would reduce the sticker price of its most commonly used insulin by 78 percent.
The company said it would also cap, at $35 per month, that product's out-of-pocket costs for diabetes patients with private health plans.
Sanofi's moves, which will go into effect at the start of next year, follow similar announcements this month by the two other large insulin manufacturers, Eli Lilly and Novo Nordisk. Together, the three companies control about 90 percent of the insulin market in the United States.
The price cuts are likely to reduce how often Americans with diabetes struggle to pay for insulin, which millions depend on to stay alive. A federal law that went into effect at the start of this year had already capped out-of-pocket costs for insulin at $35 per month for people covered by Medicare.
President Biden and Democratic lawmakers have taken credit for the drug makers' moves, but the companies were facing fewer financial incentives to keep prices high on their older insulin products. Their businesses have grown more reliant on newer drugs for diabetes and obesity. They were also facing looming penalties that would have forced them to pay Medicaid back for raising their prices faster than inflation.
For years, Sanofi repeatedly increased the list price of its most frequently prescribed insulin, Lantus, which the Food and Drug Administration first approved in 2000. The company said it was bringing in less from its insulin products after discounts and rebates were accounted for, compared with a decade ago, and it has blamed insurers for not passing savings down to patients.
Sanofi already had a program capping monthly insulin costs at $35 per patient for the uninsured. Previously, all commercially insured patients were eligible for a Sanofi co-pay assistance program that significantly limited costs for most of them, but a cap was not in place. Under Sanofi's new policy, the cap will automatically go into effect at the pharmacy counter, making it easier for patients to take advantage of.




Source : Nytimes