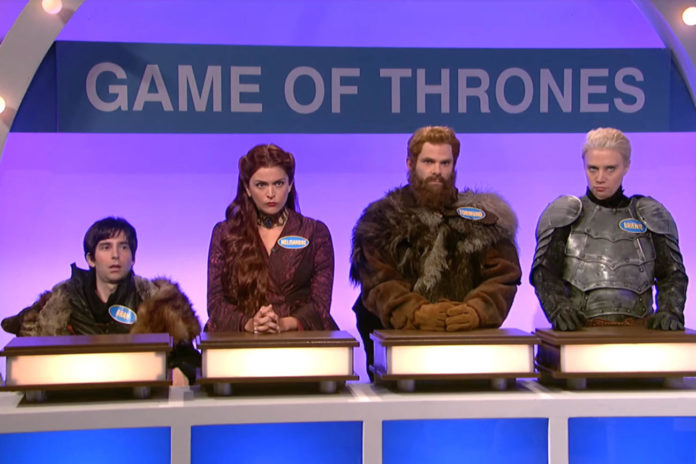 Well, somebody had to do it.
Saturday Night Live's cold open for this week finally brought together the two pop culture heavyweights of the moment, TV's Game of Thrones and the MCU blockbuster Avengers: Endgame, for a simple round of Family Feud.
While the segment didn't exactly bring to fruition some of the wild slash fic fantasies on the internet — although it might've been sweet to see what the Night Kingslayer Arya Stark might do when squaring off with the Mad Titan Thanos — the juxtapositioning of a few key characters from both franchises is still good fun.
For example, the skit puts the newly-knighted Ser Brienne of Tarth against the similarly-armored Thor as they both lay down their bucket list wishes.
"I don't need a lot, I'm kind of a low maintenance girl: armor, short hair," Brienne (played by Kate McKinnon) stumbles before beating the buzzer with her deepest desire: "Jaime Lannister, one night, three hands, no rules." The show's host (Kenan Thompson) rightly interprets that as "trying to get creep with your freaky friend."
Meanwhile, all Thor (Alex Moffat) wants is to "reforge the rainbow bridge to the shining city of Valhalla."
When crunch time arrives, and the rest of the characters have done their worst, Arya Stark (Melissa Villaseñor) saves the day again by picking the one thing she had to do before she could truly be battle ready.
If nothing else, the sketch reminds us all at home of the one thing Game of Thrones does show that all of the Marvel Cinematic Universe cannot: characters "getting booty."
Saturday Night Live airs live at 11:30/10:30c on NBC.




Source : TVGuide