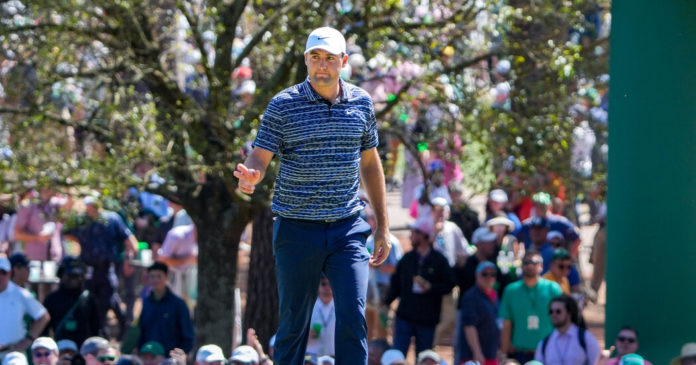 AUGUSTA, Ga. — Scottie Scheffler, a rising star on the PGA Tour, now has a green jacket to go with his No. 1 ranking. Scheffler, 25, won the Masters Tournament on Sunday by three strokes, claiming his first major championship with a steady, poised final round that took advantage of the three-stroke lead he held after three rounds of the tournament.
Scheffler, a New Jersey native who was raised in Texas, has won four of his last six events this year. In February, he won the Waste Management Phoenix Open. A few weeks later, he finished first at the Arnold Palmer Invitational and, late last month, he won the World Golf Championships-Dell Technologies Match Play event.
On Sunday, Scheffler held off an early challenge from Cameron Smith of Australia, who was Scheffler's playing partner because of his second-place finish in Saturday's third round. Rory McIlroy, who has won every major golf championship except the Masters, also made a late bid to catch Scheffler.
Scheffler has a self-effacing, everyman style that has made him popular with his colleagues. He has, however, remained something of an unknown to casual sports fans because he had not won a tour event before this year. But there were signs a year ago that Scheffler was beginning to find his rhythm at the upper level of men's competitive golf. At the last three majors of that season, he finished tied for eighth at the British Open, tied for seventh at the U.S. Open and tied for eighth at the P.G.A. Championship.
Scheffler and Smith are the only two players on the PGA Tour who have two or more wins in 2022.
Scheffler, like Smith, is one of a new generation of younger golfers who are becoming frequent tour winners. The top seven golfers in the men's world golf rankings are 30 or younger.
This is a developing story. Check back for updates.


Source : NYtimes