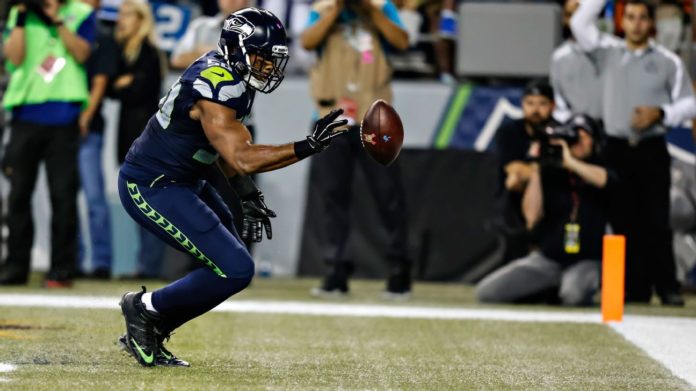 RENTON, Wash. – Seattle Seahawks linebacker K.J. Wright and tight end Ed Dickson are expected to make their season debuts Sunday against the Lions in Detroit.
Coach Pete Carroll was noncommittal on Wright's availability earlier in the week, but on Wednesday he said he's anticipating that both Wright and Dickson will play Sunday as long as they don't suffer any setbacks in the meantime.
The Seahawks could have a pair of defensive ends back this week as well. Rasheem Green is practicing after missing the last three games with an ankle injury. Carroll said Dion Jordan, who has dealt with knee and hip injuries and was inactive for two of the past three games, is "the best he's been in a while."
That's why Carroll answered in the affirmative when asked if the Seahawks, who are coming off their bye, are as healthy as they've been all season.
"We're in pretty good shape," Carroll said.
Wright has been sidelined because of what Carroll called a setback in his recovery from arthroscopic knee surgery in late August, which was initially expected to keep him out only a few weeks.
The Seahawks have cycled through replacements at Wright's weakside spot, first starting rookie Shaquem Griffin in the opener. They then signed Mychal Kendricks, who played there for the next three games until he was suspended indefinitely in connection with his pleading guilty to insider trading charges. Austin Calitro has also seen time there, and more recently, Seattle has moved Barkevious Mingo over from the strong side.
Wright is now back in the spot he manned for most of his first seven seasons in Seattle.
"He brings a lot to the team," middle linebacker Bobby Wagner said. "Another guy who's kind of been through so much, been through the ups and downs of this team, this organization, has so much experience, extremely, extremely smart football player, very instinctive. We've been playing together for seven years, so we have communication that can't be replicated, and he makes plays. He's going to make adjustments and things of that nature, so I'm extremely excited to have him back. I think the last time we saw him he was making big hits and all that stuff, so that's what I'm expecting from him."
The Seahawks signed Dickson to be their starting tight end after letting Jimmy Graham leave in free agency, but he's been on the Non-Football Injury list since the start of training camp because of a quad injury. Seattle has since lost rookie Will Dissly to a season-ending knee injury and Nick Vannett has been dealing with a balky back, so Dickson's return provides a needed reinforcement at tight end.
Carroll said that while he hasn't seen much of Dickson in practice because he's been out for so long, the four seasons the tight end spent with the Carolina Panthers gives the Seahawks an idea of how he can help them.
"He was involved with all kinds of stuff and he's been placed all over the field, he's been in the backfield, he's been out of the backfield," Carroll said. "All of that really gives us confidence that there's stuff that we can do with him that we're looking forward to. But really he has not practiced with us very much, so we're kind of opening up the Christmas present here. It's kind of fun to get him going."


Source : ESPN