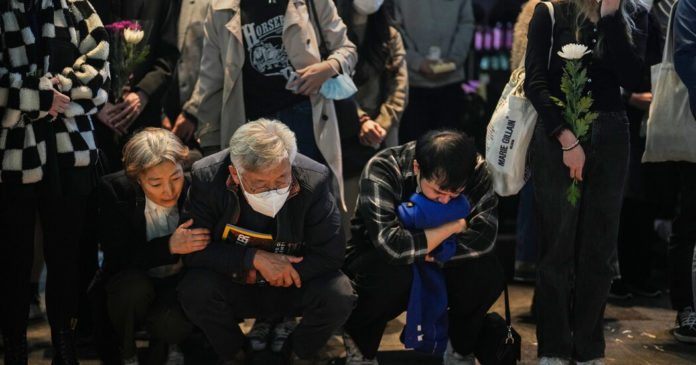 Even on an ordinary weekend, the neighborhood attracts a crowd. But this promised to be no ordinary weekend, and while the investigation was still continuing, on Monday questions were being raised about why no police officers were in Itaewon to provide crowd control at a well-known choke point near a busy subway station exit and a tight alleyway known for its high foot traffic.
As South Korea grappled to understand how a tragedy of this scale could have happened, no government agency seemed prepared to take full responsibility for the scores of people who were killed on one of the busiest nights of the year in Itaewon, though there were signs of division within the governing camp.
South Korea's home minister, Lee Sang-min, said police forces were overextended throughout the city on Saturday to deal with large anti-government and other protest rallies, which have grown in recent months. But, he said, "I doubt that the problem in Itaewon could have been solved even if we dispatched police and firefighters in advance."
In a radio interview, Kim Gihyeon, a senior leader of President Yoon Suk Yeol's governing People Power Party, said Mr. Lee should "watch his mouth," and blamed the local police for failing to control the crowds.
On Monday evening, the police were still interviewing witnesses and scrutinizing reams of security camera footage.
They had expected a crowd of about 100,000 people each day during the Halloween weekend, but according to traffic data from the Seoul subway, 130,000 passengers used the station in Itaewon on Saturday, compared with 96,000 per day during the Halloween weekend in 2019 and 60,000 to 80,000 per day during the Halloween weekends during the coronavirus pandemic. Last year, only 85 officers were deployed.


Source : Nytimes