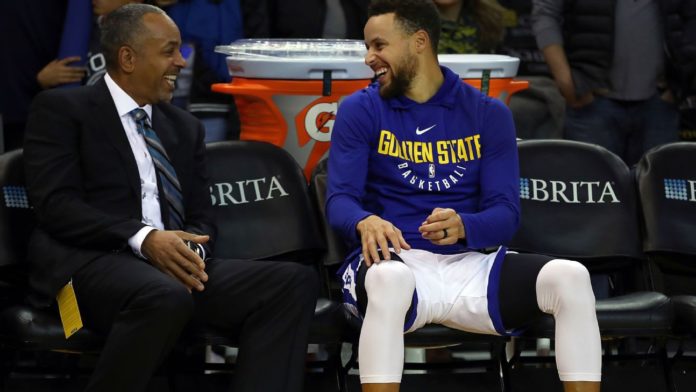 OAKLAND, Calif. — Golden State Warriors superstar Stephen Curry is looking forward to serving as an ambassador for his hometown of Charlotte, North Carolina, this weekend during All-Star festivities.
Curry, who spent most of his childhood in Charlotte while his father, Dell, starred for the Hornets, and went to school at Davidson College, just outside the city limits, is excited to showcase his old stomping grounds.
"I'm going to do whatever I can to highlight, like showcase the city," Curry said after Tuesday's shootaround, in advance of Golden State's game against the Utah Jazz. "And celebrate it for what it meant to me and my journey. Our family and my dad, in terms of where he is in all the record books of Charlotte — Kemba [Walker] just passed him I think for all-time scoring — but he has other records that talks about his longevity there. And if you say his name in the city they know who you're talking about, so just embrace the weekend, embrace the fun, and hopefully keep the ticket list low."
Curry said he was "embarrassed to say" just how many tickets he was trying to secure for family and friends for the weekend, noting that the number was close to triple digits.
"It's closing in," Curry joked. "All of section 121."
Aside from Curry's place in Sunday's starting lineup as a member of Team Giannis, the two-time MVP will also be participating in Saturday night's 3-point shootout alongside his brother, Portland Trail Blazers guard Seth Curry. Dell Curry will be honored during an event Sunday morning for his contributions to the game. It will be a family affair for the first basketball family of Charlotte.
"There's always sort of an unofficial host of All-Star Weekend," Warriors coach Steve Kerr recently told ESPN. "Usually it's one of the guys playing for the local team, but this one is — the roots are so much stronger. It's almost like the whole Curry family is hosting the All-Star Game. With Seth being in the 3-point shootout and Dell being a legend there."
Steph Curry is well aware of the connections, but he wanted to share the spotlight with the Hornets organization, preferring to give the more public host role to Hornets owner Michael Jordan and All-Star Walker, when asked if he or members of his family were the unofficial hosts of the weekend.
"No," he said. "The Hornets organization in general, MJ and Kemba, obviously they represent the city on a daily basis. We'll be everywhere, we'll be all over the city throughout the weekend. I'm sure you'll see a lot of it, but I hope to just be in the moment and be able to celebrate how 10 years in I'm coming full circle back where it all started, back at home, so I'm just going to enjoy myself."
As much as Curry tries to share the stage within his hometown, he also understands how much pride the people in Charlotte take in his success.
"Southern hospitality," Curry explained. "Anyone that's from there, they come up and they got that accent and say I grew up in South Charlotte, West Charlotte, wherever. Solid basketball history and being so close to Tobacco Road and ACC country and all that type of stuff. Just a lot of pride being from there. It's grown a lot. The city's changed a lot even since I left 10 years ago and when my dad was there … just in terms of me growing up, learning the game of basketball there.
"The community that supported my pops and my mom when they were coming through and in turn me and my siblings, it's a lot of great memories. That no matter where I go, having been out in the Bay [Area] for 10 years, it's still pretty close to my heart."
On top of all the other events scheduled around town this weekend, Curry is expected to be in attendance at Davidson on Friday night for the Wildcats' game against St. Joseph's. Davidson coach Bob McKillop is hopeful his former star player will be able to make it and wants him to feel at home if and when he does.
"We don't want to create something that is going to be out there in the public eye, and he might not have the opportunity to get there," McKillop said during a recent phone conversation. "That's one thing I think some people don't understand, how his time is incredibly, incredibly consumed by being who he is. And he is so generous with his time to Davidson and to me and our program, so we're not going to at all try to do something that's going to intrude upon his time schedule."


Source : ESPN