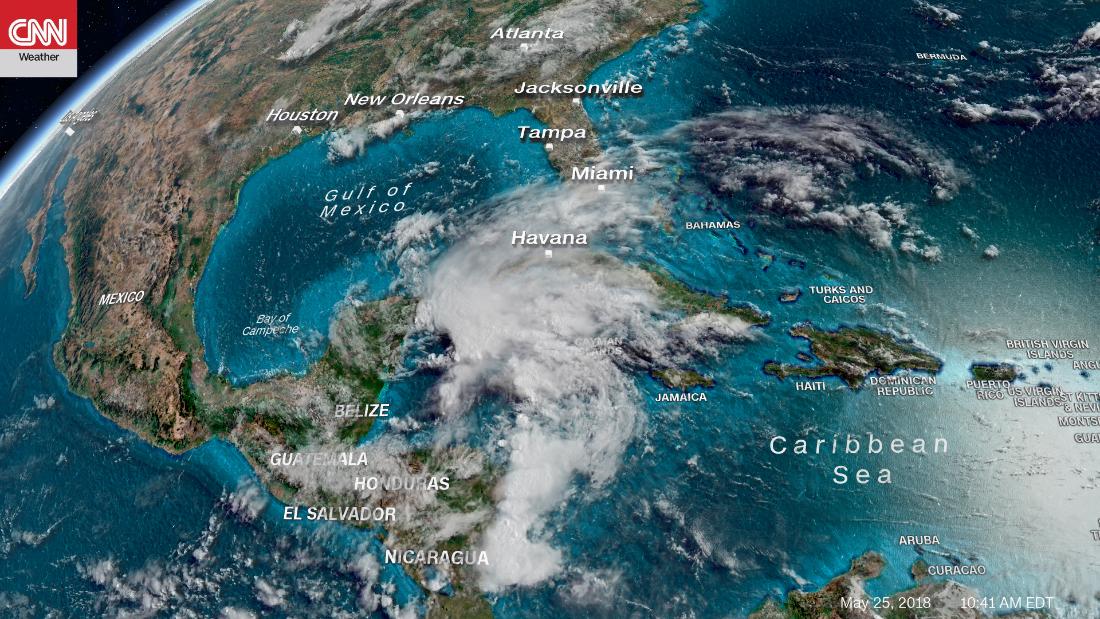 Alberto is scheduled to make landfall on the Florida Panhandle early Monday, and the three states likely to bear the brunt of the storm have begun preparing states of emergency.
Florida Gov. Rick Scott issued the declaration for all 67 counties in his state. Mississippi Gov. Phil Bryant authorized the use of the National Guard, his office said in a statement.
Alabama Gov. Kay Ivey issued a state of emergency for 40 counties, starting at 6 a.m. Sunday. Ivey activated the state's emergency operations center while the Alabama National Guard activated its high water evacuation teams.
Alberto is expected to produce heavy rainfall and flooding over western Cuba, South Florida and the Florida Keys, the National Hurricane Center said Sunday.
"Heavy rains and gusty winds continue to spread northward over Florida," it tweeted. "Hazardous storm surge is possible along portions of the central and eastern Gulf Coast beginning Sunday."
Storm expected to strengthen
The first named storm of this season, Alberto is expected to strengthen as it moves up the Gulf this weekend, the National Hurricane Center said, bringing heavy rains and possible floods to Florida and much of the Southeast in the coming days.
Cuba is expected to get as much as 15 inches of rain, the hurricane center said in an
advisory
Saturday, and the Florida Keys and South Florida could get as many as 10 inches.
New Orleans urged residents and businesses to "get prepared and stay informed" about the storm. The main threat is from heavy rain that could lead to flooding, the city said, but also high winds and storm surge could cause problems.
"I strongly encourage everyone to be safe and stay informed," Mayor LaToya Cantrell said in a statement.
Hurricane season doesn't officially begin until June 1, but Alberto apparently missed the memo. The tropical system became a subtropical storm Friday, the hurricane center said. As it travels up the warm waters of the Gulf, it could well become a full tropical storm.
A tropical storm watch is in effect for parts of Mississippi and Alabama, meaning the conditions for a full storm are possible in the next 48 hours.
CNN's Brandon Miller, Amir Vera and AnneClaire Stapleton contributed to this report.


Source : CNN