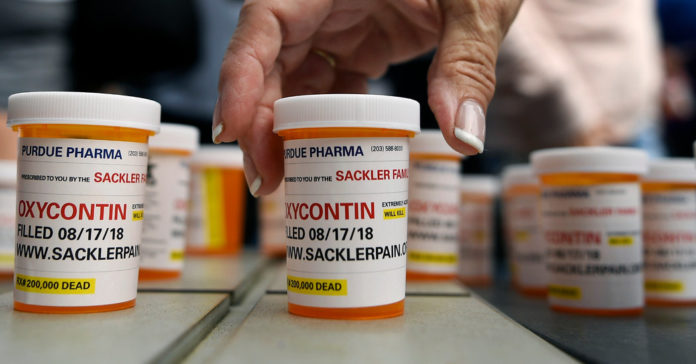 WASHINGTON — A new study offers some of the strongest evidence yet of the connection between the marketing of opioids to doctors and the nation's addiction epidemic.
It found that counties where opioid manufacturers offered a large number of gifts and payments to doctors had more overdose deaths involving the drugs than counties where direct-to-physician marketing was less aggressive.
The study, published Friday in JAMA Network Open, said the industry spent about $40 million promoting opioid medications to nearly 68,000 doctors from 2013 through 2015, including by paying for meals, trips and consulting fees. And it found that for every three additional payments that companies made to doctors per 100,000 people in a county, overdose deaths involving prescription opioids there a year later were 18 percent higher.
Even as the opioid epidemic was killing more and more Americans, such marketing practices remained widespread. From 2013 through 2015, roughly 1 in 12 doctors received opioid-related marketing, according to the study, including 1 in 5 family practice doctors.
The authors, from Boston Medical Center and New York University School of Medicine, found that counties where doctors received more industry marketing subsequently saw an increase in both the number of opioids prescribed and opioid-related overdose deaths.
In response to the study, Dr. John Cullen, president of the American Academy of Family Physicians, said, "A limitation of the study, as acknowledged by the authors, is the many unknown variables that prevent drawing a direct causal link between pharmaceutical marketing and opioid-related deaths."
He added, "We're very much aware of the critical and devastating impact of the opioid epidemic and work every day, with every patient interaction, to fight it. At the same time, we must protect the physician's ability to provide adequate pain management."
The authors acknowledged several caveats in the study, including that it could not differentiate between overdose deaths involving painkillers that are prescribed versus illicitly acquired.
"We acknowledge that our work describes only one part of the very complex opioid overdose crisis in this country," said the lead author, Dr. Scott Hadland, a pediatrician and researcher at Boston Medical Center's Grayken Center for Addiction. "Even still, prescription opioids remain involved in one-third of all opioid overdose deaths, and are commonly the first medications that people encounter before transitioning to heroin or fentanyl. It is critical that we take measures now to prevent marketing from unnecessarily exposing new people to opioids they may not need."
The study found that opioid-related spending on doctors was most highly concentrated in counties in the Northeast; the Midwest had the lowest concentration.
Areas with large numbers of payments and high overdose rates included four cities in Virginia — Salem, Fredericksburg, Winchester and Norton — as well as Cabell County, W.Va., which has one of the highest overdose death rates in the nation. Lackawanna County, Penn., which includes Scranton, also ranked high in both measures, as did Erie County, Ohio.
The authors said they were particularly struck by the fact that the number of marketing interactions with doctors — such as frequent free meals — was more strongly associated with overdose deaths than the amount spent.
"Each meal seems to be associated with more and more prescriptions," Dr. Hadland said. He added that while pharmaceutical company payments to doctors seem to have started dropping, the practice of companies buying meals for doctors "remains alive and well."
The study noted that while some states have sought to limit the total amount drug companies spend promoting their products to doctors — New Jersey, for example, recently adopted a new regulation limiting such spending to $10,000 per doctor, per year — what may matter more is for states or health systems to limit the number of interactions.
"I think what seems to be less important is the amount of money spent," Dr. Hadland said, "compared with the number of interactions."
[Like the Science Times page on Facebook. | Sign up for the Science Times newsletter.]
The study linked information from 2013 to 2016 across three national databases: the Open Payments database, which includes all payments made by pharmaceutical companies to physicians, which companies are required to report under a section of the Affordable Care Act.; dug overdose data from the Centers for Disease Control and Prevention; and C.D.C. data on opioid prescriptions dispensed at pharmacies.
It measured opioid marketing in three ways: the total dollar value of marketing received by doctors; the number of payments made by the pharmaceutical industry; and the number of physicians receiving any marketing.
The study builds on another that Dr. Hadland and his co-author, Dr. Magdalena Cerda, an associate professor of population health at the NYU School of Medicine, published earlier this year. It found that for every meal a doctor received related to an opioid drug in 2014, there was an increase in opioid claims by that doctor for Medicare patients the following year.
As the opioid epidemic reached crisis proportions over the past few years, more than 30 states have responded by passing laws that restrict opioid prescribing. Critics say these policies are misguided because most overdose deaths now are from illicit opioids like synthetic fentanyl, and because the restrictions hurt patients with chronic pain.
But the policies may be having an impact, as opioid prescribing rates overall have been falling. Still, Dr. Hadland pointed out, prescribing rates remain uneven, with some regions still seeing widespread prescribing of opioids.
One company, Purdue Pharma, the maker of OxyContin, announced last year that it would stop marketing its painkillers to doctors, including by no longer sending salespeople to medical offices to talk about the drugs. According to a newly public filing in a lawsuit brought by Massachusetts against Purdue, a member of the Sackler family, which owns the company, had boasted in 1996 that "the launch of OxyContin tablets will be followed by a blizzard of prescriptions that will bury the competition."
An analysis last year by ProPublica found that payments to doctors related to opioid drugs dropped significantly in 2016 — a sign that public pressure on the companies in the wake of the opioid epidemic had begun having an effect. ProPublica found that in 2016, drug makers spent $15.8 million on doctors in the form of speaking and consulting fees, meals and travel related to opioid drugs. That was 33 percent less than in 2015, when they spent $23.7 million, and 21 percent less in 2014, when they spent $19.9 million.


Source : Nytimes