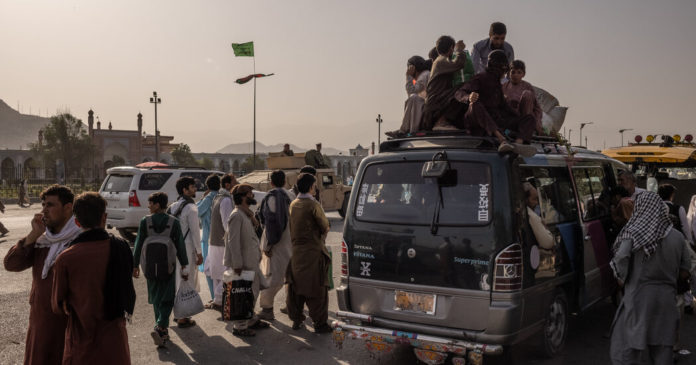 But privately, Biden administration officials said they were facing a bitter reality of having little to no influence over a peace process that now appears to be little more than a negotiated surrender by a defeated Afghan government.
Representative Liz Cheney, Republican of Wyoming, blamed both the Biden and Trump administrations for what she called the "devastating, catastrophic real-time lesson" of withdrawing U.S. troops from a nation where a tenuous government depended on military assistance. But she had particularly sharp words for former President Donald J. Trump and his secretary of state, Mike Pompeo, who oversaw a February 2020 agreement with the Taliban to end the war.
"They walked down this path of legitimizing the Taliban, of perpetuating this fantasy, telling the American people that the Taliban were a partner for peace," Ms. Cheney said on ABC's "This Week."
"President Trump told us that the Taliban was going to fight terror," Ms. Cheney said. "Secretary Pompeo told us that the Taliban was going to renounce Al Qaeda. None of that has happened."
After taking office in January, Mr. Biden decided to stick to the agreement with the Taliban, which Mr. Khalilzad brokered. On Sunday, Mr. Blinken sought to make the case that the deal committed the United States to withdrawing its troops or facing the certain prospect of attacks on Americans in Afghanistan who were already at risk given a dwindling number of security forces who could protect them.
He called the astonishing pace of the Taliban's nationwide rout "a very fluid situation."
The last American personnel at the U.S. Embassy in Kabul fled to the capital's international airport on Sunday, sheltering in what Mr. Blinken described earlier in the day as a small but enduring mission to be located there while leaving behind a sprawling compound, stripped of its American flag, in the heart of Kabul.
Moving diplomatic offices to the airport will allow officials to swiftly depart if under immediate threat, and Mr. Blinken said it would maintain an American presence in Afghanistan as the Biden administration has promised. At the same time, embassy officials urged American citizens who were still in Afghanistan to shelter in place and resubmit paperwork to request help for evacuating instead of showing up at the airport, given reports of gunfire there.


Source : Nytimes