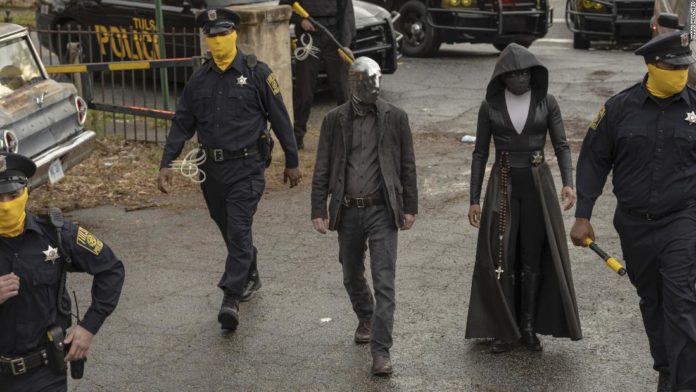 Context matters, which is why, for example, very good movies from directors who have made better ones, Martin Scorsese ("The Irishman") and Quentin Tarantino ("Once Upon a Time … in Hollywood"), didn't make the cut. Put them in the "honorable mention" category.
An effort was made to recognize various genres, understanding that any such recap can only scratch the surface of what's available.
Most items are presented as pairs, but a few lacked a clear companion. With that, in no particular order:
"Succession" and "The Crown"
"The Big Bang Theory" and "Jane the Virgin"
Great series finales are always rare, and there were two of them this year, both filled with warmth and heart that, most significantly, were very much in keeping with the spirit of the shows. Notably, the only two shows from the traditional networks to grace this list had to say goodbye to do it.
"Chernobyl" and 'When They See Us"
"Barry' and "Fleabag"
Both shows had particularly stellar second seasons, providing a dark strain of comedy that could alternately be wildly funny and wonderfully uncomfortable. "Fleabag" writer-star Phoebe Waller-Bridge's other creation, "Killing Eve," faded a bit in season two, but rests on the outskirts of great shows about people who kill people.
"The Mandalorian"
"Frontline"
"Late Show With Stephen Colbert" and "Last Week Tonight With John Oliver"
For those who like their news filtered through a comedic prism, these latenight shows fronted by "The Daily Show" alums delivered not only wit and laughs, but a clarity that sometimes appears to be in short supply.
"Avengers: Endgame" and "Toy Story 4″
"Ford v. Ferrari" and "Knives Out"
"Fyre" and "The Inventor: Out For Blood in Silicon Valley"
"Bombshell" and "The Loudest Voice"
'The Farewell" and "Booksmart"
This is a good place, too, to mention two more movies from relatively new filmmakers, Trey Edward Shults and Melina Matsoukas, where the situations flow from a tragedy: "Waves," a perspective-shifting family drama; and "Queen & Slim," a romance set against the backdrop of a police stop of young African-Americans gone terribly wrong.
"1917"


Source : Nbcnewyork