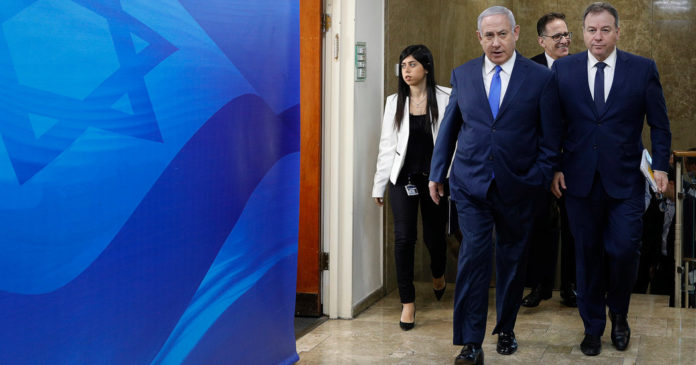 JERUSALEM — For the third time this year, the Israeli police have recommended that Prime Minister Benjamin Netanyahu be charged with taking bribes, fraud and breach of trust, this time accusing him of performing official favors for a telecommunications and media conglomerate in exchange for adoring coverage by its news subsidiary.
That case and two others now await a decision by the attorney general, Avichai Mandelblit, on whether to indict Mr. Netanyahu. If he does, it would be the first time in Israel's history that a sitting prime minister faced criminal charges.
Mr. Netanyahu denies wrongdoing in each case.
In addition, Mr. Netanyahu's wife, Sara, is on trial on charges that she misused some $100,000 in public funds in her management of the prime minister's official residence in Jerusalem. Prosecutors say she misspent that money on catered meals from celebrity chefs while covering up the fact that the residence already had a government-paid cook.
Here is a summary of the accusations in the three pending cases against Mr. Netanyahu, according to the police and Israeli news reports. None of these accusations has yet resulted in formal charges.
Gifts for Tax Favors
THE PLAYERS Arnon Milchan, the Hollywood producer; James Packer, an Australian billionaire.
THE QUID Expensive cigars, jewelry and pink Champagne flowed abundantly into the prime minister's official Jerusalem residence, sometimes at his or his wife's request, but always with the compliments of Mr. Milchan or Mr. Packer, whom Mr. Milchan enlisted to share the cost of the gifts. The value of the gifts came to hundreds of thousands of dollars.
THE QUO Mr. Netanyahu promoted the extension of a 10-year tax exemption to expatriate Israelis returning to the country, which could benefit Mr. Milchan financially. The Finance Ministry blocked the legislation, saying it was against the national interest and fiscally unsound. Mr. Packer is not accused of receiving anything in return for his gifts to the Netanyahus.
A Proposed Deal for Good Press
THE PLAYERS Arnon Mozes, the publisher of Yediot Ahronot, a leading Israeli daily newspaper; Sheldon Adelson, the Las Vegas casino magnate, who is a devoted supporter of Mr. Netanyahu's and the financial backer of Israel Hayom, a rival paper; Ari Harow, Mr. Netanyahu's former chief of staff, who turned state's evidence.
THE QUID Mr. Netanyahu discussed with Mr. Mozes the possibility of using his influence with Mr. Adelson, and perhaps of advancing legislation, to curb the circulation of Israel Hayom, which has long been seen as slavishly promoting Mr. Netanyahu's interests.
THE QUO In return, Yediot Ahronot would treat Mr. Netanyahu more favorably.
THE CATCH The trade was discussed, including on phone calls recorded by Mr. Harow, but was never consummated.
A Second Deal for Good Press
THE PLAYERS Shaul Elovitch, a media tycoon and friend of Mr. Netanyahu's; Shlomo Filber, the director-general of the communications ministry under Mr. Netanyahu; and Nir Hefetz, the Netanyahu family's public relations adviser. Mr. Filber and Mr. Hefetz became government witnesses.
THE QUID From 2014 to 2017, Mr. Netanyahu, while prime minister, also held the post of communications minister. Mr. Elovitch, who had long shared ownership of the Yes satellite network with Bezeq, Israel's biggest telecommunications company, bought a controlling stake in Bezeq in 2010. Heavily indebted, he arranged for Bezeq to buy Yes in 2015 for several times more than independent valuations showed Yes was worth. The communications ministry under Mr. Netanyahu aided several of Mr. Elovitch's moves, effectively helping him reap tens of millions of dollars. The police said they had seized about $32 million in ill-gotten gains.
THE QUO Bezeq also owns Walla news, a popular Israeli website. At the direction of Mr. Elovitch and Mr. Hefetz, the site consistently provided lopsidedly gauzy coverage of Mr. Netanyahu and his wife, suppressing or altering critical reports and padding inconsequential items with flattering photographs.
Cases in Which Netanyahu Was Not Accused
Two other police investigations did not wind up implicating Mr. Netanyahu. In one, an aide of his was suspected of trying to bribe a judge to quash a criminal case involving Mr. Netanyahu's wife. That case was closed in October for lack of evidence.
Separately, the police recommended last month that one of Mr. Netanyahu's closest confidants — his personal lawyer and second cousin, David Shimron — and three others from his inner circle be charged in a sprawling bribery case involving the multibillion-dollar purchase of submarines and missile boats from Germany. Mr. Netanyahu was not a suspect in that case, though he was questioned in it.


Source : Nytimes