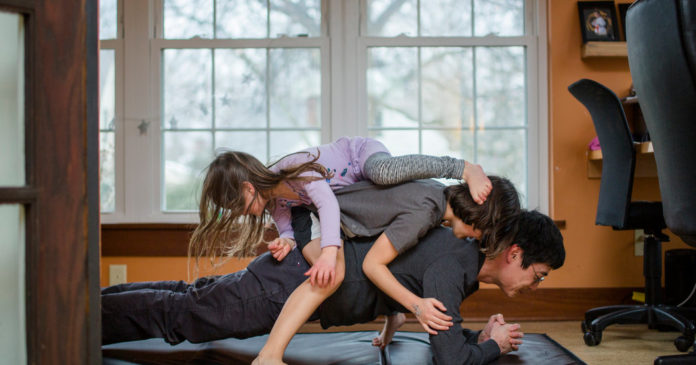 As a developmental pediatrician, I have worked throughout this coronavirus crisis with parents strained by fears about their child's learning, stresses around anxiety and behavior, and the disruption of school services.
For parents of children with special needs, who often carry an extra heavy load managing academics in the best of times, the burden while on home quarantine is magnified.
Many educational services — such as a full-day program for a child with severe autism — are simply impossible to implement effectively online, and not all parents have time to monitor educational interventions. And the reality is that most parents are neither teachers nor therapists. Stay strong in planning for your family's well-being, but don't create more stress in your home by taking on more than is realistic.
Parents may fear that with schools closed, their children's progress will stall or reverse. But as always with children, long-term growth relies on a well-monitored three- or five-year plan, not every week or month along the way. Schools will open again at some point, and appropriate services will resume and methodically address whatever ground has been lost. It's far from ideal, but it is our reality right now.
That is not to say that you need to be resigned to accepting setbacks. If your child regresses developmentally or emotionally, reach out right away to your school, your pediatrician, or a mental health professional. Stay clear about what is possible now, and firm but patient in getting it done.
On a foundational level, our children's emotional well-being and resilience matter most. With or without special needs, focus on positive relationships, physical and emotional safety, and routines around exercise, sleep and general health. That is the most vital bottom line for our children.
The Benefits of Schedules
Children rely on adults to create structure. A cognitive skill set called "executive function" includes all of judgment and planning. Anything that seems to require "management" in life, from attention to projects to emotions, relies on these abilities. But they are not fully developed until our late 20s. Adults have the only grown-up brain in the house, so kids rely on us for those skills quite often.
A consistent school schedule will cut down on arguing about schoolwork and fill a child's day in a useful way. It is also emotionally reassuring for kids to have familiar routines. On a practical level, many children focus better when given a single task (start with math …) for a set amount of time (… from 8:30 to 9:15). A strong school plan may therefore create space for you to get your grown-up work done, too.
Triage What Is Most Disruptive
Use your resources and make sure you have a specific plan for heading off acutely intense behavioral or emotional concerns. You may not have much time for these interventions, such as connecting with a psychologist or behavioral specialist. Explore what is possible with your school or your pediatrician, however, because a strong plan will decrease your own stress by providing you with new parenting tools and teach your children useful skills too.
Behavioral learning often relies initially on adult-led intervention and feedback rather than discussion or child therapy. That means even if a child cannot yet participate in treatment all that much, or their therapy has been disrupted, there may still be steps you can take. For children with attention deficit hyperactivity disorder, for example, parent training in early childhood can be almost as effective as working directly with kids. And for autism, a plan coordinated with your school's applied behavior analysis therapist may allow for social progress over these next weeks or months.
In the meantime, collaborate with your school district (or outside providers if you have them) to continue services as best as possible. If you have the time as a parent (and of course, many of us don't right now) there are also online parent resources for autism, A.D.H.D. and learning disabilities that may provide some guidance for at-home supports.
Special education law has not been suspended. Interventions such as reading instruction or speech language therapy may continue even during these uncertain times, as can some behavioral services. Ask your school to provide guidance and to continue online services directly with school staff when possible.
Also recognize that all beginning learners need to develop academic "fluency," meaning mastering skills like decoding words or math facts. That might mean using flashcards or an online math academic program, or activities such as having a child read aloud to you. A few consistent minutes over the upcoming months may go a long way toward staying on track for younger students.
Plan Ahead for the Fall
Now is also the right time to consider your child's academic plan for the fall. The process of updating developmental or academic interventions typically relies on classroom and therapist feedback, and sometimes updated testing. For now, parents, schools and service providers must remain flexible in creating the best plan possible from the information we have. You can lay the groundwork for your fall plan this spring and adjust as needed.
You can even get started with new evaluations if you have concerns about your child's learning or development. That process is harder with social distancing but remains possible. Much of educational and developmental evaluation relies on a comprehensive understanding of a child's developmental history, and reports from parents and teachers. Seek out community resources by placing a call to early intervention services, your school district, or a local developmental specialist.
Supporting developmental and educational interventions always requires doing our best to make a strong plan, monitoring it over time and then allowing for change.
Balancing common-sense, practical solutions now with a more complete plan once schools open is all any of us can expect of ourselves, or our children, in this uncertain time.
Following are some suggested strategies and resources — this is not meant to be an exhaustive list, and your child's doctors and therapists will be able to offer advice specific to your child's needs.
Mark Bertin is a developmental pediatrician whose books include "Mindful Parenting for ADHD."


Source : Nytimes