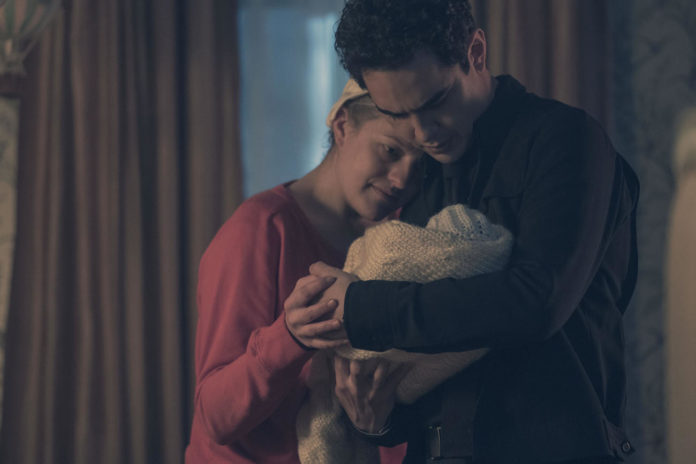 Now Playing
The Future Is… The Bold Type: Why Pop Culture Needs This Kind of Show
Next Up
Dietland Exclusive: Kitty Threatens Stanley
The Handmaid's Tale left us in quite the lurch when the Season 2 finale saw a massive underground railroad effort attempt to free the Handmaids in Cambridge. Unfortunately, Offred (Elisabeth Moss) decided to stay behind in order to find and rescue her daughter Hannah (Jordana Blake).
While we have no clue where (or in what state) we'll pick up with Offred when Season 3 returns, we do have clues about what next season's story will look like for several other characters.
Here's everything we know so far about The Handmaid's Tale Season 3.
It will premiere in 2019. While we don't have a firm premiere date yet, we do know The Handmaid's Tale will return in 2019. Considering both seasons so far have dropped in April, it's fair to assume Season 3 will likely follow suit, so you can expect new episodes sometime next spring. But we won't know until Hulu confirms the date.
Nick (Max Minghella) and Fred's (Joseph Fiennes) power struggle has only begun. Now that Nick officially stood up to Fred to help Offred escape, there are some pretty harsh truths out in the open between these men. However, turning Nick over isn't exactly an easy thing to do, given all the dirty secrets he knows about Fred and his dealings (not to mention who knows how many other people thanks to his time as an Eye), so their tug-of-war will continue well into Season 3.
Commander Lawrence (Bradley Whitford) will be back. Showrunner Bruce Miller confirmed that Bradley Whitford has signed on for Season 3 to continue his role of Commander Lawrence, so we'll eventually get some answers about his role within Gilead and within the resistance that helped the Handmaids escape.
Emily (Alexis Bledel) and Nicole's story isn't over yet. If you were worried Emily would escape with baby Nicole, never to be seen or heard from again, never fear. Emily and Nicole will play a very large role in Season 3, since basically everyone will be trying to track down that baby when the story returns.
Yvonne Strahovski, The Handmaid's TalePhoto: George Kraychyk/Hulu
The Handmaid's Tale Is Coming Back For More Dystopian Drama
Aunt Lydia (Ann Dowd) is alive. Like a cockroach, Aunt Lydia just won't seem to die. She will return from her brush with death with a renewed interest in keeping Handmaids in line.
"Aunt Lydia doesn't die, she's transformed by this event. The fact that one of her girls who — [she thinks] that there's a love between her and her girls — has literally stabbed her in the back. I think that that alters your workplace feelings on a day-to-day basis" said Miller. "I think in her case, it makes her double down that she feels like she just wasn't strong enough in her discipline. So she, I think, has decided it's time to get tough."
Rita (Amanda Brugel) will be in hot water. Given that she and the other Marthas banded together to help the Handmaids of Cambridge escape, Rita is going to have a lot of questions to answer about her part in the whole ordeal. According to Bruce Miller, she's going to have to get creative to avoid any comeuppance for what she's done, so let's hope she and Nick manage to work together to cover each other's backs.
Luke (O-T Fagbenle) will be on a quest for revenge. When Luke confronted Fred in Canada, he finally had a face to put on the evils of Gilead — not to mention the man who was raping his wife — and that clarity will be a dangerous thing for him in Season 3. "I think that now that he's met Fred, face-to-face, that is the focus of his fury," Miller said. "All of the sudden the Gilead, and the Gilead system has been reduced to Fred Waterford and he's gonna find a way to get Fred." Sounds like Fred should watch his back — and maybe never return to Canada?
We will revisit The Colonies. While we got a grim look at The Colonies via Emily's storyline this season, Miller did remind us that in the original novel there are Colonies where women aren't just used for harsh manual labor. "There are colonies where teams of women are taking care of toxic waste and there are colonies where teams of women are picking apples and working in the economy and doing all sorts of other things," said Miller. He also seemed sure that we'd revisit these other Colonies sooner rather than later.
The Handmaid's Tale will return in 2019.




Source : TVGuide