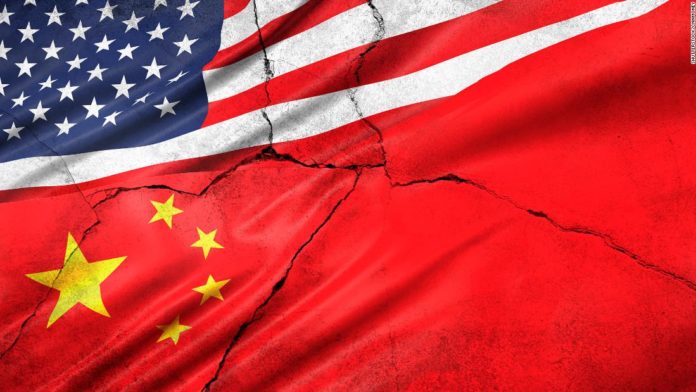 The International Monetary Fund on Tuesday cut its growth forecasts for the United States and China, citing the recent waves of tariffs the world's top two economies have imposed on each other.
"When you have the world's two largest economies at odds, that's a situation where everyone suffers," Maurice Obstfeld, the IMF's chief economist, said at a media briefing about the fund's latest World Economic Outlook.
Despite
healthy momentum
in the
United States
, which received a boost from
recent tax cuts
, IMF economists now expect growth to slow
to 2.5% next year from 2.9% this year. They cut the 2019 forecast by 0.2 percentage points because of the trade conflict.
The Trump administration has slapped tariffs this year on roughly half of the products that China sells to the United States annually. President Donald Trump has threatened to expand the tariffs to cover
all US imports from China
. Beijing has responded with tariffs on American goods worth more than $110 billion.
China's growth is now expected to drop to 6.2%, from 6.6% this year, according to the IMF. The new 2019 forecast is 0.2 percentage points lower than the fund's previous forecast, reflecting the waves of new tariffs that have taken effect since then.
Escalating trade war could do more damage
The impact of the US-China trade conflict is likely to be felt beyond the two economic superpowers.
While global growth should remain strong next year, the IMF says the prospects are notably "less bright" than when it reviewed them in April.
The fund now projects economic growth to be steady but slightly lower in 2019 because of higher interest rates and trade barriers. It cut the global forecast 0.2 percentage points to 3.7%, and predicted a downward trend over the next few years.
"The impacts of trade policy and uncertainty are becoming evident at the macroeconomic level, while anecdotal evidence accumulates on the resulting harm to companies," the IMF said.
There's plenty of scope for further damage if Trump follows through on his threats of further measures and China retaliates.
"An intensification of trade tensions, and the associated rise in policy uncertainty, could dent business and financial market sentiment, trigger financial market volatility, and slow investment and trade," the IMF said.
At the briefing, Obstfeld said that "close to a percentage point" could be shaved off of global growth if the trade rift continues.
"The possibility that China and US resolve their disagreements would be a significant upside to the forecast," he added.
The fading effects of the tax cuts and other US stimulus measures will "subtract momentum" starting in 2020, the IMF warned.
That's why the IMF is urging governments to act now as the "window of opportunity" narrows to enact reforms like dealing with the ballooning budget deficit in the United States and the low level of public investment in Germany.


Source : Nbcnewyork