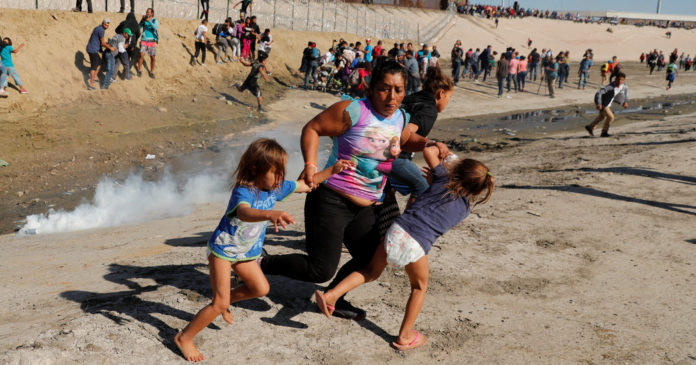 In the photograph, a woman clutches two children in diapers, one of them barefoot, as they run from a smoking tear gas canister fired by American border officials.
That arresting image, taken in Tijuana, Mexico, by the photojournalist Kim Kyung-Hoon of Reuters, spread rapidly online. It prompted outrage after a peaceful march by Central American migrants in Mexico veered out of control on Sunday afternoon, as hundreds of people tried to evade a Mexican police blockade and ran toward a border crossing into San Diego. In response to the chaos, which the Homeland Security secretary said included some migrants throwing projectiles at Customs and Border workers, American border officials temporarily shut down the crossing in both directions and fired tear gas to push back migrants from the border fence.
The photo drew anger from many over President Trump's anti-immigrant rhetoric, harsh tactics and uncompromising policies. It also made its way onto the front pages of The New York Times, The Washington Post, The New York Post and other publications.
"I was quite surprised," Mr. Kim said Monday of the strong response to that and other photographs he took at the march.
"Whenever I'm on assignment, it's natural to take good pictures, to tell a story," he said in an interview.
To some of those expressing outrage, the photograph offered evidence of what they say is the Trump administration's draconian approach to immigration, including his response to a caravan of migrants, whom Mr. Trump has vilified without evidence, as well as immigrants and refugees fleeing violence in their homelands. Several Democratic lawmakers decried the use of tear gas on vulnerable people.
"Federal agents' use of tear gas on innocent civilians, many of them children, at our southern border is a shocking and heavy-handed use of force that we must condemn and heavily scrutinize," Rep. Diana DeGette of Colorado said on Twitter.
"Throwing tear gas at asylum seekers — many of whom are women and children — is a new low," said Rep. Mark Pocan of Wisconsin.
Tear gas can cause burning in the eyes, nose and mouth, as well as on the skin, according to the Centers for Disease Control and Prevention. It can also cause shortness of breath and a choking sensation. A large enough dose in a confined space can cause blindness and chemical burns, while studies suggest that tear gas has the potential to cause serious harm to vulnerable populations, including children.
Mr. Kim said he was dispatched by Reuters to Mexico almost two weeks ago to cover the caravan. There, Mr. Kim found subjects in the caravan to follow and traveled with them to the American border.
He was covering the march in Tijuana, near San Diego, on Sunday, his last day covering the caravan before returning to Japan, when a group of migrants broke away and rushed toward the United States border. A few men started digging around a border fence, he said, and within minutes officials with the United States Customs and Border Protection agency fired tear gas into the crowd.
"Once tear gas was thrown behind the family, they started running," according to Mr. Kim.
In the photo, an American flag can be seen poking above a border wall in the background, with crowds of people clustered throughout. The smoking tear gas canister sits in a culvert to the left, behind the woman, who is wearing a shirt with characters from Disney's "Frozen" on it, and the two children.
One of the children is barefoot, while the other, who is clutching a plastic ball, would soon lose the sandals, too, according to Mr. Kim. A second photograph shows that child in tears, a reaction prompted, Mr. Kim said, by the tear gas and the pain of running barefoot.
While he did not know the names of the woman or children, who told him they were from Honduras, Mr. Kim said a colleague of his was trying to track them down.
After the migrants who broke from the march retreated from the border, at least two dozen canisters of tear gas could be seen on the Mexican side of the border.




Source : Nytimes