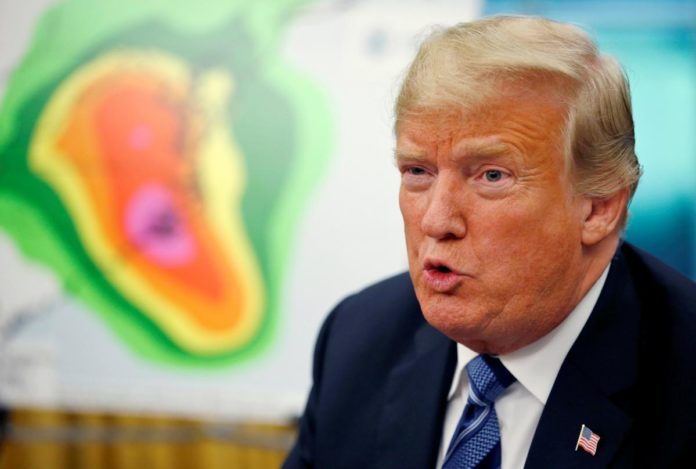 WASHINGTON (Reuters) – President Donald Trump on Tuesday said the federal government would spare no expense in responding to the likely damage from Hurricane Florence, which is forecast to slam the Carolina coast later this week.
U.S. President Donald Trump speaks during an Oval Office meeting on hurricane preparations for Hurricane Florence at the White House in Washington, U.S., September 11, 2018. REUTERS/Leah Millis
"Any amounts of money, whatever it takes, we're going to do it," Trump told reporters at the White House as he met with top aides and federal disaster officials.
In remarks aimed at Americans who could find themselves in harm's way, the president noted that experts were predicting a storm the likes of which the East Coast of the United States has not seen in decades.
"I would say everybody should get out, he said. "It's going to be really, really bad along the coast."
Federal forecasters expect the storm to make landfall on Friday with 130 mile-per-hour (215 kph) winds and massive waves, with rains taking a heavy toll inland. Some 1 million people have been ordered to evacuate their homes.
The government's top disaster response official, Federal Emergency Management Agency head Brock Long, told reporters that residents in areas likely to be affected should not under-estimate the threat.
"This has an opportunity of being a very devastating storm," Long said. "The power is going to be off for weeks. You are going to be displaced from your home in the coastal areas, and there will be flooding in the inland areas as well."
Trump, who has faced criticism for his administration's response to Hurricane Maria in 2017, which killed an estimated 3,000 people in the U.S. territory of Puerto Rico, knocked out power to all 3.4 million residents of the Caribbean island, with thousands still without power even six months after the storm hit, said the federal government was "totally prepared" for Florence.
"We're ready. We're as ready as anybody has ever been," he said.
Asked what lessons could be learn from Maria, Trump said the government's response in that case was complicated because Puerto Rico is an island and its electrical grid was already impaired.
"I actually think it was one of the best jobs that's ever been done," he said. "I think that Puerto Rico was an incredible unsung success."
Florence, a Category 4 on the five-step Saffir-Simpson scale, was located about 785 miles (1,260 km) southeast of Cape Fear, North Carolina, at 4:30 p.m. EDT (2030 GMT), according to the National Hurricane Center.
Reporting by Jeff Mason; Writing by Tim Ahmann; Editing by Mohammad Zargham and Leslie Adler


Source : Denver Post