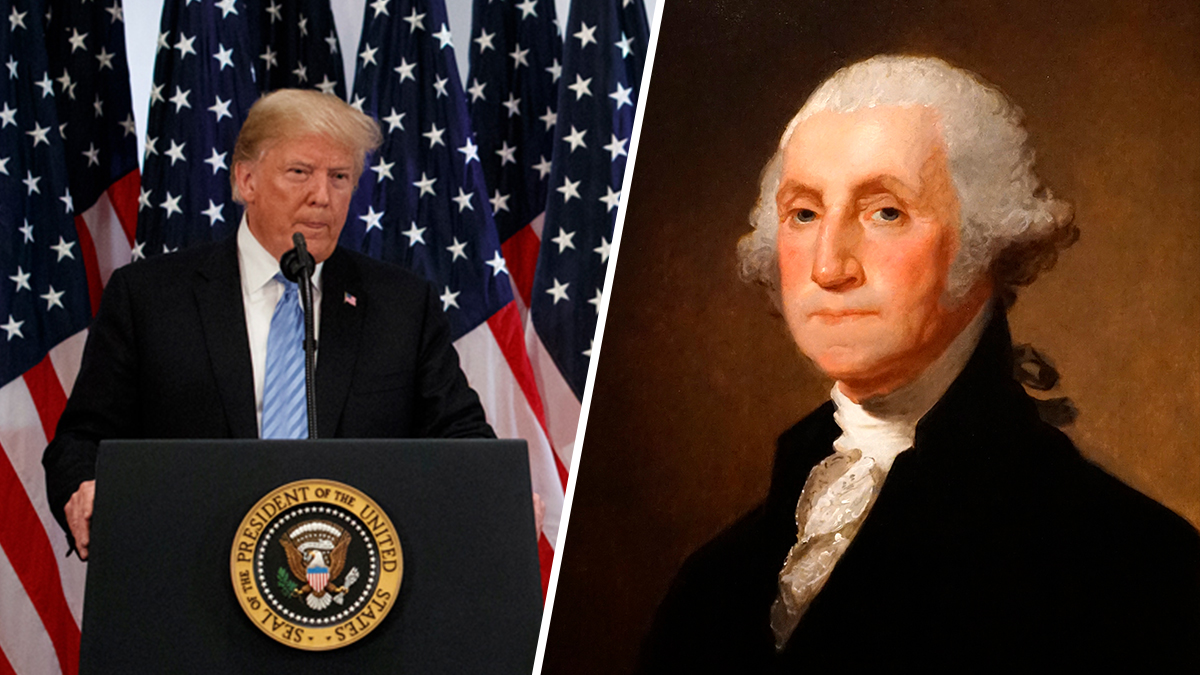 On the eve of what could be make-or-break testimony before the Senate Judiciary Committee about sexual misconduct allegations against President Donald Trump's pick for the U.S. Supreme Court, Trump held a rare news conference. Here are some of the top moments.
Trump: Democrats Would Have Voted Against Washington
Even the country's first president would have been voted down by Sen. Chuck Schumer and other Senate Democrats opposed to Trump's U.S. Supreme Court pick, Brett Kavanaugh, the president said.
"I'm relying on very fair and talented Republican senators," Trump said. "If we brought George Washington here and we said 'We have George Washington,' the Democrats would vote against him, just so you understand.
"He may have had a bad past," Trump added of Washington. "Who knows? He may have had some I think accusations made. Didn't he have a couple things in his past? George Washington would be voted against 100 percent by Schumer and the con artists. One hundred percent, 100 percent."
Trump on Rosenstein
Trump also made a little news regarding Deputy Attorney General Rod Rosenstein.
President Donald Trump says he would "certainly prefer not" to fire Rosenstein and says he may delay a highly anticipated meeting with him.
Trump said Wednesday that Rosenstein denied making remarks attributed to him in a New York Times report, including that Rosenstein discussed secretly recording Trump last year.
Trump and Rosenstein had been scheduled to meet Thursday.
Trump says he may postpone that meeting because he is focused on an extraordinary Senate committee hearing set for the same day with Supreme Court nominee Brett Kavanaugh and a woman who has accused Kavanaugh of sexual assault.
"We could bring George Washington in here and Democrats would vote against him."

Well, yeah, considering that Washington owned slaves, if he was up for a SCOTUS nomination, I'd hope that Democrats (and GOP) would vote against him, though I'm not convinced Republicans would.

— Holly Figueroa O'Reilly �� (@AynRandPaulRyan) September 26, 2018
Did…. did Donald Trump just accuse George Washington of sexual assault (apparently not knowing the difference between him and Jefferson/Sally Hemmings)?

— Eric Schmeltzer (@JustSchmeltzer) September 26, 2018
George Washington's stance on slavery does disqualify him from the Supreme Court.

— Ian Millhiser (@imillhiser) September 26, 2018
Dear @realDonaldTrump u asked if George Washington had a bad past? yes indeed he did.. He was a slave owner and should be voted against #nuffsaid

— Davey D (@mrdaveyd) September 26, 2018
Trump answering @HallieJackson:
-won't say whether or not he thinks the women are lying
-says he will watch tomorrow's hearing to decide whether or not to withdraw Kavanaugh's nomination
-says George Washington was "probably" accused of some bad things too

— Alexi McCammond (@alexi) September 26, 2018




Source : Nbcnewyork