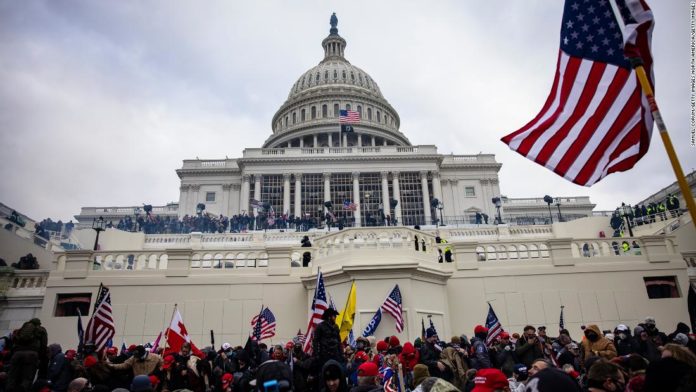 Since he descended from a Trump Tower escalator in New York in 2015 to begin his presidential campaign, Trump has made little effort to hide his affection for increased violence against his perceived enemies. When Trump condemned violent acts, he repeatedly couched the language in a both-sides, tit-for-tat style.
After rioters stormed the Capitol building Wednesday — as Congress began its formal recognition of President-elect Joe Biden's Electoral College victory — Trump released a short video calling for the rioters to leave. His statement was peppered with sympathy,
telling the rioters
, "We love you, you're very special."
Trump mentioned in the video the false conspiracy theory that he actually won the 2020 election, saying, "I know your pain, I know you're hurt. We had an election that was stolen from us. It was a landslide election and everyone knows it. Especially the other side. But you have to go home now. We have to have peace."
On social media posts, Trump said, "These are the things and events that happen when a sacred landslide election victory is so unceremoniously & viciously stripped away."
Twitter and Facebook later removed some of his statements and suspended his accounts for a period of time, citing policy violations.
Before his presidency
Trump has often avoided full-blown condemnations after moments of violence.
"I will say, the people that are following me are very passionate," Trump said. "They love this country, they want this country to be great again."
Trump later tweeted that the incident was "terrible" and he would "never condone violence."
'Very fine people'
When asked about the neo-Nazis at the rally, Trump said, "You had some very bad people in that group, but you also had people that were very fine people, on both sides," stating some on the far-right side were supporting the keeping of a Confederate statue.
Fanning the flames in 2020
Protests following the death of George Floyd in May led to demonstrations in Minneapolis.
After buildings and stores were damaged, Trump took to Twitter to declare "when the looting starts, the shooting starts."
Trump later said he referred to shootings in general, not shootings by supporters or authorities.
"I'm willing to do that," the President said, without condemning anyone. "I'm willing to do anything. I want to see peace." Trump deflected and dodged a follow-up question, saying "almost everything" of the violence he's seen has been from "Antifa and the left."
"What do you want to call them," the President said. "Give me a name. Give me a name. Who would you like me to condemn?"
Biden then mentioned the Proud Boys, a far-right group known for its anti-Muslim and misogynistic rhetoric, which Trump seized on.
"Proud Boys, stand back and stand by," he said. "Somebody has to do something about Antifa and the left because this is not a right-wing problem, this is a left-wing."
CNN's Paul P. Murphy, Jason Hoffman, Kevin Liptak, Dan Merica, Brian Stelter and Donie O'Sullivan contributed to this report.


Source : Nbcnewyork