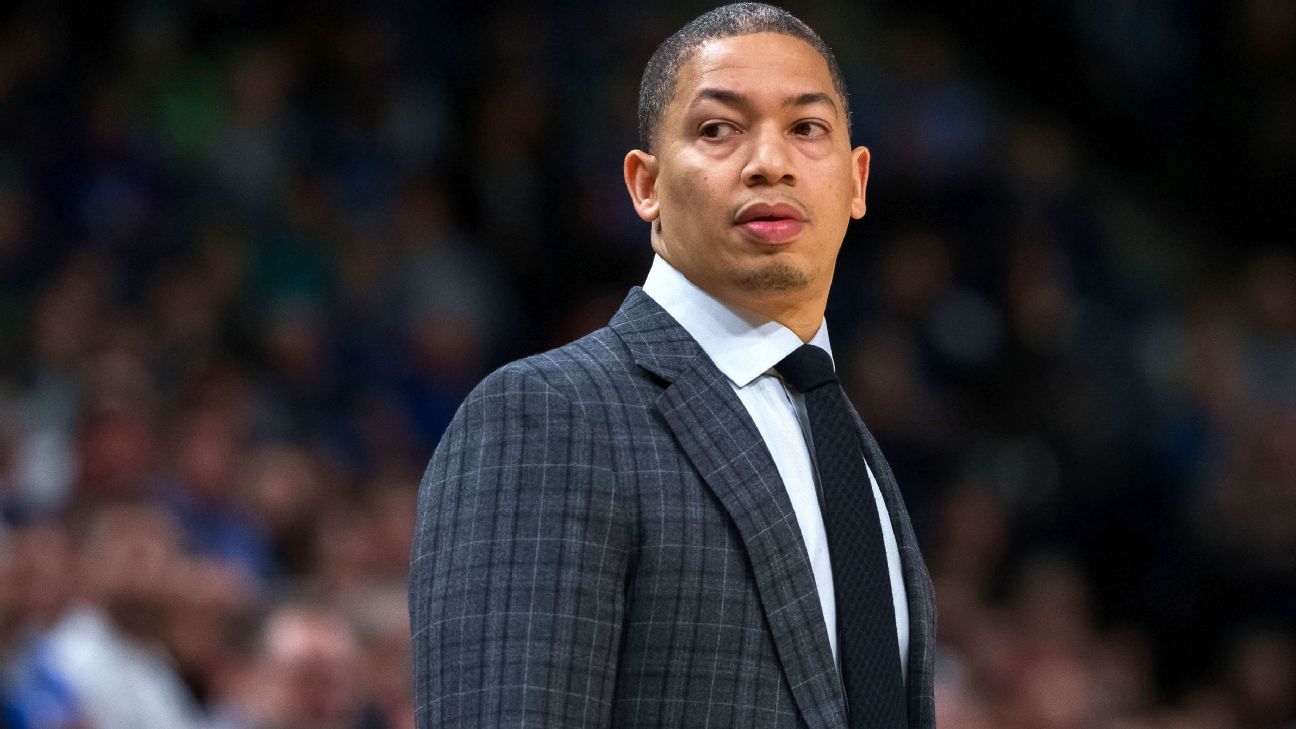 INDEPENDENCE, Ohio — The Cleveland Cavaliers may lead the Toronto Raptors 3-0 in the Eastern Conference semifinals, but two of those wins came by a combined three points.
As overwhelming an advantage as the Cavs might seem to be taking into Monday's Game 4, Cleveland coach Tyronn Lue is cautioning his team against overconfidence.
"I don't know who the pressure is on," Lue said Sunday after the Cavs convened for a brief film session, "but it's a tough game because it's either win or go home for the team down 3-0.
"They're going to come out swinging like they did (Saturday) night and when you have a team with a lot of pride that's well coached they're not just going to give in. They're going to do everything they can to try to win the game and get back to Toronto. We understand that and we just have to come out with the right mindset and match their intensity early and try to close it out if we can."
The Cavs blew their first crack at a closeout game these playoffs in Game 6 of the first round against the Indiana Pacers, getting embarrassed by 34 points at Bankers Life Fieldhouse. It broke LeBron James' streak of winning 11 straight closeout games and came against a team that was a lower seed. Lue believes the Pacers prepared Cleveland to contend with Toronto.
"The Indiana series definitely helped us for this series," he said. "You see (Toronto) the last couple of games, trying to get physical and trying to pressure the ball. So that Indiana series really helped us out going forward. We saw that in the first series so now we should be pretty much immune to it. But we have to get better at owning our space and, you know, just being strong with the basketball. They're trying to lean on us, grabbing us, holding us and it's not being called. We just have to be strong."
Unlike Game 6 against Indiana, Monday's Game 4 is a home game for Cleveland, which should be in the Cavs' favor. However, it comes against a Raptors team that is the No. 1 seed in the East rather than the lower-seeded Pacers. Still, the Cavs will have history on their side, as Cleveland is 9-0 in Game 4 in franchise history when coming into the game leading a playoff series 3-0.
Not to mention, the Cavs have now won nine straight postseason games against the Raptors, dating back to the 2016 Eastern Conference finals. They'll try to make it 10 straight by riding the momentum from James' buzzer beater in Game 3 into the closeout opportunity.
"We enjoy it," Lue said. "It was big win for us, there's some things we could have done better down the stretch (though). We definitely enjoy it, being up 3-0 is a great position to be in. We know they're going to come out, just like they did (Saturday) night in that fourth quarter to try to play and to start the game that way so we got to be prepared for that."


Source : ESPN