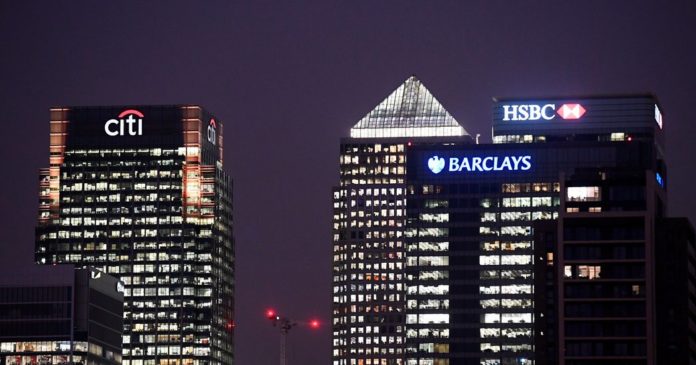 LONDON — A London court has dismissed charges against Barclays tied to the bank's 2008 efforts to raise a $15 billion lifeline from Qatar and other investors, a legal victory for the British lender as it tries to turn its businesses around.
The decision is a blow to Britain's regulators, who have pursued the case for years. The charges were the first in the country against a bank for actions during the global financial crisis.
And the news is likely to be well received by Barclays, which has sought to move past a welter of scandals and underperforming operations. The firm paid $2 billion to settle American charges of fraudulently misrepresenting securities tied to home mortgages, as well as a separate settlement over charges tied to allegations that it manipulated the interest rate known as Libor.
And this month, its American chief executive, James E. Staley, received a relatively small fine for trying to uncover a whistle-blower.
Meanwhile, Barclays reported better-than-expected first-quarter results, particularly in its trading unit.
At the heart of the British case — filed by the Serious Fraud Office, a British anticorruption watchdog — was the question of whether Barclays improperly sought billions from Qatar during the 2008 turmoil, as the firm sought to avoid the sort of government bailouts that have weighed on rivals like the Royal Bank of Scotland.
Barclays avoided that fate by raising roughly 12 billion pounds, or about $15 billion, from Qatar and two other investors in two transactions. But investigators have looked into whether the bank improperly wooed financial backers, including through paying "advisory services" to investors that were not initially disclosed to the public.
They have also examined whether Barclays lent money to Qatar that subsequently flowed back to the bank, which regulators contended violated British law.
In a statement, Barclays said that the Crown Court had dismissed charges accusing the firm of conspiring with former executives to commit fraud and of "unlawful financial assistance."
But the lender's legal battles are not over. The firm added in its statement that the Serious Fraud Office was likely to seek a reinstatement of the charges. A spokeswoman for the anticorruption agency declined to comment further.
Several former executives of the bank, including John S. Varley, its onetime chief executive, still face individual criminal charges. And the firm continues to face a lawsuit by the financier Amanda Stavely that is seeking up to £1.5 billion in damages tied to the 2008 fund-raising.
Shares in Barclays were up slightly in London afternoon trading on Monday, at 209.40 pence.


Source : Nytimes