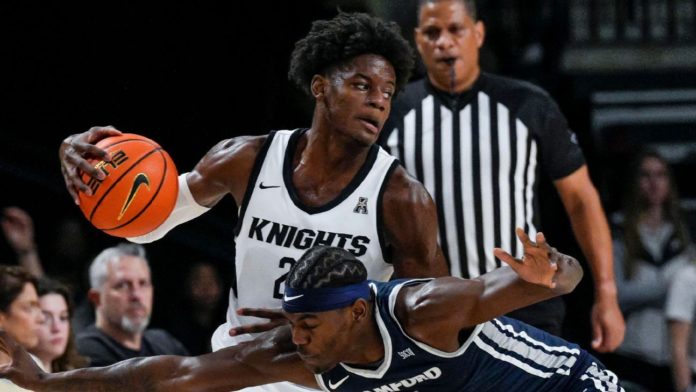 UCF freshman Taylor Hendricks will forgo his remaining college eligibility and enter the 2023 NBA draft, he told ESPN on Wednesday.
Hendricks says he has signed with attorney Raymond Brothers, president of Roc Nation basketball, as his NBA representation.
"I want to thank my mom and brothers Tyler and Jamal," Hendricks said. "Also, UCF and Coach Johnny Dawkins for pushing me to develop my game and help get me where I am now. Also, I want to thank the Lord for ordering my steps through this whole journey."
Hendricks, the No. 12 prospect in ESPN's NBA draft projections, was named second-team All-AAC after averaging 15.1 points, 6.9 rebounds and 1.6 blocks per game this season, shooting 39% for 3.
He led all AAC freshmen in each of those categories while setting a conference record by winning rookie of the week honors on nine separate occasions.
Hendricks was one of college basketball's breakout stars, going from being ranked outside of the top-50 of his high school recruiting class to a potential top-10 pick in the span of just one season.
"A big part of that was choosing the right school," Hendricks said. "A place that would let me grow and give me the opportunity to show my skills and develop."
Hendricks made a steady ascent up the basketball ranks, winning a state championship as a high school freshman alongside current NBA players Scottie Barnes and Vernon Carey Jr. at University School in Fort Lauderdale, Florida, as well as Michigan freshman Jett Howard, a projected top-20 pick in the 2023 draft. He became the highest-rated recruit in UCF history upon enrolling from Calvary Christian Academy, along with his twin brother Tyler, forgoing scholarship offers from Florida, Florida State, Miami, LSU and others.
"I picked UCF because of the fit and the relationships I built," Hendricks said. "The coaching staff made a big effort to build a good relationship with my entire family. They told how I would fit and exactly what my role would be. I wanted to go somewhere I'd play my first year and they offered me that opportunity."
Hendricks made an immediate impact at UCF, impressing NBA scouts with his combination of defensive versatility, high-level intensity and perimeter shooting, making 61 of 155 3-pointers in 34 games. He was consistently productive against the top teams on UCF's schedule, posting some of his best games against the likes of Houston, Florida, Ole Miss and Oklahoma State, showing he could have excelled anywhere in the country.
"It really came down just trying to win," Hendricks. "Trying to do everything in my skill set to compete every time I stepped on the court, and not going outside of what coach asked me to do. Just playing my role."
UCF made the NIT, defeating Florida on the road in Gainesville in the opening round before losing at Oregon this past weekend.
NBA teams say Hendricks' youth and ability to fill up every category of the stat sheet in an efficient manner without needing plays called for him makes him an analytics model favorite, which suggest he has a strong case for consideration as a top-10 pick.
"It doesn't matter where I'm drafted," Hendricks said. "I'll be there for a reason. I will make the best of any situation."
The NBA draft combine will be held May 15-21 in Chicago, and the draft will be June 22 in Brooklyn.
Jonathan Givony is an NBA draft expert and the founder and co-owner of DraftExpress.com, a private scouting and analytics service utilized by NBA, NCAA and International teams.


Source : ESPN