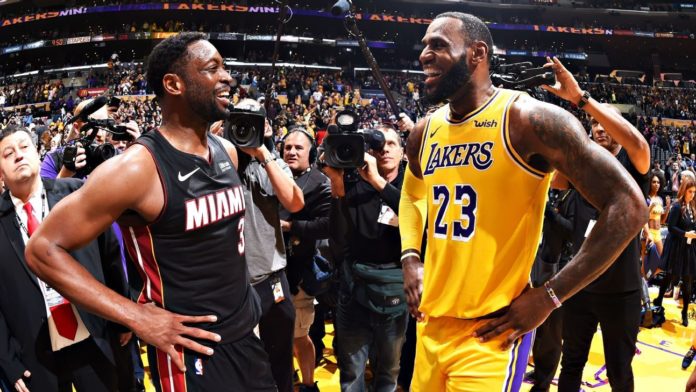 Dwyane Wade may have recently retired from his NBA playing career, but he plans to be on the court with Lakers star LeBron James at Staples Center often in the coming season.
Wade, who is now living in suburban Los Angeles, told the Los Angeles Times that he plans to work out with his former teammate before games, both at the Lakers' training facility in El Segundo and at Staples.
"You're definitely going to see me out there," Wade said. "I'll be there early to work out with LeBron before the game starts. I just want to stay around it and be as involved as I can."
Wade also said he has "a great relationship with all the players" and has already worked out with Ben Simmons of the Sixers and Josh Hart of the Pelicans this summer.
Wade and James played together for four seasons with the Miami Heat from 2010 to 2014 and briefly with the Cleveland Cavaliers in 2017-18. Now their sons will be playing together at Sierra Canyon in Chatsworth, where Zaire Wade is a senior and Bronny Wade is a freshman.
And while the 37-year-old is enjoying his retirement and not looking to sign with another team at this moment, Wade would not entirely shut the door on a possible return when asked if watching the younger generation could inspire him to team up with LeBron for another NBA season.
"I'm done, but my trainer is going to keep me in shape just in case something happens," Wade said while smiling, according to the Times. "I'm going to stay in shape because you never know. Never say never."


Source : ESPN