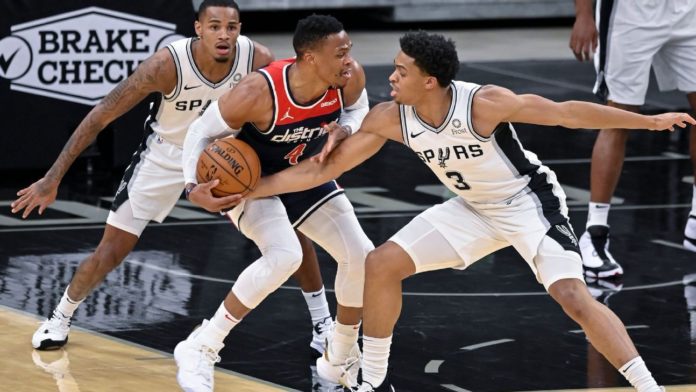 SAN ANTONIO — Russell Westbrook had nine points, eight rebounds and six assists in 25 minutes in his first game in more than two weeks due to a left quadriceps injury.
His return came in the Washington Wizards' 121-101 loss to the San Antonio Spurs on Sunday night. The Wizards hadn't played since Jan. 11 after their previous six games were postponed because they did not have enough eligible players due to the league's COVID-19 protocols.
The Wizards still had six players ineligible, and Washington faded down the stretch as coach Scott Brooks primarily used an eight-man rotation.
Bradley Beal scored 31 points, and Jerome Robinson added 16 points for Washington.
The Wizards made their first three shots, including a pair of 3-pointers. Washington was 14 for 42 overall on 3-pointers, helping it stay with San Antonio through three quarters. But the Spurs outscored the Wizards by 12 points in the fourth.
San Antonio finished 15 for 31 on 3-pointers in securing its largest margin of victory this season. The Spurs remain unbeaten in seven games when they hold a double-digit lead.
The Wizards fell to 3-9 on the season.
The Associated Press contributed to this report.


Source : ESPN