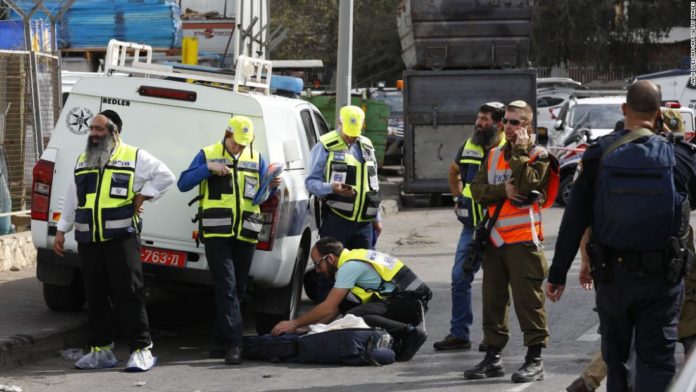 The attack happened in a factory at the Barkan Industrial Park, in the north of the West Bank, early Sunday, according to Israel Defense Forces (IDF) spokesman Lt. Col. Jonathan Conricus.
Authorities identified the victims as 29-year-old Kim Levengrond Yehezkel and 35-year-old Ziv Hajbi. The victims both worked at the factory, Conricus said.
A second woman, aged 54, was taken to hospital with gunshot wounds to her upper body, MDA said. She is in a severe yet stable condition.
The suspect, a 23-year-old Palestinian man from the West Bank village of Shuweika, entered a factory and opened fire with a "Carlo," a homemade automatic weapon, said Conricus. The spokesman called the shooting a terror attack.
"There are indictations, including but not limited to his social media, that this was a terror attack," Conricus told CNN. Authorities are also investigating the possibility that the suspect may have sought revenge against his employer.
The shooting suspect had a permit to enter the industrial park and worked at the factory, but he had been absent from work for "some days," the IDF said, adding that he had no previous security background.
Israeli Prime Minister Benjamin Netanyahu expressed his condolences at a weekly Cabinet meeting on Sunday morning.
"This was a very severe terrorist attack in which two Israelis were brutally murdered and a citizen was also wounded," Netanyahu said.
"On behalf of myself and all government ministers I would like to send condolences to the families of the two people who were murdered and our hopes and prayers for a swift recovery for the woman who was wounded."


Source : Nbcnewyork