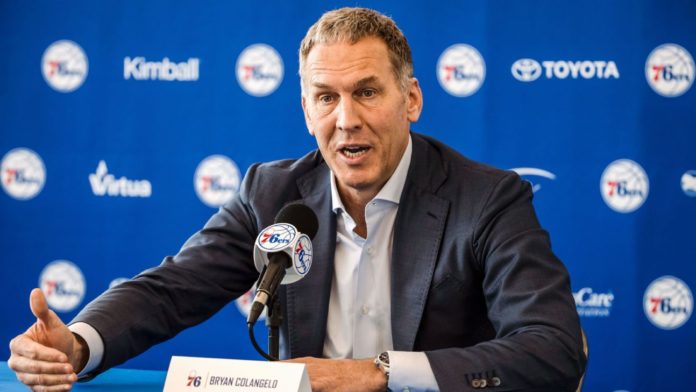 Bryan Colangelo is out as the GM of the Philadelphia 76ers after his wife, Barbara Bottini, admitted to operating Twitter accounts that criticized the team and revealed sensitive information
What does it mean for an organization approaching maybe its most important offseason ever? Our NBA experts answer the big questions about what happened and what's next.
---
1. What have NBA people been saying about this story?
Kevin Pelton, ESPN Insider: Stay off social media? As among fans and media, the reactions have run the gamut from shock to non-surprise, with speculation about who was really behind the tweets (before Colangelo's wife admitted to investigators she started the accounts and posted to them) and the identity of the tipster who first contacted Ben Detrick of The Ringer to expose them.
Chris Herring, FiveThirtyEight: There's been a mix of disbelief with some, and slight anxiety with others. The Colangelo situation looks insane from the outside until you realize: We're all human, and most people — even high-ranking basketball executives — likely speak with their significant others about very specific aspects of their job.
But before this, I can imagine plenty of people would have never believed that a significant other might create social-media accounts that utilizes some of that information. Just a bizarre, sad situation for a number of people, including the Colangelos.
Bobby Marks, ESPN Insider: They're stunned. I was in Los Angeles when this story broke and actually standing next to Bryan Colangelo when I was sent a link to the article. Many compare it to the NBA's version of Watergate based on the investigative work that was done which led to the eventual resignation of Colangelo.
Royce Young, ESPN.com: "Crazy" is the word that gets repeated. It's not surprising that an NBA executive had an anonymous Twitter account — it would be surprising if an NBA executive didn't have one — but the layers to this are stunning. The sharing of private information is what most are shocked by, because if not for that, it's just weird, but mostly harmless. But it has certainly sent a chill up the spine of every public relations staff in the NBA to get their house in order about things they know, and find out about things they don't.
---
2. Which aspect of the story should be talked about more?
Pelton: The disruption to the rest of the Philadelphia front office. However you parse blame to Colangelo himself, there's zero reason to think anyone working for and with him could have expected something like this to end his tenure prematurely. Yet they face the possibility of another shakeup that could turn over the front office staff much as Colangelo's arrival and Sam Hinkie's departure did just two years ago.
Young: How it originated. The idea of an anonymous tipster piecing together the connection between five very random Twitter accounts is strange, and worth looking into. To even notice these accounts tweeting at Sixers media is fairly dubious in and of itself, and raises a lot of questions about why someone was paying attention in the first place. It might be a case of Occam's razor, where it's straightforward and what you see is what it actually was, but it's at least worth questioning if there was another level to it. Because why not make it just a little bit more insane.
Marks: The sensitivity of the medical information with Jahlil Okafor and the criticism of Joel Embiid. Fortunately for Philadelphia, Embiid is signed to a five-year contract and will not be a free agent this summer, but there is still damage control when it comes to your franchise center. Had the 76ers not signed the center to an extension, there certainly would have been a cloud over his free agency this July. In the case of Okafor, only a few within the 76ers knew of the trade dialogue in February 2017 and concerns that Okafor would not pass a physical.
Herring: The basketball element is interesting, and could have a big role in what happens with the Sixers this summer. But the social-media element of this is pretty fascinating for a number of reasons. For a Sixers fanbase that is incredibly vocal — and one that has a large contingent that still backs former GM Sam Hinkie — a number of the team's supporters will count this situation as a win.
In a way, there was so much criticism of Colangelo that his wife felt a need to fight back against some of it, which obviously led to Colangelo's downfall. All this stemming from the idea of public scrutiny. A crazy story, but at its core, a very human one, fraught with insecurity.
3. Do you expect we'll see additional social media problems involving NBA organizations?
Marks: I don't. This will serve as a wakeup call for the 30 teams. As much as you want to use your wife or family members as confidants (I certainly did in my time with New Jersey and Brooklyn), the reality is that sometimes what goes on in the office should stay within the team.
Herring: At some point. But I'd imagine we won't see one like this anytime soon, unless it helps uncover something similar that happened in the recent past. This one was seemingly extraordinary.
Pelton: In the short term, I'd expected additional vigilance by teams to avoid information leaking on social media. Much like a rules emphasis among referees, that enforcement will probably slip over time as the Colangelo situation enters the rearview mirror. Given the amount of confidential information teams hold and the ease of posting on social media, more scandals are probably inevitable.
Young: Absolutely. Social media is just part of the game now, in the same way someone will always give a dumb quote or someone will always get caught doing something stupid. Scandal is a part of sports, and social media is just another one of the avenues to create one. There's no way to completely police it, because there's no way to police the inherent carelessness of people. People in positions of prestige or power aren't immune from doing idiotic things.
---
4. How do you think this situation will affect the current Sixers players?
Young: Probably not that much. It doesn't appear that Colangelo was all that popular with the roster anyway, especially considering the circumstances in which he was hired. The face of the franchise still tweets props to former GM Sam Hinkie, for crying out loud. The Sixers have largely handled a bizarre, impossible-to-anticipate situation pretty well. They didn't crumble under the initial rush of Twitter condemnation and react; they took their time and came to a logical conclusion.
Herring: I think this would have been a better question had Colangelo kept his job, because there would have been next to no trust there between him and a number of the players. It's feasible that some of them may still have trust issues with the organization since so many of the key pieces are incredibly young. But you could make the argument that the players' potential unrest over this situation was the biggest reason Colangelo needed to go, whether he was the person behind those Twitter accounts or not.
Marks: It's a lesson in PR 101 right now, if that did not already start last Tuesday. The good news is despite the scandal with Bryan Colangelo, there is stability with the recent extension of Brett Brown and 12 players under contract. Outside of their own core players, Brown — the most tenured member of the team — is essentially the face of the organization and has strong relationships throughout the Sixers.
Pelton: The team's stars are unlikely to be affected much. Any impact will probably be felt more by role players whose value tends to be much more in the eyes of the beholder. A new GM may, for example, not value the veteran leadership provided by Amir Johnson and J.J. Redick as much as Colangelo did. That could affect the likelihood of those players returning as free agents.
---
5. Do you think this situation will affect the Sixers' ability to acquire players this offseason?
Marks: No. Even if there is not a GM in place by July 1, the selling point in free agency is not the words of the front office — and not a powerpoint presentation — but what is on the court. The combination of Joel Embiid, Ben Simmons, Robert Covington, Dario Saric and Brett Brown should be good enough to attract free agents.
Herring: Depending on whether David Griffin fills Colangelo's job, it could help them in an enormous, LeBron-type way. But regardless of if that ends up happening, the move was necessary to help draw veteran players in free agency. You need buy-in at just about every level to be a championship-caliber team. It would have been next to impossible to do that with the lack of trust that either has already developed, or almost certainly would have developed over the next few months.
Young: A month in the NBA is an eternity, and by the time free agency rolls around, a new regime might be in place and things will be chugging forward. Any player considering the Sixers in free agency prior to Colangelo's situation probably won't be that affected by it, especially since he's now gone. There may be some questions about a new direction, but any player thinking about joining the Sixers was going to be do so because of Brett Brown and the potential of playing with Ben Simmons and Joel Embiid, not Bryan Colangelo.
Pelton: With Colangelo out of the picture, I don't think there will be any effect on star players' interest in playing in Philadelphia. So any impact would have to come from an inability for the 76ers' interim or remade front office to make those decisions as effectively without the planning that had already taken place under Colangelo's leadership.


Source : ESPN