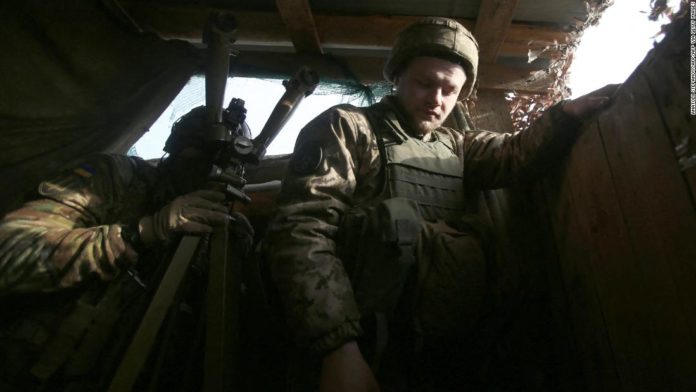 Russia has been tightening its military grip around Ukraine since last year, amassing tens of thousands of troops, equipment and artillery on the country's doorstep. The aggression has sparked warnings from US intelligence officials that a Russian invasion could be imminent.
In recent weeks, whirlwind diplomatic efforts to defuse tensions failed to reach a conclusion.
The escalation in the years-long conflict between Russia and Ukraine has triggered the greatest security crisis on the continent since the Cold War, raising the specter of a dangerous showdown between Western powers and Moscow.
So how did we get here? The picture on the ground is shifting rapidly, but here's a breakdown of what we know.
What's the situation on the border?
Biden and European leaders have warned that Russia would suffer serious consequences, including sanctions, should Putin move ahead with an invasion. But that has not stopped Russia from continuing to bolster its military positions. In late 2021 and early 2022, satellite images revealed new Russian deployments of troops, tanks, artillery and other equipment cropping up in multiple locations, including near eastern Ukraine, Crimea and Belarus, where its forces were participating in joint drills with Moscow's closest international ally.
What has set the stage for the conflict?
Ukraine was a cornerstone of the Soviet Union until it voted overwhelmingly for independence in 1991, a milestone that turned out to be a death knell for the failing superpower.
After the collapse of the Soviet Union, NATO pushed eastward, bringing into the fold most of the Eastern European nations that had been in the Communist orbit. In 2004, NATO added the former Soviet Baltic republics Estonia, Latvia and Lithuania. Four years later, it declared its intention to offer membership to Ukraine some day in the distant future — crossing a red line for Russia.
Ukrainians, who in the last three decades have sought to align more closely with Western institutions, like the European Union and NATO, have pushed back against that notion. In early 2014, mass protests in the capital Kyiv known as Euromaidan forced out a Russia-friendly president after he refused to sign an EU association agreement.
What does Putin want?
Putin has managed to ratchet up pressure on the West for months without ever firing a shot or rolling a tank across its border with Ukraine.
Still, the Kremlin's intentions in the country have largely remained a mystery. What Putin has made clear, though, is that he views NATO's eastward expansion as an existential threat to Russia.
In December, Putin presented the US and NATO with a list of security demands. Chief among them is a guarantee that Ukraine will never enter NATO and that the alliance rolls back its military footprint in Eastern and Central Europe — proposals that the US and its allies have repeatedly said are non-starters.
What is Ukraine's view?
President Zelensky has repeatedly downplayed the danger of a Russian invasion, noting that the threat has existed for years and has become no greater in recent months. It's a similar mood in Kyiv, where Ukrainians have continued to go about their daily business, despite international warnings and as foreign governments withdraw their diplomatic staff from the capital.
Ukraine's government has insisted that Moscow cannot prevent Kyiv from building closer ties with NATO, or otherwise interfere in its domestic or foreign politics. "Russia cannot stop Ukraine from getting closer with NATO and has no right to have any say in relevant discussions," the Foreign Ministry said in a statement to CNN.
Tensions between the two countries have been exacerbated by a deepening Ukrainian energy crisis that Kyiv believes Moscow has purposefully provoked. Ukraine views the controversial Nord Stream 2 pipeline — connecting Russian gas supplies directly to Germany — as a threat to its own security.
It is just one of myriad challenges facing Zelensky's government. The former actor, who played a president on Ukrainian television, has had a brutal baptism of fire into real-world politics since assuming office in 2019.
His government's popularity has stagnated amid multiple domestic political challenges, including a recent third wave of Covid-19 infections and a struggling economy.
Many Ukrainians are unhappy that the government has not delivered on the promises that brought it into power, including cracking down on corruption in the country's judicial system. But the more pressing concern is Zelensky's failure so far to bring peace to the country's east.
Amid warnings from Western leaders of a Russian invasion "any day," the Ukrainian president declared February 16 a National Day of Unity, insisting that Ukraine was not intimidated by "any enemies" and would be able to "defend itself."
"We are doing our best to defend our interests and have gained the diplomatic support of nearly all the leaders of the civilized world," Zelensky said in a video address, adding, "The security of Europe and the whole continent depends on Ukraine and our army."
CNN's Matthew Chance and Laura Smith-Spark contributed to this report.


Source : Nbcnewyork