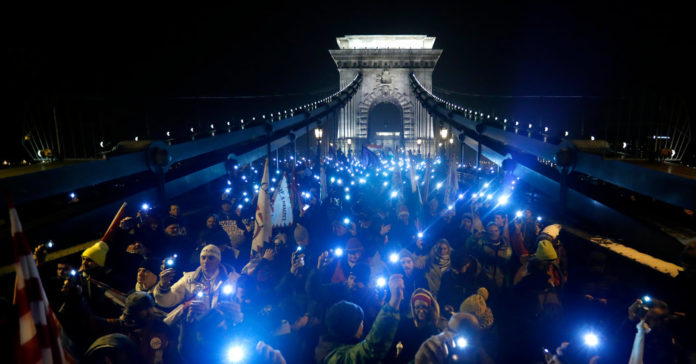 LONDON — Viktor Orban, the far-right prime minister of Hungary, has been confronted by an unusually persistent wave of street protests after pushing through a bill this month that could require workers to put in up to 400 hours of overtime — a measure that opponents call a "slave law."
About 5,000 demonstrators took to the streets of Budapest again on Friday, after President Janos Ader signed the bill into law. In a radio interview Friday morning, Mr. Orban dismissed opposition to the changes as "hysterical shouting."
Since re-entering office in 2010, Mr. Orban has made a series of moves that have set off alarms among European allies and others in Hungary: curbing judicial independence, restricting news media freedom and plurality, and blatantly enriching his business allies. But few of his actions have ignited such anger as the changes to the labor law.
What does the law say?
The amendments to the Hungarian labor code passed by the governing majority in Parliament raise the yearly cap on overtime to 400 hours from 250, and gives companies three years instead of one to pay for the work.
In some cases it also lets them avoid paying extra for overtime, allowing them to compensate some employees at their regular hourly rate instead, experts said.
Responding to opposition critics, the governing Fidesz Party said last month that the bill was intended to allow "those who want to work more to work more, and those who want to earn more to earn more."
The government argued that overtime would remain optional. But analysts said that outside Budapest, where there are few alternative forms of employment, workers are at the mercy of their employers.
"There are hundreds of thousands of workers who are not in a position to say no," said Janos Kollo, research director of the Institute of Economics at the Hungarian Academy of Sciences.
Why such a strong reaction?
Analysts say the labor law changes have struck a rare chord among ordinary Hungarians, including outside the opposition heartland of the capital, Budapest, because the issue affects their daily lives.
Hungarians already work longer hours than many of their western neighbors, according to figures from the Organization for Economic Cooperation and Development. In 2016, Hungarians worked an average of 1,740 hours a year, compared with 1,613 in Austria — but received, on average, about half the pay.
Balazs Barany of the left-wing party MSZP told the rally on Friday that "a new opposition has been born," because the protests had united rival political factions in an unprecedented fashion, according to news reports.
Opposition lawmakers attempted to stop the passage of the measure by blowing whistles and sounding sirens, in chaotic scenes in Parliament this month. The vote also set off street protests: On Friday, thousands of people marched from Parliament to the presidential palace on the other side of the Danube in temperatures close to freezing, and smaller rallies took place outside the capital.
The wave of discontent "reached social categories that didn't go to demonstrations previously and didn't necessarily feel concerned by the issues that usually prompt protests," said Attila Juhasz, an analyst at Political Capital, a policy research institute in Budapest.
Why did the government take this step?
The government needs Hungarians to accept longer hours because the country is running out of workers.
As many as 350,000 Hungarians, or more than 5 percent of the country's working-age population, are working in another part of the European Union, according to Mr. Kollo.
The high level of emigration has led to a significant labor shortage, partly because it has not been counterbalanced by similarly high levels of immigration.
In fact, Mr. Orban has repeatedly discouraged foreigners from coming to Hungary through a combination of physical barriers on the border and xenophobic campaigns in the international news media.
That rhetoric has bolstered Mr. Orban's popularity at home. But it has also created "the impression that it might not be good for people to move to Hungary," said Csaba Toth, strategic director for the Republikon Institute, a research group based in Budapest.
But there is more to the labor shortage, Mr. Kollo said.
By placing around 200,000 unemployed Hungarians on government-run workfare programs instead of encouraging them to enter formal employment in the private sector, the government has prevented a large group of potential workers from entering the primary job market.
"There is a great reserve of work force here but the economy either cannot or doesn't want to absorb it," Mr. Kollo said.
The situation is exacerbated by the country's low birthrate. Each Hungarian woman gives birth to an average of 1.4 children in her lifetime, well below the rate needed to maintain a population at its existing level.
Who's happy about the law?
Opponents of the changes argue that they were passed as a favor to multinational companies like German automakers, which have built plants in the country in recent years and whose economic model depends on a cheap and flexible work force.
But wages have increased substantially since Hungary joined the European Union, while the minimum wage could increase further within the next year, making Hungary less attractive to foreign investors.
By increasing overtime, the government may be trying to compensate employers for increasing wages, Andras Toth of the economics department of the Hungarian Academy of Sciences told the news website HVG.


Source : Nytimes