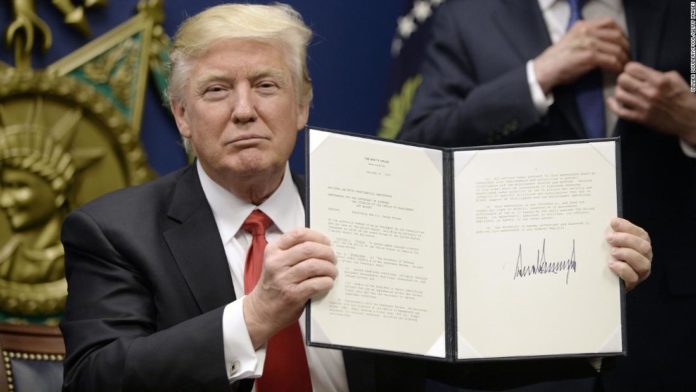 But what's life like for people in those seven countries? For many, conflict, human rights abuses and long-term unemployment are the norm, and are reasons to flee or try to immigrate.
A 2014 report from a United Nations Human Rights Council commission found that the Kim regime had committed "systemic, widespread and gross human rights violations" including "arbitrary detention, torture, executions and enforced disappearance to political prison camps, violations of the freedoms of thought, expression and religion, (and) discrimination on the basis of State-assigned social class, gender, and disability."
Syria
Gains by the Assad regime have brought stability to many parts of the country, even as rebel groups continue fighting in other areas.
Many refugees fear returning to Syria over alleged and documented atrocities by the Assad regime, and efforts to reach a political solution have struggled as some parties insist that any settlement involves the removal of Assad as leader.
Iran
Iran's oil-reliant economy had been hit hard by decades of economic sanctions, contributing to the country's high levels of unemployment.
Sanctions were first imposed by the United States in 1979 following the Iranian revolution and the seizure of the US embassy in Tehran. But more sanctions, including by the US and the UN, were later imposed over the country's nuclear program.
Iran was considered a pariah state by many Western powers, but that changed when Tehran agreed to restrict its nuclear program in a deal crafted with the US, European partners, and Russia. The deal allowed the lifting of many sanctions, loosening restrictions on Iran's economy, and allowing foreign investment.
While Trump and other hardliners in his administration have been strong critics of Iran, citizens of the Islamic Republic possess democratic rights some of their Middle Eastern rivals, like Saudi Arabia, have yet to realize.
At the same time, rights groups say the country remains autocratic in some ways and life is difficult for minority groups, women and the political opposition.
Yemen
The war in Yemen has its roots in years of conflict between various factions, but the latest war began in early 2015 when Houthi rebels — a minority Shia group from the north of the country — drove out the US-backed government, led by President Abdu Rabbu Mansour Hadi, and took over the capital of Sanaa.
Libya
Libyans emerged from years of isolation in 2003 when then-leader Col. Moammar Gadhafi agreed to abandon his nuclear ambitions in exchange for sanctions relief. Whatever economic stability they might derived from oil wealth in the years that followed was obliterated in 2011, when the Arab Spring took hold in the country, resulting in Gadhafi's brutal death and the fall of his regime.
Somalia
One of the world's poorest countries, Somalia descended into civil war after dictator Mohammed Siad Barre's ouster in 1991.
In 2012, a new government emerged, but warring tribes and extremist groups, such as al-Shabaab, have flourished over the subsequent years, carrying out attacks against government and military targets, and recruiting child soldiers for its cause.
Venezuela
Chavez was elected and re-elected largely because of support from the country's poor who felt marginalized by previous governments. The percentage of those living in poverty fell significantly under his rule.
In January 2016, Maduro declared a state of "economy emergency" as Venezuela faced economic sanctions, falling oil prices, plummeting currency rates, power struggles within the government, and food shortages.


Source : CNN