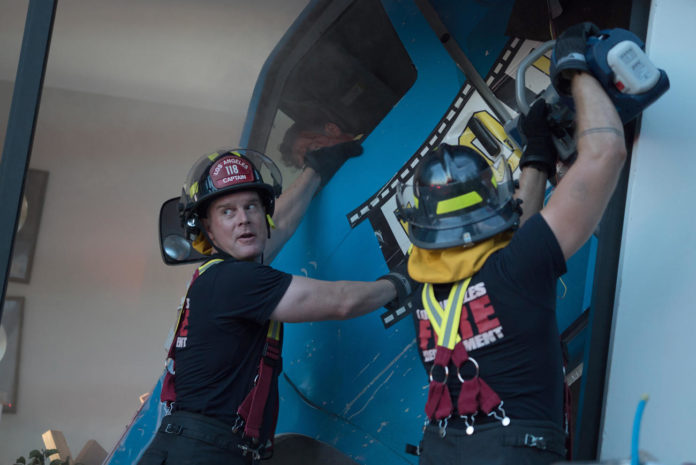 9-1-1 is clearly aiming to grab football fans' already rapidly beating hearts with an adrenaline rush of a premiere after the NFL games Sunday. The two-part Season 2 opener ends with a terrifying earthquake that, in its second night, is akin to '70s catastrophe flicks like Earthquake.
But there's more to the premiere — and the second season of Fox's hit — than fire and brimstone. Executive producer Tim Minear filled TV Guide in on some of the drama viewers will see, from hanky panky between Sgt. Athena Grant (Angela Bassett) and Captain Nash (Peter Krause), to the reasons why newcomer Maddie (Jennifer Love Hewitt) hasn't been speaking to her brother Buck (Oliver Stark). Keep reading to see what Minear said to expect in the premiere and beyond.
Keep track of your favorite shows: Listings | iOS App | Android App
THE PREMIERE WILL BE THROWBACK DISASTER PORN
After the premiere establishes where everybody is in the new season, the aforementioned earthquake hits. "It's all about the pressure of being a first responder and how pressure builds and then has to be released," Minear says of the premiere. "The biggest metaphor for that — it's not even a metaphor; it's a violent pun — is an earthquake, and all the pressure under the Earth that has to be released."
The story continues in the following episode, which Minear says "is akin to a '70s disaster movie wherein there's a bunch of characters you meet in a couple of locations who intersect and have different stories — people our people interact with and save or not."
All in all, the episodes covers about 24 hours, but what exactly will we see in that time frame? A major storyline involves a 14-story skyscraper hotel on Hollywood Blvd. that experiences structural damage and collapses in a corner in parking garage.
"Even going into this building, there's a danger the thing could collapse at any moment. There are people on higher stories to rescue. There are people who have fallen into the parking garage beneath debris. The entire restaurant collapses," teases Minear. "The other big piece: Athena is on an LA freeway that collapses while she's driving. Because first responders are spread so thin all over the city, she has to take control of this little area of the city and make sure people don't burn to death and die. And she's awesome. It's Athena Grant for president."
The 100 Best Shows on TV Right Now
Angela Bassett and Peter Krause, 9-1-1Photo: Fox
ATHENA AND BOBBY ARE HOOKING UP ON THE DL
Of course, there's more to 9-1-1 than just disasters and emergencies: there are also relationships. When the season picks up, we find out that Athena and Bobby's first date together went very well. "They've been seeing each other, but what they haven't done yet is announce that to the world. So they're kind of having the fun of stealing kisses behind fire trucks, trying to keep their hands off each other in inappropriate situations," says Minear.
We do eventually find out why they're keeping their relationship a secret, though, and it's not because of Bobby. "Athena is having her own struggles of post-divorce life, so that's the first hurdle they have to get over," he says. "Then it's really about supporting each other. People who have lived a certain amount of time have lives behind them, and are fully cooked people with habits. In some ways [their relationship] is tough; in other ways they're such a perfect fit."
"They're both in this rarefied work where they can understand each other in ways civilians or other people couldn't," he continues. "And they've both dealt with loss on different scale, having a life and family and having to move on from that. Usually when people say, 'They deserve each other' they mean it in a derogatory way. I would say Bobby and Athena have earned each other."
Jennifer Love Hewitt Dials in to 9-1-1 for Season 2
Jennifer Love Hewitt, 911Photo: Fox
MADDIE IS WOMAN ON THE RUN
Connie Britton may have departed the series after Season 1, but Jennifer Love Hewitt is sliding into the series quite easily as a first responder in Season 2. According to Minear, Hewitt's character Maddie is coming off an abusive relationship when the show returns.
"She's starting over again. She definitely has anxiety in her DNA in terms of what she's leaving behind. She was in a relationship with a man who was extremely controlling," he says. "It's been about three years since she's talked to Buck (Oliver Stark), and if he had not created a safe space for her to land, she would probably still be running. She left in the dead of night and did not tell him where she was going."
The good news is that none of that seems to bleed over into her work. "The moment that she needs to act — the moment that she's in a position where she has to be that first responder on the phone, a whole career of being an emergency room nurse is there to buttress everything she does and everything she says. So when she gets focused and the chips [are] down, she's every bit a hero as everyone else on the show," he says.
9-1-1 returns to Fox with a special two-night event beginning Sunday, Sept. 23 after the NFL doubleheader, and then it returns Monday, Sept. 24 in its regular time period 9/8c.




Source : TVGuide