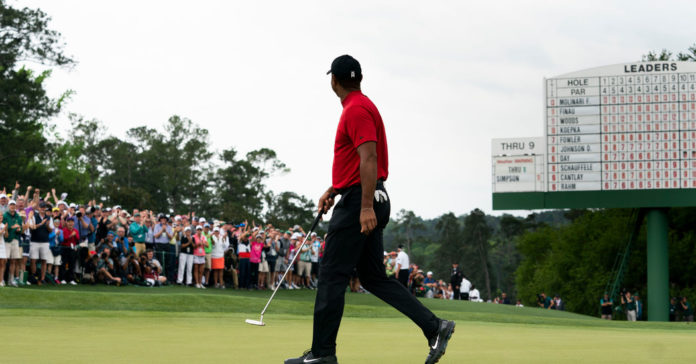 The day after his stirring, historic victory at last year's Masters tournament, Tiger Woods grabbed his cellphone to check the feedback about his monumental achievement.
There were hundreds of congratulatory missives on social media, but Woods was most struck by what people wanted him to see.
"I was surprised by the amount of videos I was sent of people watching the Masters," Woods said on a conference call in February.
He continued: "Seeing the amount of reactions and the amount of people that were riveted by the Masters — the amount of emotion that people were showing, that's what blew my mind. I didn't think that that many people were going to be moved that way."
There will be no final round of the Masters played on Sunday. What will we miss? The answer was in Woods's phone.
Over time, decade by decade, the Masters has become an evocative, collective viewing experience, a stage for big, powerful memories that exemplify relatable human emotions: joy, pathos, redemption, despair, resolve, luckless misfortune, perseverance and purpose.
Watching the final round unfold every year on a Sunday afternoon in early spring, a time of renewal, is the event.
To be sure, accomplishments like Woods's comeback in 2019 from a personal and professional collapse may be one of a kind in any sporting realm, but similar mini-dramas of the human condition have played out regularly at the Augusta National Golf Club in the final hours of a Masters Sunday. It's why so many of Woods's competitors, rivals he was about to vanquish, crowded the 18th green last year to witness the closing sequences.
They became no different than the fans at home transfixed by the unfolding scene.
Gary Woodland, the reigning United States Open champion, planned to fly home with his family during the final round after finishing well off the lead. But when Woods charged up the leader board, he hastily booked a later flight.
"I wouldn't leave," Woodland recalled recently. "I wanted to see it. I wanted to share it."
Masters officials do not set aside special seating or a reserved area for the pro golfers to watch the action if they choose to remain on the golf course after their rounds. The players can only wade in with the everyday folks encircling the final holes.
They did so by the dozens. Tellingly, watching it with the crowd became the point.
"Yeah, there was kind of a togetherness," Rickie Fowler, one of those who stayed at the Augusta National Golf Club, recalled last month. "People were kind of looking at each other and going, 'Is this really happening?'
"It's a scene. It's a piece of history that will be in people's minds forever. That's what that tournament does."
Inside the champions-only locker room perched above the 18th green that day, where space is so limited the honorees share lockers, the television was surrounded by past tournament winners. As Woods approached the final hole, Bernhard Langer, a Masters champion in 1985 and 1993, turned to his brethren and yelped: "We should all put on our green jackets and be a part of this. Let's go down there."
Langer, Adam Scott (2012 Masters champ), Zach Johnson (2007), Craig Stadler (1982) and Bubba Watson (2012 and '14) clamored down the narrow, spiral staircase from their private roost to join the surging, frenzied crowd enveloping the final green.
"The last day of the Masters just has a way of framing these kinds of moments," Langer said later, jostled by an expanding throng of spectators. "I'm sure someone has said it before: It becomes like a movie set."
Twenty-five years ago, the day before the start of the Masters, Ben Crenshaw was a pallbearer at the funeral of his mentor and coach, Harvey Penick. Four days later, Crenshaw, who was mired in a miserable slump, had not practiced all week and needed foot surgery, dissolved into tears moments after sinking an 18-inch putt to win the tournament.
"I had a 15th club in my bag this week," said Crenshaw, who at 43 was the same age as Woods in 2019. "That was Harvey Penick."
A year after Crenshaw's inspiring 1995 victory, the charismatic Greg Norman took a six-stroke lead into the final round. His wire-to-wire flop lasted four cringe-worthy hours and he lost by five strokes to his playing partner Nick Faldo, who did not celebrate after his last putt. Instead, Faldo approached Norman and said: "I just want to give you a hug." Both men left the green in tears.
Phil Mickelson won the 2010 Masters roughly a year after his wife, Amy, was diagnosed with breast cancer. Weak from treatment, Amy, who was normally a fixture on the golf course, had not traveled to a tournament for 11 months. Then she appeared behind Augusta National's final hole for a lengthy greenside embrace with her husband as their three children watched nearby.
Maybe it's because of when the Masters has typically fallen on the calendar — the first full week of April is literally blooming with signs of revitalization — but it has the capacity to attract an awakened audience to a tournament that, bit by bit, usually builds to a heartfelt emotional release. Even the casual fan or non-golf fan might be aware of what's transpired at a typical Masters during the early rounds on a Friday or Saturday. Perhaps an invite to a Sunday Masters viewing party piques interest, or there is an impassioned golfer in the household who has made the last day of every Masters mandatory family viewing.
Whatever the impetus, if it appears the final round of the Masters is winding toward one of its poignant, trademark climaxes, people find their way in front of a television.
As Woods said, in the wake of his 2019 victory he was forwarded videos of crowds gathered, "on airplanes, in airports or restaurants — just everywhere. Amazing."
He added: "There's something about that tournament."
In the end, it's not just what's happening in that made-for-TV Masters setting. Watching it is the happening.
And that is what we will miss on Sunday.


Source : NYtimes