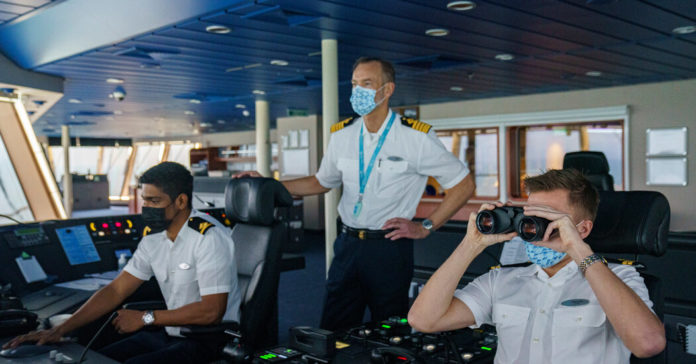 Times Insider explains who we are and what we do, and delivers behind-the-scenes insights into how our journalism comes together.
SINGAPORE — For most of this year, I have been a long-distance foreign correspondent.
I came home to Singapore in January for a vacation but could not return to Beijing, where I was based as a China correspondent for The New York Times, because the Chinese government barred many foreign residents from returning in March. I was sometimes surprised at how much of my work could be done over the telephone, but it always felt unsatisfying as a reporter used to face-to-face interviews.
Then in October, I saw a headline in The Straits Times, a Singapore newspaper: "Cruises to Nowhere: Genting Cruises Gets More Than 6,000 Bookings in 5 Days." I did a quick search and found we had written articles about people in Britain gazing at docked cruise ships, and a "no sail" ban in the United States. I called my editor, Carlos Tejada, and asked what he thought about my going on a cruise.
I told him that an executive with Genting, the cruise operator, had described the trip as a "super-staycation." It would leave from Singapore and return three days later. I wasn't sure whether Times editors would sign off on it — we have strict rules about traveling in the pandemic. Carlos said he would get back to me.
That afternoon I got a WhatsApp message from him.
"You should totally do the story. Just … be careful!" Carlos wrote. He then suggested I review the safety protocols and wear a mask onboard.
Cruise ships are notorious for harboring all sorts of germs, and we had all read those articles about the Diamond Princess in Japan, where hundreds of passengers contracted the coronavirus.
I consulted with our editors and our security expert. I also reached out to three infectious disease experts, who assured me that it was safe to go.
I sent a list of the ship's safety measures to all of them: slashing capacity by half, requiring passengers be tested before boarding, and allowing only Singapore residents to sail. As I would write in my article, the main reason I felt safe was because I knew that Singapore had the virus under control. Daily community transmission cases were frequently at zero or in the low single digits.
"If there are a bunch of Americans on that cruise ship, it would probably not be a safe cruise ship," said Amesh Adalja of the Johns Hopkins Center for Health Security. "But if your passengers are coming from places where the virus is well controlled — and Singapore is one of those places — I think the risk goes down."
But, he warned, "the risk is never going to be zero."
As my trip loomed closer, I lost count of the number of times jaws dropped whenever I told someone I was going on a cruise.
"I'm dying to interview people face to face!" I would respond, realizing later that was a poor choice of words.
I had spoken to passengers who were about to board the first Genting cruise in November. It was the first time in 10 months I had looked into an interviewee's eyes, and I had almost forgotten how powerful eye contact is as a means of connection. I was — and am still — doing all of my reporting through the telephone and a mix of scouring the news and social media from China. Those interviews were another reminder that all of the things I used to rely on to report — the sights, sounds and smells — are all lost by my not being on the ground.
Another reason for going on the cruise was the dateline. Datelines are signposts for our readers, telling them that foreign correspondents are out in the world reporting from other countries. In my cabin, I opened my laptop and wrote: ABOARD THE WORLD DREAM, IN THE STRAIT OF MALACCA.
It was a joy speaking to people in person again. Everyone seemed relaxed and happy to talk. ("It's been ages since I traveled!" one woman told me.) I attended a male strip show and was thankful that we had our masks on because I was laughing so hard. Perhaps it is possible to cruise safely in the Covid era, I thought.
But a week after I published my piece, Carlos forwarded a news alert to me: A passenger on another Singapore "cruise to nowhere" had tested positive for the coronavirus and the ship was returning to port.
I should have known that even with a long list of safety measures, the risk was never going to be zero.
Although it later transpired that the test was a false positive, it was a reminder that until vaccines are widely available, nothing — not least cruises — will ever be normal.


Source : Nytimes