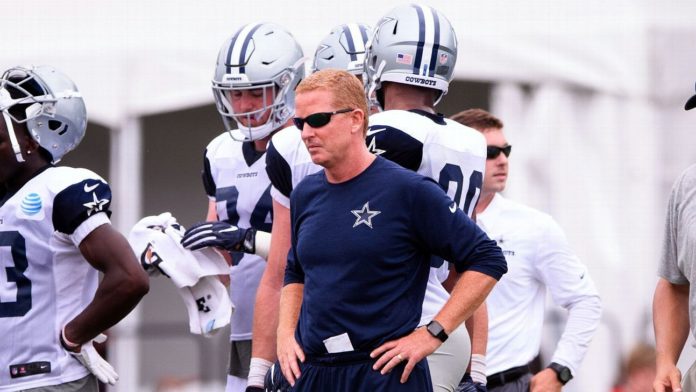 OXNARD, Calif. — The first padded practice of training camp was not even 15 minutes old Saturday when a man's voice was heard above the crowd.
The Dallas Cowboys were going through a quick walk-through before their dynamic stretching period as Jason Garrett surveyed the field.
"Coach Garrett," the man bellowed, "I love you, but this is your last year."
It was a record-skipping moment that made those who heard it do a double-take. Garrett, of course, went about his business oblivious to the outside noise. Or if he did hear it, he was not going to give the man any acknowledgement.
Only three days earlier, owner and general manager Jerry Jones was asked, with Garrett sitting immediately to his left, if the coach is on the hot seat.
"No," Jones said. "That's the best answer I can give and the fairest."
Garrett's job security is among the largest issues surrounding the Cowboys in 2018, even as owner and general manager Jerry Jones and executive vice president Stephen Jones do everything they can to support the coach publicly.
"I'd say our coach and our coaching staff are the No. 1 reason that I'm excited about what we have ahead of us this year," Jones said at the opening news conference of camp.
Garrett has been in this position before. After losing de facto NFC East championship games in Week 17 of 2011, 2012 and 2013 to finish 8-8, he faced a win-or-else scenario in 2014, the final year of his contract. The Cowboys went 12-4, won a playoff game and live with the regret of not winning a second after Dez Bryant's overturned catch in a 26-21 loss to the Green Bay Packers in the divisional round of the playoffs.
That season earned Garrett a five-year, $30 million contract from Jones.
Injuries and suspensions were mixed into the Cowboys' 13-3 finish in 2016, when Dak Prescott and Ezekiel Elliott energized the Cowboys, giving Jones an out on evaluating Garrett further.
In 2015, Tony Romo started and finished just two games because of a twice-broken left collarbone, and the Cowboys finished 4-12, their worst record since Jones' first year as owner in 1989, when they went 1-15. Last season, Elliott's six-game suspension was the main reason the Cowboys finished 9-7 and missed the playoffs, but the inability to deal with the losses of Tyron Smith and Sean Lee affected the team as well.
Entering 2018, Garrett's coaching staff changed. Three coaches left for what were seen as better opportunities. Passing game coordinator Matt Eberflus became the Indianapolis Colts' defensive coordinator. Wide receivers coach Derek Dooley became the offensive coordinator at Missouri. Special-teams coach Rich Bisaccia left to be reunited with Jon Gruden with the Oakland Raiders.
Eight coaches are new or in new roles: Kris Richard (passing-game coordinator), Paul Alexander (offensive line), Ben Bloom (linebackers), Keith O'Quinn (special teams), Sanjay Lal (wide receivers), Kellen Moore (quarterbacks), Doug Nussmeier (tight ends) and Doug Colman (assistant special teams).
"They're going to get a chance, I think, to be at their profession, at the very best time, and that is with young players," Jones said. "Those guys are eager. They're really listeners. They want to get better. They know the best way for them to have their own individual importance is to be a part of a team and leave that 'I' and 'me' at the door. That will be emphasized out here, I know, by the makeup of this group. So the bottom line is I'd put the coaching staff at the head of my list as why we ought to get excited. And I think not only putting something in place for this season, but for many seasons to come, coaching staff-wise."
As confident as Jones seems about the coaches, only Lal has a contract beyond 2019, and that includes Garrett and coordinators Scott Linehan and Rod Marinelli. That could be viewed as a win-now optic. Jones does not have any long-term financial commitments that could require him to, in essence, pay a coach to not work.
Jones has shown a patience with Garrett that he did not show with other coaches. As successful as Jimmy Johnson's run with the Cowboys was from 1989-93, the coach and the owner wanted a divorce from each other after their second straight Super Bowl. Despite making the playoffs in 1998 and 1999, Chan Gailey was fired after two years, though that is a move Jones later said he regretted. Wade Phillips seemed to be constantly under pressure after taking over for Bill Parcells in 2007, but Jones finally pulled the plug midway through the 2010 season with the Cowboys at 1-7.
Garrett has been the coach ever since, after he was named the full-time coach in 2011. Why has Garrett earned patience that other coaches have not from Jones?
"Obviously, I could have easily been wrong with Wade Phillips," Jones said. "He turns around — and not to take away from anybody — and almost single-handedly wins the Super Bowl over in Denver. You never know. If you look around the NFL, you see a whole world of coaches in around that 50 percent range. And then all of a sudden, you'll see a spike, and all of a sudden somebody gets [a Super Bowl]."
Only seven active coaches have a longer tenure than Garrett: Bill Belichick, Mike McCarthy, Sean Payton, Marvin Lewis, Mike Tomlin, John Harbaugh and Pete Carroll. Ron Rivera has been the Carolina Panthers' coach for the same time.
Of the aforementioned coaches, only Lewis has not taken his team to a Super Bowl. Only Rivera and Lewis have not won a Super Bowl.
The only coach who won his first Super Bowl with a club after his first five seasons was Bill Cowher. He lost Super Bowl XXX to the Cowboys in his fourth season but won Super Bowl XL in his 14th season.
"I think you can always pull up stats on a lot of different things," Stephen Jones said. "… I think we get better looking at what's in the best interests when you look at a salary-cap era, when you look at how important the draft is, and then all of a sudden midstream, you change coaches. Whether you like it, you may think you're not, but it's different schemes, different philosophies and then, all of a sudden, you look up and a lot of resources you put into building a roster, and they don't fit the next guy."
Doug Pederson won a Super Bowl in his second season with the Philadelphia Eagles in February. Two Februarys ago, Dan Quinn was in his second season with the Atlanta Falcons when the team made it to the Super Bowl.
Jones has to decree that Garrett's job is not on the line as the 2018 season begins, or it would make the coach's job incredibly difficult, with each week being a mandate on his future. But that doesn't stop Vegas oddsmakers from taking bets on Garrett's future.
Nor does it stop an anonymous fan from yelling that this is Garrett's final year.
"Everybody here knows that I'll take a risk with anybody. But I also would like for you to review pragmatic decisions, some pretty logical-type decisions as well, absent the risk. All of this weighs in it," Jerry Jones said. "We see better than anybody in the world Jason. Better than anybody. Consequently, I'm excited about him being our head coach."


Source : ESPN