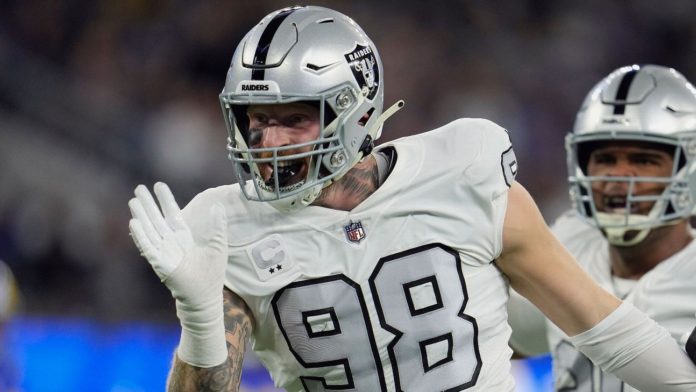 HENDERSON, Nev. — It doesn't seem too long ago that Las Vegas Raiders edge rusher Maxx Crosby was the newbie, a third-day pick taken in the fourth round of the 2019 draft out of Eastern Michigan trying to glean what he could from any veteran on the defensive line, both in the Raiders' locker room and across the league.
Four seasons, two Pro Bowls, 37.5 sacks and a four-year, $98.98 million contract extension later, Crosby finds himself on the other end.
"That's what I want to be," Crosby said at the start of OTAs last week, "a great veteran for all the young guys and just have them come to me if they need anything.
"I do everything I can to put myself in the best position to help this team, be the best leader I can be and be the best player down to down in the National Football League. … I try to show my teammates what that looks like every single day. Even when the rookies came in, I told them, 'Just follow me every single day. If you want to continue building your career, follow me.' I'm going to do it the right way. I'm going to keep showing up, and I'm going to do it every single day."
It's a role Crosby has been growing into, one he relishes, though he is still getting used to it.
After all, Crosby has already played for two general managers (Mike Mayock and Dave Ziegler), three head coaches (Jon Gruden, Rich Bisaccia and Josh McDaniels), four defensive coordinators (Paul Guenther, Rod Marinelli, Gus Bradley and Patrick Graham) and is on his fourth position coach — Brentson Buckner, Marinelli, Frank Okam and now Rob Leonard.
And it was the general manager who selected him — Mayock — who raised eyebrows in the organization when he compared Crosby to Hall of Famer Ted Hendricks … before the gangly kid from Colleyville, Texas, had taken a professional rep.
No pressure, right?
At least, none that would stunt his growth and inhibit him from passing on any lessons to 2023 first-round draft pick Tyree Wilson, who met Crosby on his pre-draft visit to the Raiders' facility.
"When I was eating breakfast, Maxx came through and I chopped it up with him a little bit," Wilson said. "I'm excited to be his teammate and get to learn and work with him.
"I've been watching him for a while. He's a great pass-rusher, dominant and a disruptive player that's going to be relentless all over the field. That's what I try to have my game at — be relentless and disruptive."
Relentless? Crosby led the NFL with 22 tackles for a loss last season and with his 89 total tackles — the most by a Raiders defensive lineman since 1987 and tied for the sixth-most most by any NFL D-lineman in a single season since 2000 — he joined Jason Pierre-Paul as the only ones since 1994 to have at 85-plus tackles with at least 20 tackles for a loss in a single season.
Plus, Crosby's team-leading 12.5 sacks were a career high and tied for the fourth-highest total in franchise history.
And yet …
"It's unfortunate he didn't make the All-Pro [team] and all that," Raiders owner Mark Davis said at the spring NFL owners meetings. "But you've got to win."
The Raiders went 6-11 last season and Crosby was snubbed, not even earning a second-team All-Pro nod. The San Francisco 49ers' Nick Bosa and Dallas Cowboys' Micah Parsons were named first-team edge rushers and the Cleveland Browns' Myles Garrett and Philadelphia Eagles' Haason Reddick received second-team honors.
"Maxx on the line, you know, the big body, all of that stuff is something that the Raiders have always had," Davis said. "Maxx, again, pushes it to the limit every play. Get him a little bit of help inside, he could be something, you know?"
The Raiders also re-signed interior pass-rusher Jerry Tillery and drafted a pair of defensive tackles in Alabama's Byron Young and Arizona State's Nesta Jade Silvera.
More newbies to learn at the knee of Crosby, who has entered rehab for alcoholism, had a daughter and gotten married since entering the NFL.
"It's funny, people talk about you need balance in life, I truly just don't believe in that," Crosby said. "That's just not where I'm at in life right now. My daughter and football, that's my life, and obviously my wife and my family, that's huge. But I'm on a mission. I've got one goal — I want to be the best at what I do. I've got many big goals I'm trying to achieve, and it takes more than being 50 percent in; it takes all my attention, all year round.
"So everybody in my circle, which is a very small circle, they know what my mission is, and they understand what I go through. I'm gone at 5 a.m., I get back at 7 p.m., so it's nonstop. But that's what it takes to be great, and that's what I'm doing every single day. So, there's no real balance."
Crosby's work ethic might be the No. 1 lesson he imparts to the youngsters in the Raiders locker room.
"It's looking for that 1 percent [improvement], I'm looking for that every single day," he said. "How can I get better at my routine? How can I get better [with] my nutrition? How can I get better in my pass rush, my counters, stopping the run? I don't leave a box unchecked.
"I'm constantly seeking to get better every single day, and I'm going to keep pushing until I'm the undisputed."


Source : ESPN